Synthetic vs. wool rug: a case-by-case guide to choice
Materials and techniques —
Aug 15.2023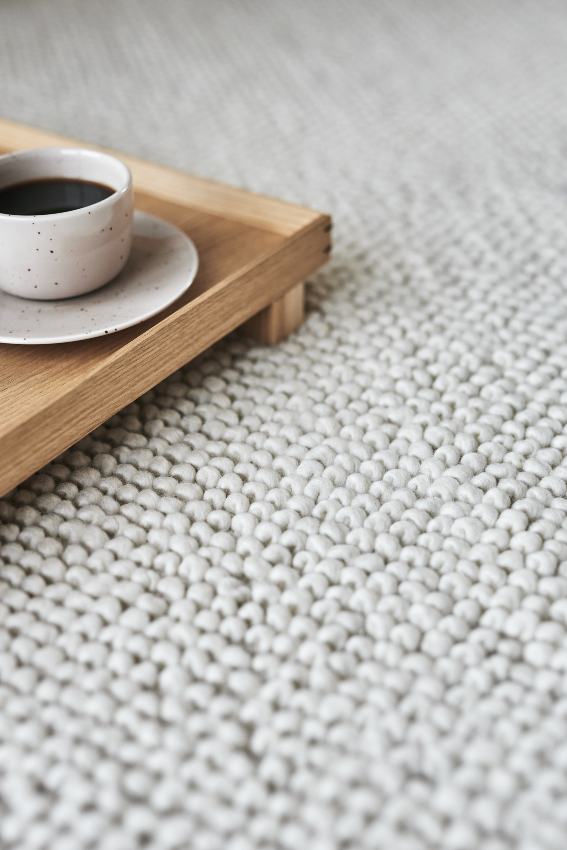 Today's post is dedicated to a much discussed topic: Synthetic vs. wool rug.
In fact, by comparing synthetic and wool rugs, it is possible to bring to light the pros and cons of these solutions, which are not always alternatives to each other, but which can be combined together to create harmonious and functional environments. Let's see why.
Synthetic vs. wool rug: all the pros of synthetic and wool carpets
Synthetic and wool carpets are both appreciated for their many merits. Although these types of fabrics differ in many ways, they are two very interesting options to consider when furnishing your home.
Since wool is a hypoallergenic yarn , a carpet made of this material is ideal for those who suffer from allergies or are sensitive to dust. Wool is also a very wear-resistant yarn that will retain its beauty over the years.
A woollen carpet is also extremely versatile: it can be woven using different techniques, such as knotting and tufting, for example, and is available in many styles and designs. What's more, being made from a natural yarn, it offers a touch of warmth and authenticity to any room and fits in with any furnishing style.
Although they are in some ways the opposite of wool carpets, synthetic pieces also have numerous advantages that are worth knowing about. The most important of these is their durability: the synthetic yarns used to make the carpets resist the sun, humidity and weather, making them the perfect solution for decorating outdoor spaces in the home. Even when exposed to harsh weather conditions, they retain their shape and lustre.
Other observations for deciding the winner in the Synthetic vs. wool rug match? When weighing up the pros and cons of synthetic artefacts, it must be considered that they have a greater environmental impact than wool carpets, both during production and at the end of their useful life.
Synthetic vs. wool rug: when to use one and when to use the other?
When it comes to choosing between wool and synthetic carpets, it is essential to consider the intended use and the specific needs of the area in which they will be placed.
Wool carpets are ideal for interiors: in both living and sleeping areas of the home, they can add a touch of warmth and elegance to the home. They are also particularly suitable for high-traffic areas, such as hallways or dining rooms, as wool is inherently resistant to wear and tear and crushing. Furthermore, if you want to make an investment that lasts, wool carpets are the right choice, as they retain their beauty and integrity over the years and, in the case of designer and contemporary art carpets, may even increase in value.
Similarly, synthetic carpets are the perfect solution for outdoor spaces such as patios, terraces or gardens. Their resistance to weather, humidity and UV rays makes them suitable for withstanding the harshest outdoor conditions, while keeping their appearance intact. In addition, synthetics are highly versatile and customisable, allowing you to choose from a wide range of colours and designs to ensure they fit your style and the specifics of the space to be decorated.
When you are deciding what type of carpet to choose for your home space, you must also take into account the maintenance required by each alternative. Synthetic carpets from this point of view are an excellent choice because they need very little care. They only need to be cleaned regularly to remove dirt accumulated on the surface and can easily be washed with water for deeper cleaning. This is different for wool carpets, which are more delicate and require constant care to prevent them from being attacked by vermin or losing colour and firmness through use.
Synthetic vs. wool rug: how do wool and synthetic carpets fit in the home?
So, who wins in the Synthetic vs. wool rug match? Let's say that furnishing spaces in the home with wool and synthetic artefacts offers the opportunity to create cosy and functional rooms.
In interior spaces such as the living room, bedroom or dining room, wool carpets are the best solution to make the room warm and refined. They can be placed under the dining table to delineate the area where meals are eaten, or next to the bed to provide a pleasant feeling of comfort when waking up.
For outdoor spaces, such as the patio or terrace, synthetic carpets are the best choice. They can withstand the weather and the heat of the sun while maintaining a fresh and lively appearance. Synthetic pieces can easily be combined with furniture and furnishings in modern or tropical styles, for example, by opting for patterns in bright colours and nature-inspired motifs.
You can also decide to combine the two types of carpets in your interior design, using wool carpets for indoors and synthetic carpets for outdoors. With the right balance between these two choices, it is possible to create a smooth transition between rooms, maintaining a consistent decorative theme throughout the home.
In conclusion, there is no clear winner in the Synthetic vs. wool rug comparison. The choice, of course, always depends on the particular design requirements.
Nodus creates prestigious rugs.
Bring luxury into your home!
>>> CONTACT US! <<<

Nodus has reinvented the luxury rug. It was in fact the first brand to propose the concept of the rug as a work of contemporary art.
Nodus has always created exclusive products that furnish the most beautiful homes in the world. Do you want to make your home inimitable as a work of art?
Bring a hand knotted rug of the highest quality and design into the spaces of your daily life! Give your family and the people you love the beauty of a dream masterpiece! Every piece of Nodus is designed by famous Designers, making it recognisable and prestigious. In this way, each rug is unique: you will not find another one like it. Like all beautiful and unrepeatable things, one piece in the Nodus collection sets you apart and speaks to others about your taste and elegance. CONTACT US!