The plain rug: how to choose the right artefact for the individual room?
May 05.2023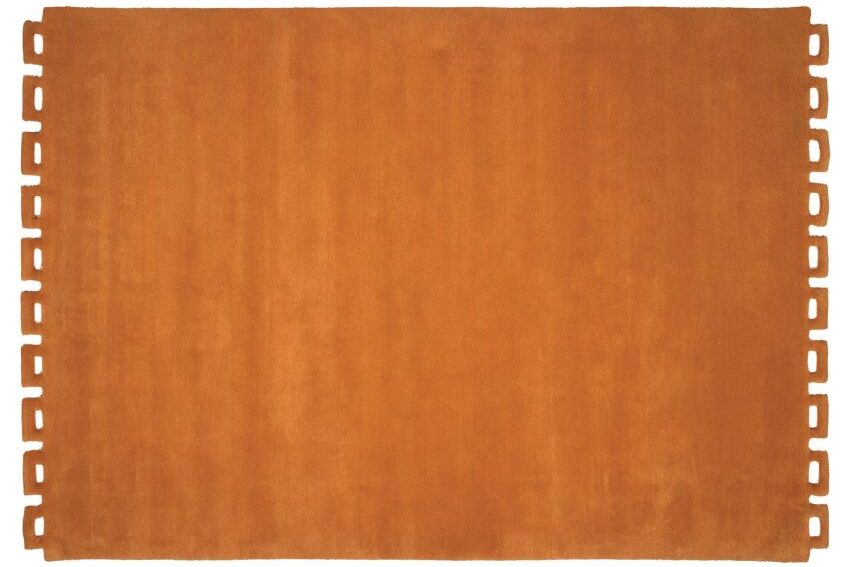 If you are looking for a simple yet elegant way to add a touch of style to your home, a plain rug could be the perfect solution.
These textiles can be used in different areas of the home, from the dining room to the bedroom, to create an ambience that is comfortable and cosy. Furthermore, plain-coloured carpets are available in different sizes and materials, and can also be made to measure.
What are the characteristics that make a plain rug so sought-after?
Often, when deciding on furnishings, there is a tendency to prefer carpets with a more elaborate design to the detriment of plain-coloured carpets, which are wrongly considered too simple to add personality to a home space. In reality, however, a plain rug, even when proposed with a minimalist design and neutral colours, turns out to be an extraordinary element that is capable of enhancing the decor of any room in the home.
One of the characteristics that most deserves to be emphasised is the versatility of these models. A plain rug can be placed in any type of location and blends perfectly with any furnishing style, greatly simplifying the work required to harmonise the various elements that make up the room's decor.
What also makes these carpets special is their ability to create an elegant and sophisticated atmosphere in the rooms in which they are placed. Being simple and essential in appearance, plain-coloured carpets do not risk being too obtrusive and do not steal the attention of other furnishing elements such as furniture, paintings or decorative objects.
In addition to their versatility and simplicity, plain-coloured carpets are also very easy to combine with other furnishing elements. Simply match the carpet with cushions or curtains in complementary colours to that of the carpet itself to give the room a neat and coherent look.
What materials should be preferred for a plain rug?
For plain-coloured carpets, many different materials can be used. The choice between one or the other depends essentially on the result you want to achieve and the requirements that the individual item has to meet.
Those who wish to have a durable and easy-to-clean model can consider hand-knotted wool carpets. Wool fibres are perfect for resisting wear and, when dyed in dark colours, also resist stains very well.
Silk carpets, whether of animal or vegetable origin, on the other hand, are perfect when one wants to emphasise the sophistication of the furnishings. The same result can be achieved with viscose rugs: thanks to the glossy finish of the fibres, which can be used pure or mixed with cotton or wool, a very refined and elegant look is given to the room.
When you need a plain rug that is particularly soft and comfortable, on the other hand, linen or linen and viscose are the right choices. In this case, one can go for both hand-knotted and tafted or woven models.
Solid-coloured carpets are also perfect for completing a nature-inspired interior with sustainable furniture and accessories. In this case, you can choose ecological jute and sisal rugs, which are made from woven fibres and come in beautiful neutral colours.
How can a plain rug be used to enhance home furnishings?
Especially when you decide to furnish with light-coloured plain carpets, you can take advantage of the ability of these carpets to bring out the light in the room. Choosing a white or beige carpet made of a material with a shiny finish, such as bamboo silk or viscose, for example, makes the room appear brighter. This is true even when there is little natural light.
As is also the case with other types of carpets, solid-coloured models prove to be an excellent resource when there is a need to visually separate different areas in the room. They are also very useful when one needs to establish the boundaries of a certain area. Placing a plain-coloured carpet under the dining table or under the sofa, for example, helps to identify, at a glance, the different zones in the living room.
When furnishing the home with plain-coloured carpets, the size and shape of the different artefacts must be carefully selected. Often, all it takes is to change one of these parameters to give the entire room a completely different look.
Adding a large-format carpet, for example, can accentuate the extra-large size of a room. On the other hand, one can opt for smaller carpets when one wants to create different areas within the room or when one prefers to give the room a more intimate character.
Nodus creates prestigious rugs.
Bring luxury into your home!
>>> CONTACT US! <<<

Nodus has reinvented the luxury rug. It was in fact the first brand to propose the concept of the rug as a work of contemporary art.
Nodus has always created exclusive products that furnish the most beautiful homes in the world. Do you want to make your home inimitable as a work of art?
Bring a hand knotted rug of the highest quality and design into the spaces of your daily life! Give your family and the people you love the beauty of a dream masterpiece! Every piece of Nodus is designed by famous Designers, making it recognisable and prestigious. In this way, each rug is unique: you will not find another one like it. Like all beautiful and unrepeatable things, one piece in the Nodus collection sets you apart and speaks to others about your taste and elegance. CONTACT US!