Outdoor area rugs: what are they? How to choose them? [Step-by-step guide].
Materials and techniques —
Mar 12.2023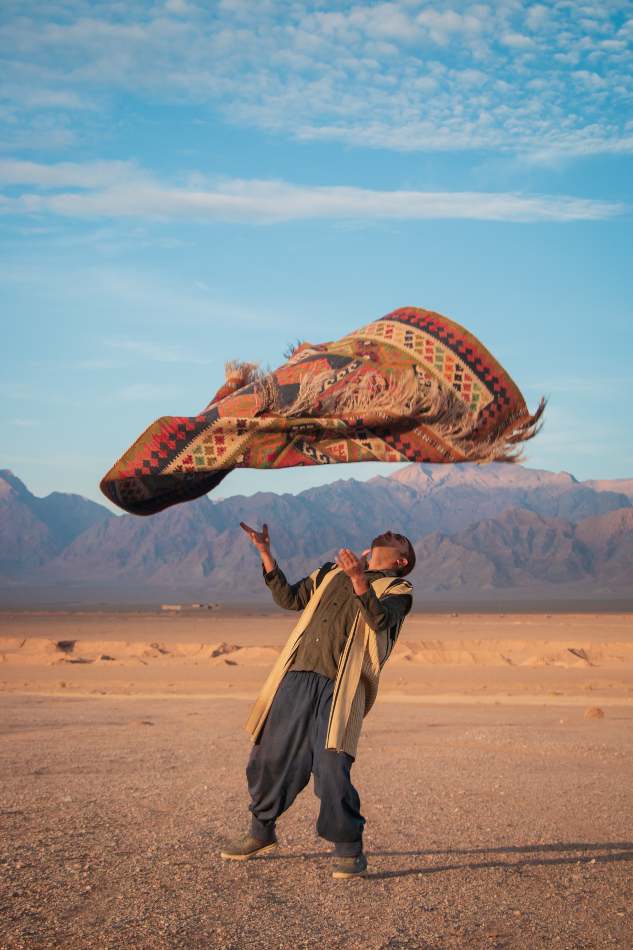 What outdoor area rugs to choose is an important decision to make. In a nutshell, the right models must be able to ensure good outdoor comfort and, at the same time, be durable and long-lasting.
For spaces in the home such as terraces and balconies, it is also important to maintain a common thread between indoors and outdoors, to convey an overall sense of harmony and stylistic consistency.
What to consider when evaluating different outdoor area rugs models?
The ideal outdoor carpet resists moisture and sunlight, is not damaged by climate and temperature fluctuations, and is able to make spaces comfortable, thanks to its decorative capacity and intrinsic characteristics.
For each outdoor environment, it is possible to identify the models that are most suitable for each portion of the space. Among the aspects to be considered, there are certainly the dimensions of the area to be furnished, its exposure and the final effect one wishes to achieve. Let us understand this better with a few practical examples.
When furnishing balconies and terraces, outdoor area rugs are generally used that are small in size and have a sober or lively style, depending on the characteristic atmosphere one wants to give the room. Specifically, when the outdoor carpet is intended to decorate gazebos or gardens, one can turn to more generously sized models. If, on the other hand, the carpet is to be placed under a canopy or on a porch patio, one can consider types of outdoor area rugs that are made of more delicate materials. The latter are in fact unsuitable for spaces exposed to the weather or direct sunlight.
As a general rule, when evaluating different outdoor area rugs it is best to restrict the field to models made of materials that have antibacterial and draining properties and that are manufactured without the use of products or treatments that release toxic substances into the air or environment.
What style to choose for an outdoor carpet?
The style to be given to various outdoor area rugs is one of the most important aspects to consider when deciding to furnish a space outside your home. This is because, together with the material to be used and the size of the pattern, the style defines the appearance of the item and gives a precise identity to the room.
If dimensions are constrained by the size of the space to be furnished, for materials one must take into account their properties, while for style there is greater freedom of choice. In this sense, one can rely more on the preferences of the person living in the house.
Oriental design pieces are the most traditional and classic choice. Their elaborate and colourful decorations are an excellent choice to give character to a gazebo designed as an outdoor living room. Outdoor area rugs with a more contemporary design, on the other hand, may be the right choice for decorating the terrace of a city house or a patio in a more rustic location. With a choice of marbled effect carpets, abstract designs and metallic-looking pieces, it is always possible to satisfy even the most imaginative customer tastes.
Thanks also to the possibility of ordering made-to-measure carpets , the perfect solution can be found for any space, whatever the furnishing objective.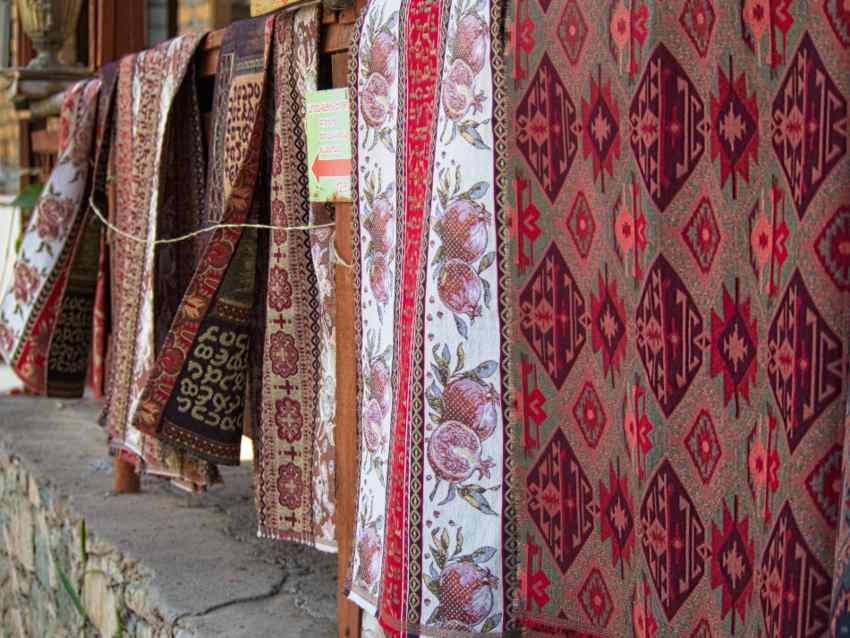 What are the best materials for outdoor area rugs?
The choice of materials to use for outdoor area rugs is undoubtedly the most fundamental of all. In fact, opting for the wrong material can cause the carpet to deteriorate after a short time. And this error of judgement could even cause damage to other furnishings.
When choosing the material, one must take into account the climatic conditions of the place where the outdoor rug will be placed, but also the aesthetic and functional requirements of the room to be furnished.
What then? For rugs to be used outside the home, synthetic materials tend to be preferred, as they are better able to resist moisture, weather and temperature changes.
Those who do not want to renounce the use of natural materials even outdoors might consider models made of sisal or coconut fibre, however, making sure that these items are placed in a sheltered location and are not accessible to water and humidity.
The material that provides the best mix of strength and versatility is polypropylene. Even when it gets wet, this outdoor carpet is not damaged. In fact, water is drained quickly and drying does not take long. Its fibres are not attacked by mould nor do they discolour if they are constantly in the sun.
Polyester products are also very popular. These products are decorative and very comfortable, and are perfect for furnishing a space devoted to relaxation and conviviality.
Another alternative to be considered for outdoor area rugs are products made of nylon. This material is particularly suitable for areas outside the home that are busier, such as balconies and gardens. Finally, it is also an excellent choice because it does not require any special maintenance.
Nodus creates prestigious rugs.
Bring luxury into your home!
>>> CONTACT US! <<<

Nodus has reinvented the luxury rug. It was in fact the first brand to propose the concept of the rug as a work of contemporary art.
Nodus has always created exclusive products that furnish the most beautiful homes in the world. Do you want to make your home inimitable as a work of art?
Bring a hand knotted rug of the highest quality and design into the spaces of your daily life! Give your family and the people you love the beauty of a dream masterpiece! Every piece of Nodus is designed by famous Designers, making it recognisable and prestigious. In this way, each rug is unique: you will not find another one like it. Like all beautiful and unrepeatable things, one piece in the Nodus collection sets you apart and speaks to others about your taste and elegance. CONTACT US!