Natural fiber entryway rugs what are they?[Selection guide].
Materials and techniques —
May 19.2023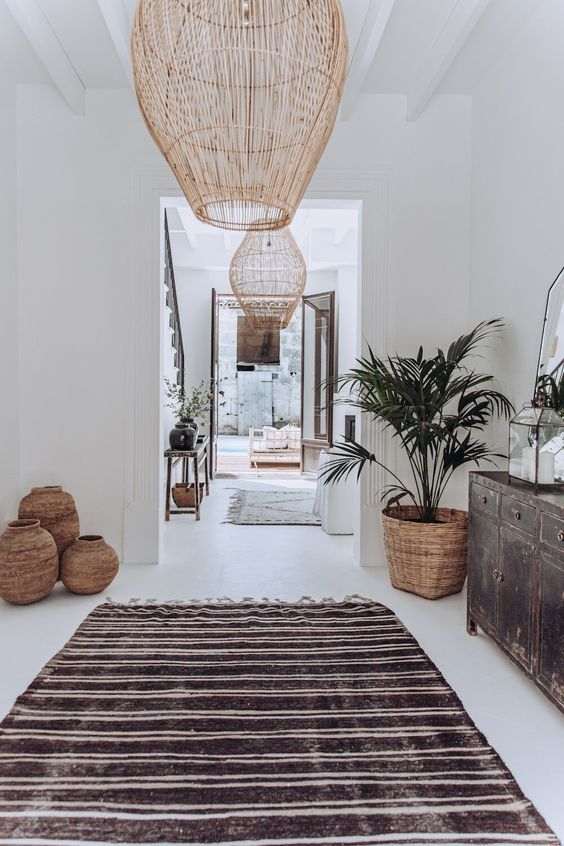 Choosing the right natural fiber entryway rugs is a delicate operation that requires time and extreme care. When evaluating the different alternatives available, one should focus on models that not only reflect the customer's style, but are also functional and durable.
Choosing a carpet with these characteristics will complement the entrance furniture while improving its aesthetics, and will also help keep the environment clean and cosy for the people living in the home and their guests.
Which natural fiber entryway rugs to choose according to the different home?
When it comes to entrance carpets, plant fibres are one of the most interesting options to consider. Indeed, materials obtained from plants combine style, functionality and sustainability and allow the transition area between the inside of the house and the outside to be furnished in a unique way.
Among the various choices available, coconut fibre and jute carpets are the best alternatives if you want to add a natural and cosy touch to the entrance of your home. The neutral colours of these carpets easily adapt to different styles of décor, from the rusticity of country chic to the elegance of contemporary minimalism.
Coconut fibre carpets are especially valued for their wear resistance and their ability to absorb moisture. These carpets are perfect for placement both indoors and outdoors, as they can easily retain dirt, soil and moisture. In addition to offering several advantages from a practical point of view, coconut fibre carpets are also loved for their natural look and the unique texture achieved by weaving the fibres.
Jute fibre carpets are also perfect for decorating the entrance area. The roughness of the jute fibres makes it easier to capture dirt and impurities and keeps the entrance cleaner and more welcoming. Compared to coconut fibre carpets, jute carpets are more versatile and practical to use. Jute models can be placed outside the house, for example on the landing or in the entrance area leading to a veranda or patio, or inside, in front of the front door.
In addition to the many advantages of natural fibres, both coconut and jute are environmentally friendly, sustainable and biodegradable materials, offering a responsible choice for the environmentally conscious. The use of vegetable fibre carpets not only contributes to a cosy ambience, but also demonstrates a commitment to a more eco-friendly lifestyle.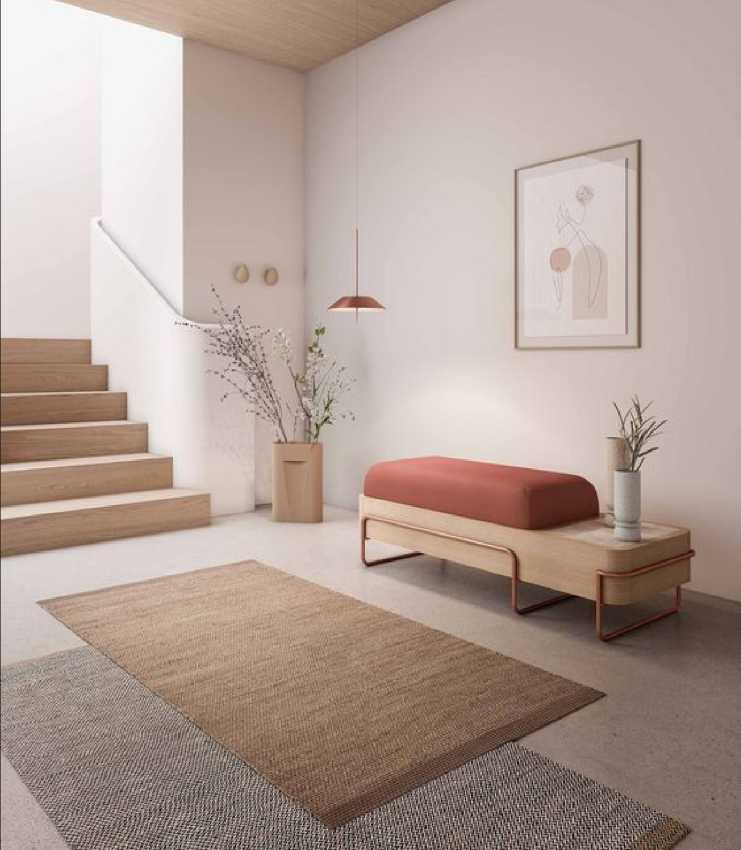 What other options to consider for natural fiber entryway rugs?
In addition to carpets made from plant fibres, many other models made from natural yarns can be considered. Carpets of animal origin, for example, allow the entrance area to be decorated in an elegant and refined manner. The most common options in this regard are wool and silk carpets, both of which are appreciated for their quality, softness and durability.
Wool carpets are the most popular option and are loved for both their versatility and outstanding characteristics. Wool is a natural material with excellent value for money, capable of resisting stains and very solid. Thanks to these qualities, it has the ideal characteristics to be able to furnish the entrance of a home, while also being able to adapt well to the chosen furnishing style.
What other advice can be given when choosing natural fiber entryway rugs? If you want to give a special touch to the entrance area, you can consider adding a silk carpet or a carpet made by mixing wool and silk yarns. Since pure silk carpets are very delicate and precious, those who wish to place one in the entrance area can think about a colourful and elegant wall carpet. For floor carpets, it is always better to rely on stronger fibres, such as wool.
How to choose the most suitable natural fiber entryway rugs?
When selecting a natural fibre entrance carpet, it is important to consider several aspects to ensure that you make the best choice according to your needs and preferences. The selection process can be divided into five steps:
1.Consider the level of traffic. The entrance is a high-traffic area, so opt for a durable carpet that can withstand daily wear and tear and maintain a fresh look over time. Materials such as coconut fibre and wool are excellent choices for their durability.
2.Consider ease of cleaning. Entrances are prone to getting dirty easily, so be sure to choose a carpet that can be cleaned and vacuumed effortlessly. Coconut fibre and jute carpets are good options in this respect.
3.Coordinate your carpets with your decorating style. Consider the furnishing style of your entrance hall and choose a carpet that blends harmoniously with furniture and accessories.
4.Define the size and placement of the carpet. Measure the entrance area carefully and choose a carpet of the right size. Make sure the carpet is large enough to cover the main transition area and position it so that it creates a welcoming path to the entrance.
5.Consider custom-made options. To achieve a result that exactly reflects your taste consider ordering a custom-made carpet. Make a list of the features the perfect carpet should have and rely on the expertise of a designer.
Our tips for choosing the right natural fiber entryway rugs end here. Now you have everything you need to know to make the right decision for your interior design project!
Nodus creates prestigious rugs.
Bring luxury into your home!
>>> CONTACT US! <<<

Nodus has reinvented the luxury rug. It was in fact the first brand to propose the concept of the rug as a work of contemporary art.
Nodus has always created exclusive products that furnish the most beautiful homes in the world. Do you want to make your home inimitable as a work of art?
Bring a hand knotted rug of the highest quality and design into the spaces of your daily life! Give your family and the people you love the beauty of a dream masterpiece! Every piece of Nodus is designed by famous Designers, making it recognisable and prestigious. In this way, each rug is unique: you will not find another one like it. Like all beautiful and unrepeatable things, one piece in the Nodus collection sets you apart and speaks to others about your taste and elegance. CONTACT US!