Custom-made carpets made of vegetable fibres: what do they look like? How do they fit into different interior design projects?
Design — Materials and techniques —
May 06.2023

Custom-made carpets made of vegetable fibres are the optimal choice for those who wish to decorate the floors of their homes with ecological and also sustainable artefacts.
In addition to reducing the impact on the environment, natural fibre carpets that are made for a customised project offer several additional advantages over traditional carpets. These range from durability, even in busy environments, to the ability to withstand changing fashions. And by being able to choose from a variety of fibres, it is possible to find the perfect combination of design and comfort.
The characteristics and advantages of custom-made carpets made of vegetable fibres
Robustness is one of the main advantages of custom-made carpets made from plant-based materials. The fibres selected for the production of luxury carpets have excellent abilities to resist the wear and tear and damage that can occur with everyday use. Some particularly robust materials, such as sisal or coconut fibre, can also resist stains and moisture and can have various uses in the home.
Choosing a custom-made carpet made of vegetable fibres also means ensuring a carpet that maintains its beauty and integrity over time. These carpets do not require any special maintenance work: it is sufficient to do a regular cleaning with a hoover and, about once every one or two years, have a professional wash.
Those who choose a vegetable fibre carpet are in many cases guided by the desire to furnish their home with a long-lasting model. Durability is expressed both from a practical point of view, because thanks to the use of resistant and robust fibres, these carpets are able to last for decades, but also from a stylistic point of view, because since custom-made carpets are designed on the basis of the customer's specifications, it is presumable that even after some time the design will continue to be consistent with the overall design in which the carpet is inserted.
Among the advantages of custom-made carpets made of vegetable fibres we cannot fail to mention sustainability. Biodegradable and non-polluting fibres are selected for the creation of these designs. This makes this type of carpet consistent with eco-friendly and eco-friendly furniture designs.
What are the best materials to make custom-made carpets from plant fibres?
Various yarns can be used for the production of customised vegetable fibre carpets. Each is characterised by a unique mix of properties. Depending on whether you want to focus more on softness, durability or versatility, various alternatives can be considered.
Sisal carpets are very often chosen by those who wish to create customised furniture inspired by the natural world. The fibres used in the production of these carpets are obtained from the Agave sisalana plant. This material is known for its strength, resistance and durability. This makes sisal carpets ideal for furnishing busy spaces in the home such as kitchens, entrances and hallways.
Bamboo fibres are also a good option to consider if you are looking for a sustainable and biodegradable material. Among the advantages of bamboo carpets are their light weight and ease of cleaning. As it is a rather delicate fibre, the best rooms in the home to place these carpets are bedrooms and living rooms.
Among custom-made carpets made of vegetable fibres, jute cannot go unmentioned. This fibre is very resistant to both wear and moisture. Jute carpets are particularly appreciated for their softness and elegant appearance, but also for their durability.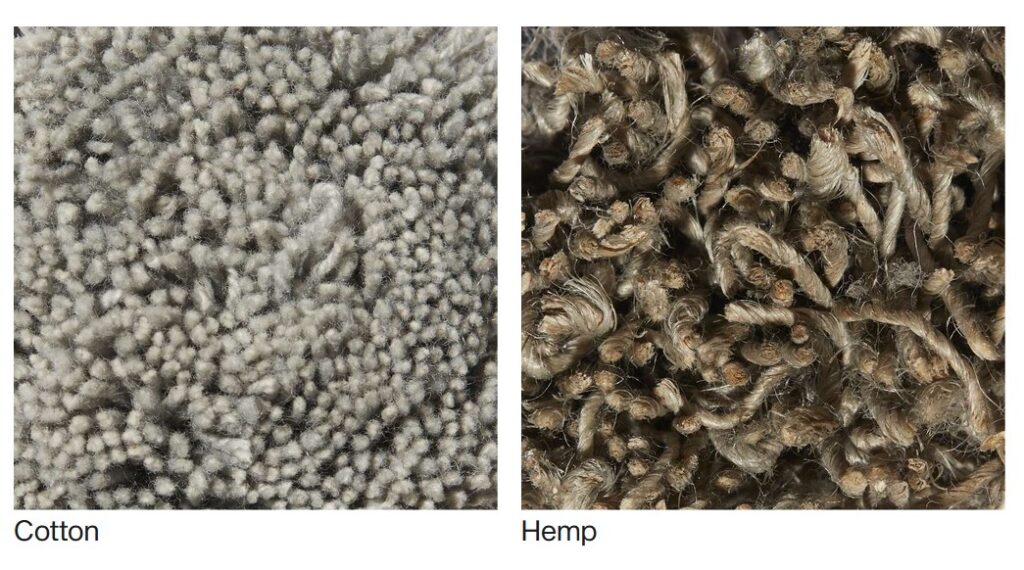 What to consider before choosing a custom-made carpet made of plant fibres?
In order to find one or more custom-made carpets made of vegetable fibres that are perfect for your home, you must first consider the style of the room in which the individual item will be placed. In a classic or rustic environment, hemp and cotton models fit very well, while in rooms furnished in a natural style, coconut fibre carpets are perfect. Sisal models are among the most versatile of all: they adapt well to Nordic, but also to contemporary and boho-chic furnishings.
In order to be able to define the ideal characteristics of the carpet, one must also take into account how busy the space in which one wants to place the model is. In busy rooms it is best to opt for a sisal or jute rug, while in quieter spaces one can go for more delicate materials such as cotton or bamboo.
In general, when choosing to furnish with one or more custom-made carpets made of vegetable fibres, it is always important to take your personal style and the needs of your home into account. By making careful choices, it is possible to furnish with an eco-friendly carpet that is both functional and aesthetically pleasing.
Nodus creates prestigious rugs.
Bring luxury into your home!
>>> CONTACT US! <<<

Nodus has reinvented the luxury rug. It was in fact the first brand to propose the concept of the rug as a work of contemporary art.
Nodus has always created exclusive products that furnish the most beautiful homes in the world. Do you want to make your home inimitable as a work of art?
Bring a hand knotted rug of the highest quality and design into the spaces of your daily life! Give your family and the people you love the beauty of a dream masterpiece! Every piece of Nodus is designed by famous Designers, making it recognisable and prestigious. In this way, each rug is unique: you will not find another one like it. Like all beautiful and unrepeatable things, one piece in the Nodus collection sets you apart and speaks to others about your taste and elegance. CONTACT US!