How to furnish with a luxury square rug
Luxury rugs —
Feb 23.2021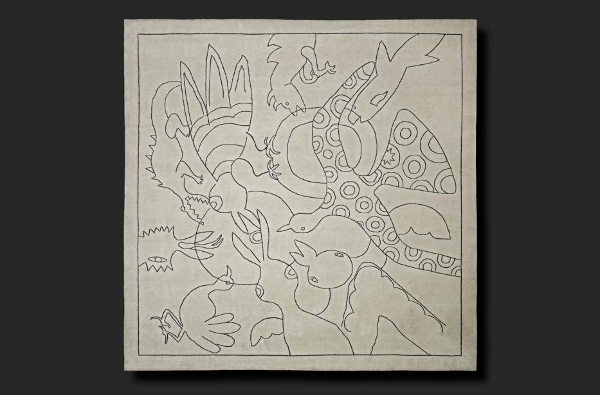 Like all luxury carpets, square carpets create a warm and cosy atmosphere. What's more, this particular shapea dds a touch of originality and allows you to experiment with innovative and unusual solutions.
A square rug is an original way of furnishing a home environment
Square carpets are an expression of the latest trends in interior design. In both classic and contemporary designs, square rugs can be the ideal solution to give a room personality and make it unique and sophisticated.
What makes square carpets special is their enormous versatility. They can be placed in any room in the house. This is because they can be chosen in different sizes and designs.
In a large living room, these pieces can be used to highlight an area of the room that would otherwise be overshadowed. Conversely, when placed in a smaller living room, they can be used to decorate the central area without taking away space from the rest of the furniture in the house.
A square carpet is also a convenient solution to complete the furnishings in the children's room. The original shape of this carpet helps to create a more playful environment, providing style, warmth and comfort.
A merit of square carpets is their ability to furnish both on their own and in combination with other elements such as furniture and accessories. For example, a carpet with a graphic design or geometric pattern can be placed in the entrance area of the house or outdoors, to brighten up a transition space that is devoid of furniture.
In living rooms or studies, a square luxury rug can easily be combined with a low table or chairs. Both the combination with round and square shaped objects and furniture works very well. Which should you choose? Well, the final choice is up to the taste of the hosts.
As far as materials are concerned, the possibilities are manifold and all of them ensure a high-quality result. So you can opt for a wool carpet, if you prefer a warm and resistant carpet, that is able to transmit a feeling of protection and comfort. If, on the other hand, you prefer to give your room a touch of sophistication and shine, you can choose a square silk rug. These creations can easily become a work of art when applied to the wall, like a tapestry.
Which colours and patterns should you choose for your square carpets?
The moment of choosing a carpet colour and design is both the most fun and the most important. Faced with the wide variety of possibilities, you can better focus on what the decorating objectives are for each room in the house and find the perfect carpet among a thousand!
The colour and style of carpets are always personal choices, which are influenced by one's own aesthetic taste and personality. There are, however, some indications that can help you to find your way through the selection process and get closer to your ideal carpet. Let's see what they are.
In general, a light-coloured square carpet is ideal if you need to brighten up the room. Among the most suitable colours for this are beige and light grey, but also pastel colours in shades of blue, pink, lilac and yellow.
In a room where white walls and light-coloured wood floors predominate, a square rug in intense colours and geometric design can add personality to the room. An ethnic design also works well in this type of environment. A Berber carpet, for example, or a carpet inspired by traditional Chinese design are options to consider carefully. A dark carpet is also ideal in the most frequented areas of the house, such as the entrance area or the bathroom.
Placing a high-quality square carpet in a rectangular room is not only possible, but can be a useful trick to make a small room seem larger. Although it is usually recommended to choose a carpet with a similar shape to the room, with a square carpet you can break the rules and enjoy the beauty of your chosen design day after day.
Patterns, designs and styles can be mixed and matched at will: try an ethnic carpet with Scandinavian style furniture or a graphic design carpet with a classic style room. The result will surprise you.
Nodus creates prestigious carpets.
Bring luxury into your home!
>>> CONTACT US! <<<

Nodus has reinvented the luxury carpet. It was in fact the first brand to propose the concept of the rug as a work of contemporary art.
Nodus has always created exclusive products that furnish the most beautiful homes in the world. Do you want to make your home inimitable as a work of art?
Bring a hand knotted rug of the highest quality and design into the spaces of your daily life! Give your family and the people you love the beauty of a dream masterpiece! Every piece of Nodus is designed by famous Designers, making it recognisable and prestigious. In this way, each rug is unique: you will not find another one like it. Like all beautiful and unrepeatable things, one piece in the Nodus collection sets you apart and speaks to others about your taste and elegance. CONTACT US!