Layered rugs in living room : how to make the right choices according to the furniture design?
Design — Home —
Aug 23.2023
Today's post is dedicated to layered rugs in living room . If you are looking for a way to add a touch of warmth and personality to your home décor, choosing to decorate your living room with layered rugs could be the ideal solution.
In fact, overlap carpets in living room is one of the most interesting trends in modern interior design. How so? In addition to ensuring a beautiful scenic effect, this way of decorating offers many additional advantages, which are worth knowing and evaluating carefully. We discuss them below.
What are the advantages of layered rugs in living room ?
Placing large layered rugs in living room in the living room is a perfect solution to make a room with hard or cold floors more comfortable and cosy. Especially in winter and if no underfloor heating has been installed in the house, walking on a cold surface can be uncomfortable. Placing soft overlap carpets room on the floor can solve this problem: the thickness of the items insulates the feet from the floor and the softness of the fabrics conveys comfort and warmth.
Another reason to opt for overlap carpets in living room is their ability to give a strong personality even to open-plan locations. Often, open-plan rooms are large and tend to be dispersed: the presence of overlapping artefacts attracts the eye and helps give these rooms a sense of order and organisation.
The layer look technique in the living room also makes it possible to visually characterise the different areas of the room, so that they are recognisable at a glance. For example, one can consider placing a large carpet in the relaxation area, covering the entire area occupied by the sofa and armchairs, and overlaying a smaller one in the area occupied by the coffee table. Again, overlap carpets can be placed in the dining area to make the space around the table more comfortable.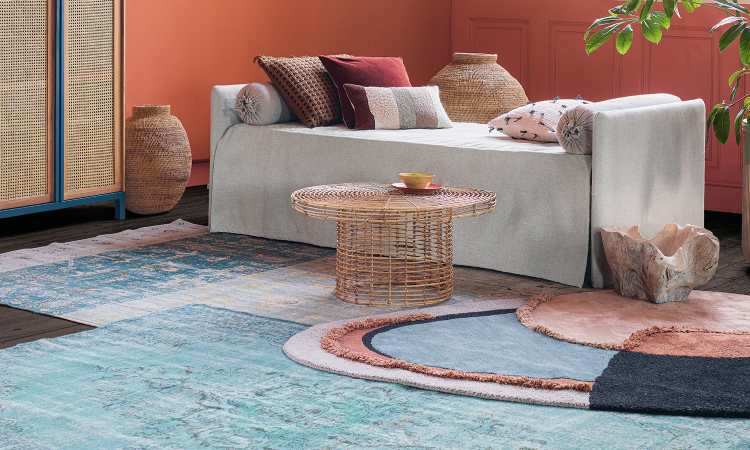 One should not underestimate the fact that layered rugs in living room allow one to enhance the unique design of each piece. Thanks to overlapping, it is indeed possible to mix and match different textures, colours and styles to create a surprising and unique visual effect. This allows you not only to customise your living room in a creative and original way , but also to make the room reflect your personality.
What are the rules to follow when you have the layered rugs in living room?
We continue with our advice regarding overlap carpets in living room . In particular, we would like to emphasise that it is not enough to place one piece on top of another to achieve an aesthetically pleasing and balanced result. When furnishing with textiles to be placed one on top of the other in this portion of the home, it is good to keep a few simple interior design rules in mind.
First of all, to achieve a pleasing result, it is necessary to combine carpets of different sizes. Overlap carpets in living room of different sizes creates an interesting layered effect and gives visual depth to the room. A large basic carpet can serve as a background, while smaller pieces can be layered on top of the base and become the focal point of the living room.
Equally important is the choice of carpet materials. Making sure to select carpets that are suitable for the use to which they will be put, especially in high-traffic areas, not only provides a beautiful aesthetic result, but also makes for a long-lasting investment. Natural, hard-wearing fabrics such as cotton and wool are ideal for the living room and can easily be combined with bases made of sisal, hemp or jute, which are perfect if you want to give the space a natural feel.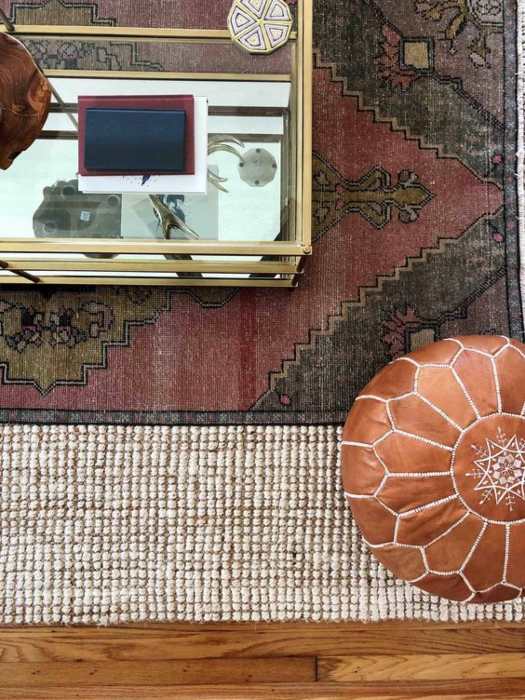 In order to create visual harmony between overlapping carpet patterns in the living room, it is essential to be able to combine patterns of different sizes and materials, but also to find the right balance between colours, workmanship and textures. Layered rugs in living room with different patterns can create an eclectic and fascinating look, but it is important to take care that the patterns and colours combine without creating visual chaos. Opting for artefacts with a similar colour palette or with a common predominant shade can be a wise choice to achieve a coherent and balanced ambience.
How to correctly place layered rugs in living room ?
In order to correctly overlap carpets in the living room and create an atmosphere that is cosy and harmonious, it is best to use a light-coloured or neutral-coloured textile as a base and overlap it with a carpet in a contrasting colour. The contrast of colours and the use of a light-coloured base helps to give a pleasant feeling of spaciousness and brightness to the living room, even when the room is small.
When deciding to make use of the decorative power of layered rugs in living room, it is important to decide whether to dare with bright colours and strong contrasts to give the room a bold and modern look, or whether to go for less sharp contrasts and a colour harmony oriented towards colours that convey tranquillity and balance.
Intense colours such as cobalt blue, fiery red or mustard yellow are excellent solutions for creating a bold and dynamic style and for giving the room an accent of colour. Conversely, the use of similar or complementary colours for overlap carpets in living room allows for a more refined and harmonious ambience.
Nodus creates prestigious rugs.
Bring luxury into your home!
>>> CONTACT US! <<<

Nodus has reinvented the luxury rug. It was in fact the first brand to propose the concept of the rug as a work of contemporary art.
Nodus has always created exclusive products that furnish the most beautiful homes in the world. Do you want to make your home inimitable as a work of art?
Bring a hand knotted rug of the highest quality and design into the spaces of your daily life! Give your family and the people you love the beauty of a dream masterpiece! Every piece of Nodus is designed by famous Designers, making it recognisable and prestigious. In this way, each rug is unique: you will not find another one like it. Like all beautiful and unrepeatable things, one piece in the Nodus collection sets you apart and speaks to others about your taste and elegance. CONTACT US!