Large outdoor rugs: what are they? A guide to choosing the right model for your outdoor space
Design — Materials and techniques —
Mar 17.2023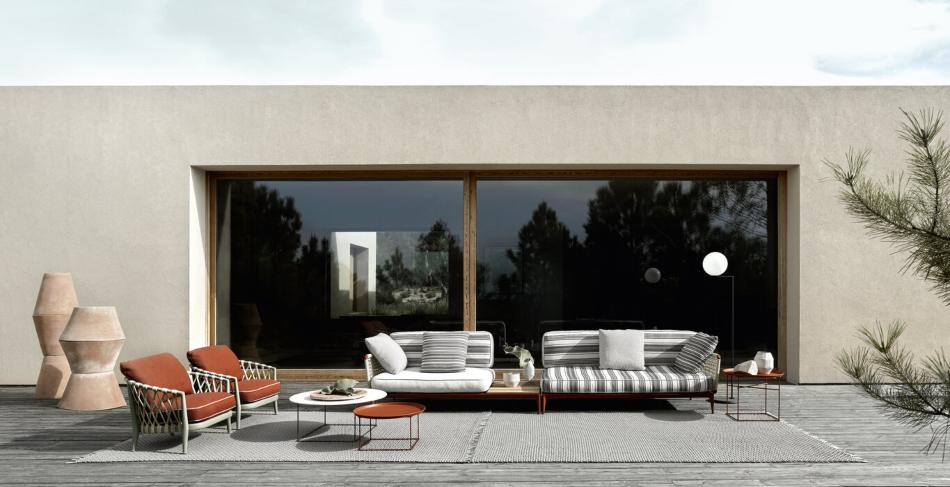 Caring for the decoration of terraces, balconies and gardens is important to be able to create a cosy and comfortable atmosphere in the outdoor spaces of your home and to be able to enjoy moments spent outdoors.
Large outdoor rugs are a great way to add personality and organise outdoor furniture. For a customised result, you can choose from many different models and materials. Alternatively, you can order a custom-made model .
What are the best materials and designs for large outdoor rugs?
Finding the right material for large outdoor rugs is of paramount importance. When placed in outdoor spaces in the home , carpets must be able to withstand the sun, moisture and possibly rain.
For these reasons, carpets made from synthetic fibres are almost exclusively used for outdoor use. One of the most popular is polypropylene, because it is water and UV-resistant. Polyester is also popular, because it is also durable, and then because it is easy to clean. Another option to consider is acrylic, which is very soft to the touch and stain resistant.
All three of these materials are suitable for making large carpets to be placed in various places outside the home. A large custom-made carpet can be used to create a relaxation area near the swimming pool, for example, or choose a large, colourful carpet to liven up the atmosphere of a canopy or patio.
Large outdoor rugs can be offered as creations in many different designs. Among the motifs you are most likely to find are stripes, flowers and geometric patterns. However, there is also no shortage of rugs with abstract designs, those with a more minimalist look and those with a contemporary feel,
When choosing the right design for large outdoor rugs, it is necessary to consider what kind of room you are decorating and what you want to achieve. In order to achieve a harmonious result, it is necessary to choose an artefact that has a design in line with that of the chosen outdoor furniture. If the terrace or patio is furnished in a modern style, for example, a carpet with a geometric or abstract motif might be the best choice. On the other hand, a carpet with floral motifs might be more suitable for a terrace or gazebo furnished in a country style.
How to care for large outdoor rugs?
To maintain the beauty and functionality of XL outdoor carpets, it is always necessary to establish a precise care and maintenance routine. Caring for the carpets is also essential to prevent the presence of moisture from causing mould and fungus. These are situations that can not only damage the carpet, but also cause health problems for people and animals that come into contact with it.
The cleaning schedule should be adapted depending on where the artefact is placed and how often it is walked on. In addition, to identify the right cleaning technique, it is good to consider what type of carpet it is and what material it is made of.
For surface cleaning, using a hoover is the easiest and most effective way to remove dust and dirt from the artefact. The surface should be vacuumed carefully, using a gentle brush, at least once a week.
In the case of large outdoor rugs that have been placed in the garden, these artefacts frequently come into contact with soil and grass residues. For these pieces, frequent cleaning, including washing with soap and water, is therefore important.
For a carpet that is on the terrace of the house, in an area with little traffic, regular cleaning with a hoover may be sufficient. And perhaps a periodic dry cleaning.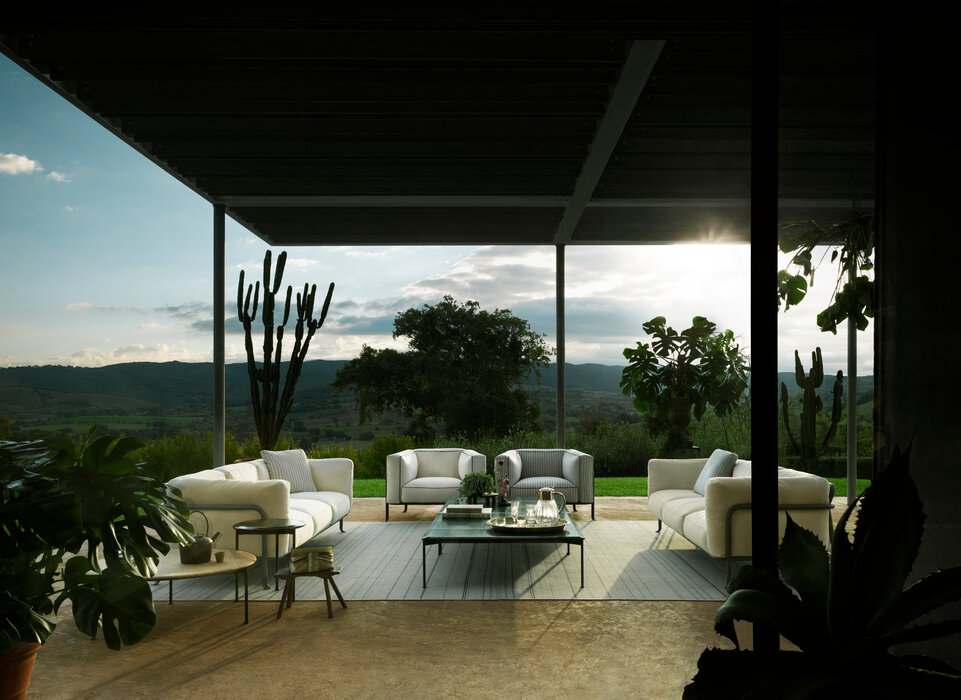 What are the advantages of large outdoor rugs? And how can they be used in interior design?
Large outdoor rugs can be used not only to decorate spaces, but also to increase their functionality. In addition to their aesthetic appearance, large outdoor rugs are also appreciated for their many practical qualities.
A large rug placed in a gazebo or canopy, for example, helps to visually separate spaces and, when combined with sofas and armchairs, makes it possible to create a true outdoor seating area.
It doesn't end there. Generously sized outdoor rugs are very useful for protecting the floor from the weather, dirt or traffic. Or they are ideal for creating a barrier that insulates from a cold floor or the ground. Equally useful is the ability of these pieces to dampen noise.
With large outdoor rugs, one can easily create a cosy, functional outdoor space with personality. The use of bright colours and patterns reminiscent of the tropical and natural world can instantly brighten up the space. On the other hand, preferring dark colours and essential designs gives the space both a refined and sophisticated look.
Nodus creates prestigious rugs.
Bring luxury into your home!
>>> CONTACT US! <<<

Nodus has reinvented the luxury rug. It was in fact the first brand to propose the concept of the rug as a work of contemporary art.
Nodus has always created exclusive products that furnish the most beautiful homes in the world. Do you want to make your home inimitable as a work of art?
Bring a hand knotted rug of the highest quality and design into the spaces of your daily life! Give your family and the people you love the beauty of a dream masterpiece! Every piece of Nodus is designed by famous Designers, making it recognisable and prestigious. In this way, each rug is unique: you will not find another one like it. Like all beautiful and unrepeatable things, one piece in the Nodus collection sets you apart and speaks to others about your taste and elegance. CONTACT US!