Shaggy washable rugs : what do they look like? How can they be combined with various furnishing styles?
Home — Materials and techniques —
Sep 22.2023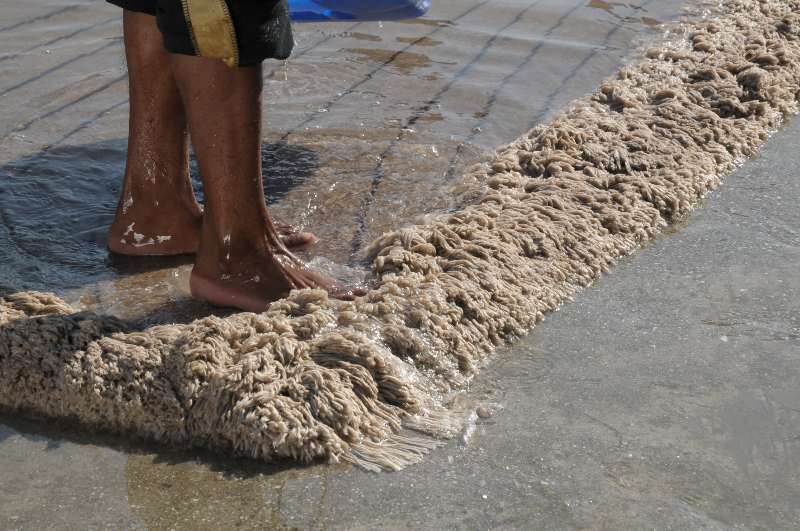 Shaggy washable rugs are particularly popular because they offer comfort, practicality and safety. These particular items are made of materials that are both delicate and durable, which makes them very pleasant to use.
As these products are easy to wash, either dry or with water, they can be placed in every corner of the house and are also suitable in rooms that are frequented by children, animals and people with allergies.
Which materials should be preferred for washable long pile rugs?
One of the most suitable materials for shaggy washable rugs is wool. Indeed, this natural material makes the carpet feel comfortable and warm when you walk on it. Furthermore, since wool is a water-repellent and hypoallergenic yarn, rugs made from wool are also easy to clean and stain-resistant.
Another material suitable for the production of shaggy washable rugs is cotton. This material is known for its softness and durability and makes rugs particularly suitable for high-traffic areas and families with children or pets.
Regardless of the material they are made of, shaggy washable rugs offer numerous advantages. To begin with, they are very comfortable to the touch, thanks to their soft, long pile. They are also ideal for relaxing or playing on the floor, as they feel both cosy and pleasant.
Practicality is another important aspect of these rugs. As they are washable, they can be easily cleaned in the washing machine or by hand, removing any stains or any dirt accumulated over time.
Finally, shaggy washable rugs also provide a safer environment for the whole family. How so? Placing a non-slip surface underneath the rug prevents accidental slips and falls, while the absence of harmful substances makes them safe for the whole family to use.
In which rooms of the house are shaggy washable rugs best suited?
Shaggy washable rugs are an excellent furniture choice that can make various rooms in the home more comfortable and elegant. These rugs catch the eye due to their attractive appearance, ideal for enhancing the interior design in both the living and sleeping areas of the home.
Shaggy washable rugs are particularly suitable for completing the interior design of bedrooms and living rooms, the most important rooms in the home. In both these types of rooms, long-pile rugs succeed in expressing all their qualities: their softness offers a pleasant and luxurious user experience, while their fluffy appearance makes the atmosphere very warm and cosy.
Besides being beautiful to look at, shaggy washable rugs are also a practical solution for everyday use. For this reason, they are also suitable for spaces in the home that are more prone to traffic, such as living rooms and hallways. The fact that these rugs can also be washed easily in the washing machine allows them to be placed in hallways or the dining room without worrying too much about stains.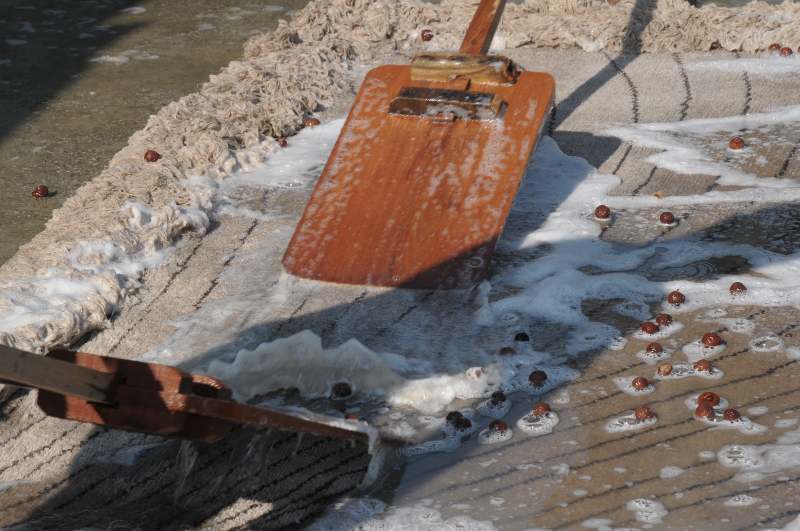 How to properly clean shaggy washable rugs ?
We have already pointed out that shaggy rugs that can be easily cleaned are an ideal choice to make the home more comfortable and cosy. These models are also practical to use and easy to clean, either by DIY or by hiring a professional cleaning service.
To keep these rugs clean and in good condition, it is important to follow a few recommendations, so as to avoid ruining them with overly aggressive detergents or unsuitable cleaning systems.
For routine cleaning, you can consider using a special dry-cleaning powder for the carpet. How does it work? Simply sprinkle the carpet surface with the cleaning powder and vacuum over it to remove all dirt accumulated on the surface. Alternatively, you can decide to wash the items with water and a mild detergent, making sure to rinse them well.
For smaller models, the quickest and most practical solution is machine washing, choosing a special washing programme for rugs or selecting one for delicate items. Larger pieces, on the other hand, can be washed outdoors, e.g. in the garden, or can be entrusted to professionals, who will take care of washing and drying the product.
The correct drying of the carpet is just as important as the correct cleaning. When washing with soap and water, it is necessary to ensure that the textile is completely dry before putting it back down. Residual moisture could in fact cause the formation of unpleasant odours or mould that could irreparably damage the product.
Even though shaggy washable rugs are made with artisanal techniques that do not involve the use of glues or chemicals, it is always preferable not to use heat sources to speed up the drying of the individual item.
Nodus creates prestigious rugs.
Bring luxury into your home!
>>> CONTACT US! <<<

Nodus has reinvented the luxury rug. It was in fact the first brand to propose the concept of the rug as a work of contemporary art.
Nodus has always created exclusive products that furnish the most beautiful homes in the world. Do you want to make your home inimitable as a work of art?
Bring a hand knotted rug of the highest quality and design into the spaces of your daily life! Give your family and the people you love the beauty of a dream masterpiece! Every piece of Nodus is designed by famous Designers, making it recognisable and prestigious. In this way, each rug is unique: you will not find another one like it. Like all beautiful and unrepeatable things, one piece in the Nodus collection sets you apart and speaks to others about your taste and elegance. CONTACT US!