Rustic rugs : what are they? How are they made? How can they be combined with elements of the individual interior design?
Design — Home —
Oct 07.2023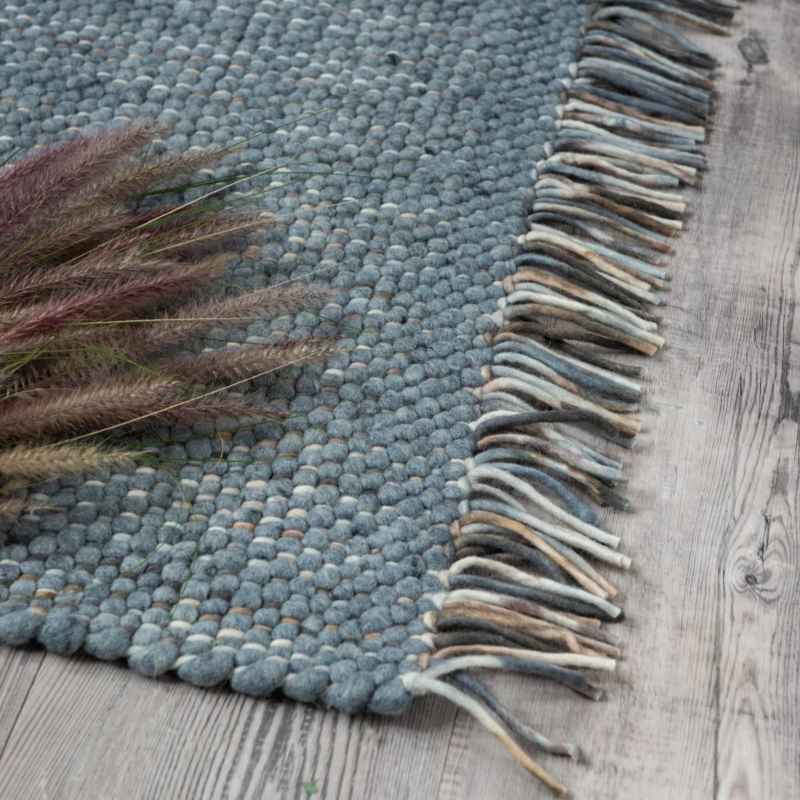 Rustic rugs are a solution to consider if you want to add a touch of warmth and authenticity to your home environment.
These textiles are particularly appreciated for their simple and striking appearance, as well as their natural and embracing colours.
What are the characteristics of rustic rugs ?
When looking at a rustic carpet, the first thing that jumps out at you is its slightly irregular texture, the result of a handcrafted process. High-quality artefacts are handmade by craftsmen using traditional techniques that have been handed down for centuries.
What also makes the rustic pieces unique is the variety of their designs. Indeed, they range from plain-coloured models and those with geometric designs to carpets with delicate floral patterns and those with abstract designs . As far as colours are concerned, neutral and earthy colours dominate, but there is no shortage of models in more vibrant shades. Thanks to this variety, rustic rugs are able to adapt to a wide range of furnishing styles.
Robustness is another strong point of rustic designs. They are often made of solid fibres such as wool, cotton, hemp and jute. The durability of these carpets also makes them perfect for high-traffic areas of the home, such as the entrance, living room and stairs.
Finally, the vintage charm of rustic style carpets should not be underestimated. In fact, their aesthetics are openly reminiscent of the past and make it possible to create spaces where one can breathe in a warm, homely atmosphere.
What materials and colours should be chosen for rustic rugs ?
Typically, wool or yarns of vegetable origin, such as cotton, hemp or jute, are used for rustic rugs .
Wool is the most natural choice if you want an elegant, soft and durable carpet. This is for example best for pieces to be placed in the busiest areas of the house.
Cotton is also a great material for making beautiful rustic rugs . This option is preferable if you need a lighter and more manageable piece, and if you want to give the room a cooler feel.
Hemp and jute, on the other hand, are excellent fibres to bring out the raw, rustic look of the carpet and fit perfectly with an authentic rustic decor. For an even more impressive result, the carpet can be combined with home textiles: completing the decor with tablecloths, dishcloths and curtains made of hemp or jute will give a very special touch to the space.
As far as colours are concerned, rustic rugs are usually made of undyed natural fibres or earthy coloured materials such as brown and beige. At the same time, it is common to find artefacts that are offered in olive green or grey.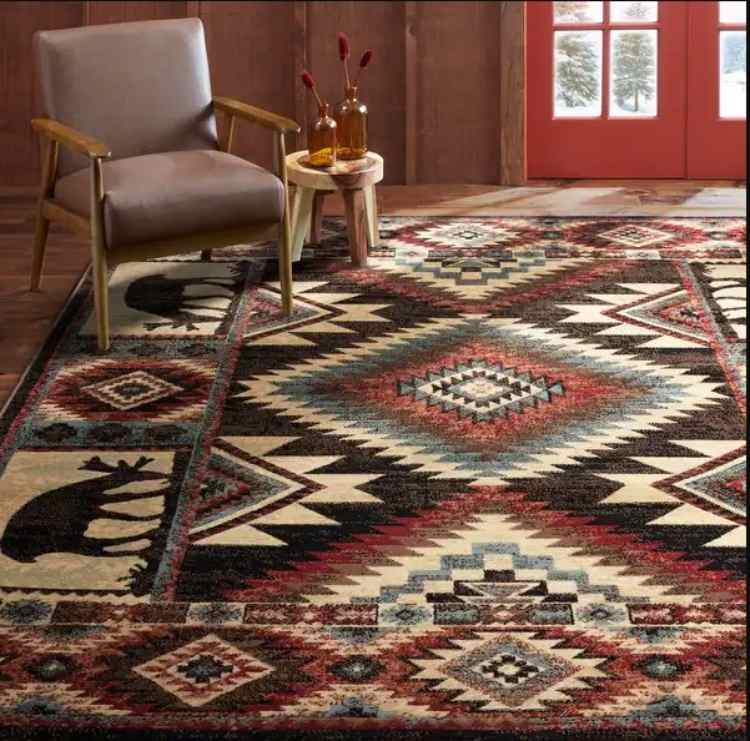 As goes without saying, the typical colours of rustic rugs are reminiscent of the natural environment and perfectly complement the colours and lines that characterise simple, country-style furniture.
What makes the difference between the different rustic carpet models is not only the materials and colours used, but also their design. Those who wish to furnish their room in a traditional and sober manner can consider, for example, plain-coloured rustic rugs or those with a simple geometric, striped or diamond design. Those who want to add a fresh touch to the room can consider a rustic rug in a floral style, while those who want to add an original element that deviates from tradition can think about patchwork.
How can rustic rugs be combined with home furnishings?
What determines the success of the furnishing choices made is the relationship that is created between the rustic artefact and the surrounding furnishings. Finding the right balance between these elements is indeed essential for a successful interior design project.
For a rustic rug with neutral tones, the most natural and recommended combination is with a country-style kitchen or a vintage living room. If you have opted for a brightly coloured carpet, on the other hand, you can achieve an excellent result in combination with a modern living room.
In the bedroom, a rustic rug can be placed at the foot of the bed to create a warm and cosy atmosphere. This solution goes very well with both traditional and contemporary furniture.
Rustic rugs can also find a place in other areas of the home, such as the entrance, study or office area. In each of these rooms, the presence of such an artefact can help define and give personality to the space.
More generally, deciding to furnish rooms with rustic rugs is a good idea if you want to transform your home environment by adding a touch of warmth and comfort.
Nodus creates prestigious rugs.
Bring luxury into your home!
>>> CONTACT US! <<<

Nodus has reinvented the luxury rug. It was in fact the first brand to propose the concept of the rug as a work of contemporary art.
Nodus has always created exclusive products that furnish the most beautiful homes in the world. Do you want to make your home inimitable as a work of art?
Bring a hand knotted rug of the highest quality and design into the spaces of your daily life! Give your family and the people you love the beauty of a dream masterpiece! Every piece of Nodus is designed by famous Designers, making it recognisable and prestigious. In this way, each rug is unique: you will not find another one like it. Like all beautiful and unrepeatable things, one piece in the Nodus collection sets you apart and speaks to others about your taste and elegance. CONTACT US!