Abstract art rugs: what are they? How to choose the right models for your interior design project?
Design — Home —
May 16.2023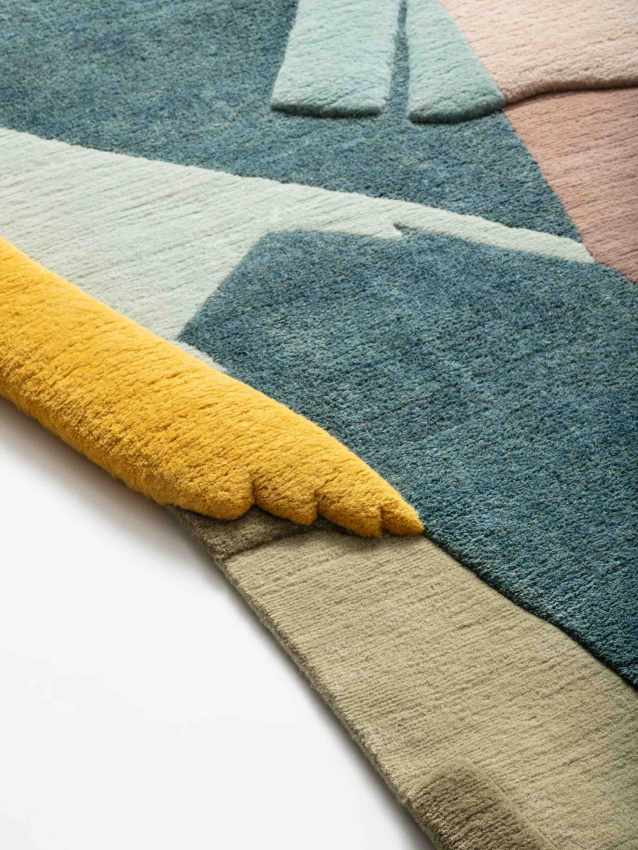 Abstract art rugs have a long history, rooted in different cultures and traditions.
In fact, the most modern abstract art rugs are the heirs of the oldest Oriental rugs . Although the colours and designs change, and sometimes the processing techniques and materials used, certain fixed points remain that represent the strong points of luxury carpet production: care in design and processing, product quality and the uniqueness of each model.
What are the characteristics of abstract art rugs?
These rugs represent one of the highest expressions of this fascinating textile art. We can consider these rugs to be works of art in their own right. Like paintings, statues and sculptures, they can enrich the rooms in which they are placed and strike the eye with their beauty and originality.
Abstract art rugs are appreciated above all for their aesthetic appearance. Often, they make use of a wide range of shapes and colours, bringing together existing elements and elements from the designers' imagination. Through careful and harmonious composition, a coherent result with a strong evocative power is achieved.
It is not uncommon to find elements in abstract rugs of an artistic nature that have a symbolic and spiritual value. In modern rugs, this choice demonstrates a deep connection to the past, as the oldest Oriental rugs are rich in symbols that still tell of the culture and traditions of the people who created them.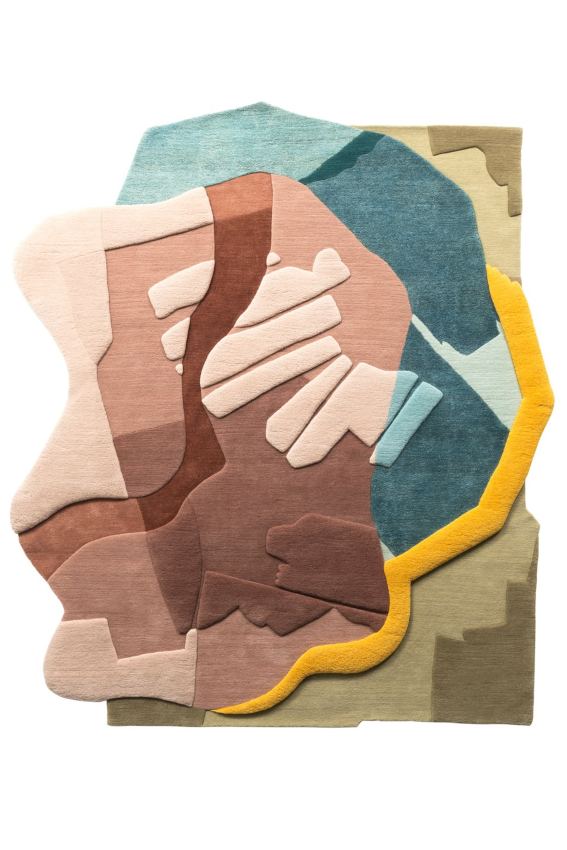 How to match abstract art rugs to specific furnishings?
Incorporating abstract art rugs into home furnishings is an interesting challenge. Even more than on other occasions, the key to achieving a good result is the balance that is created between the different elements that make up the furniture.
For example, if you have chosen classic and traditional furnishings for your home, it is advisable to go for abstract art rugs in subdued tones and with a design that recalls geometric motifs and sinuous lines. This solution adds a touch of originality to the space without creating too obvious a contrast with the furniture.
Conversely, in a room furnished with modern furniture, one can dare with bolder shapes and colours. The combination of furniture and abstract carpet creates an interesting visual effect that gives the space a strong personality and does not leave guests indifferent.
Some tricks of the trade to create a harmonious effect between the carpet and the furnishings are also valid when relying on abstract patterns. For example, you can match the colour of the carpet to that used for the sofas, armchairs or cushions.
To achieve a beautiful overall result, the importance of the size and shape of the carpet should not be underestimated. In contrast to traditional rugs, which have a geometric shape and fairly regular designs, in abstract art rugs, the imagination of designers ranges from the simplest patterns to departing far from tradition.
In general, the size of the carpet should be proportional to the size of the room so as not to weigh down the room. If one decides to place an abstract art carpet in a small room, it is preferable to opt for a model with a small size and focus on an unusual shape or bright colours. On the contrary, in a very large room you can use a large carpet with neutral colours if you want to create a refined ambience or with brighter shades to add a touch of colour.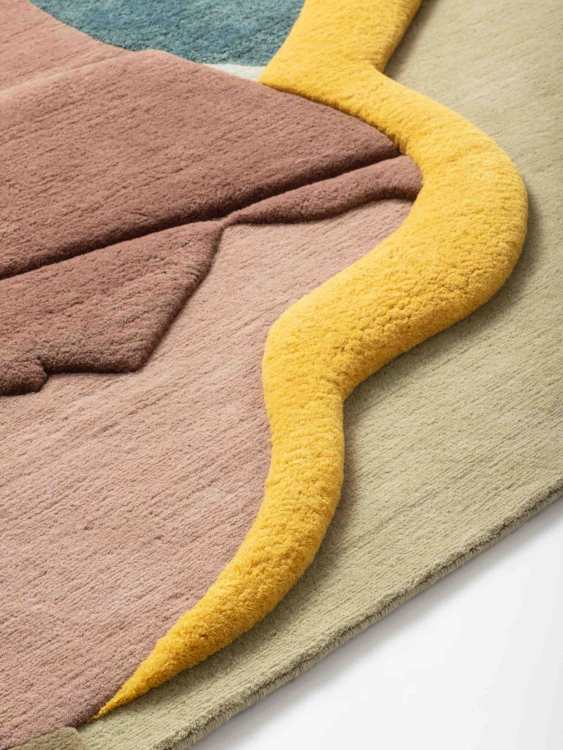 How are abstract art carpets made?
Abstract rugs represent a unique and evocative form of textile art that has spanned the centuries while retaining its beauty and originality.
A mix of traditional and modern processing techniques is used in the production of abstract art rugs, resulting in a very elegant and sophisticated carpet.
One of the most popular techniques used to create these rugs is taftatura, which consists of inserting tufts of coloured yarn inside the canvas that forms the base of the carpet. A hook or a special gun is used to fix the threads. This technique is very versatile and makes it possible to obtain rugs with varying densities and thicknesses according to requirements.
Art rugs are often also made using the knotting technique. In this case, the warp is fixed to a loom and the desired design is created by knotting the coloured threads one at a time.
Regardless of which technique you choose, when you are dealing with abstract art carpets you can be sure that you are dealing with rugs of the highest quality that will last for a very long time.
Nodus creates prestigious rugs.
Bring luxury into your home!
>>> CONTACT US! <<<

Nodus has reinvented the luxury rug. It was in fact the first brand to propose the concept of the rug as a work of contemporary art.
Nodus has always created exclusive products that furnish the most beautiful homes in the world. Do you want to make your home inimitable as a work of art?
Bring a hand knotted rug of the highest quality and design into the spaces of your daily life! Give your family and the people you love the beauty of a dream masterpiece! Every piece of Nodus is designed by famous Designers, making it recognisable and prestigious. In this way, each rug is unique: you will not find another one like it. Like all beautiful and unrepeatable things, one piece in the Nodus collection sets you apart and speaks to others about your taste and elegance. CONTACT US!