The pet-friendly rug: what is it? How to make the right choice for rugs when there are animals in the house?
Materials and techniques —
Sep 29.2023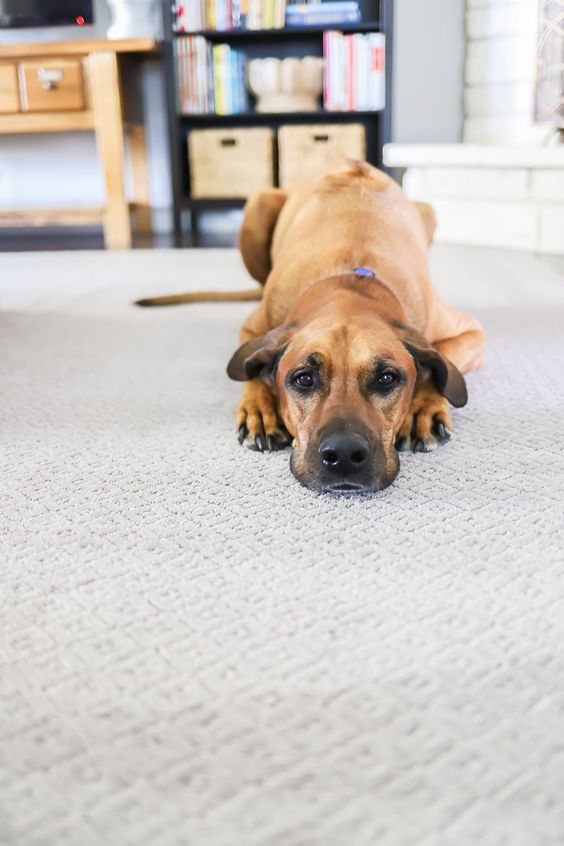 Choosing a pet-friendly rug offers those who incorporate it into their interior design a safe, clean and comfortable environment for the whole family.
In addition to being aesthetically pleasing, the perfect pet-friendly rug must be able to ensure the safety and comfort of your four-legged friends. By paying attention to material selection and design, you can make an elegant, safe and long-lasting choice. Let's see how this is done.
What are the ideal characteristics of a pet-friendly rug?
If you want to furnish your home with one or more pet-friendly rugs, it is essential to make sure that the models you are considering are safe, whether you have puppies in the house or live with adult animals. The safety of the products must be verified with regard to the fibres used, which should be free of toxic substances and dyed in natural or certified colours, and with regard to the structure of the rug itself, which should guarantee good stability, thus avoiding falls or injuries.
In a house where animals live, accident prevention is a priority. For this reason, it is preferable to avoid rugs with fringes , which could become dangerous for pets, especially lively ones. Furthermore, it is advisable to opt for heavy items, which remain firmly anchored to the floor, and, if necessary, an anti-slip mat can be placed underneath the rug to prevent unwanted slipping.
Ease of cleaning is another crucial aspect. From this point of view, short pile rugs should be preferred, as they are easier to vacuum and clean. In addition, it is advisable to choose washable materials, which are easier to handle in case of stains.
Finally, a perfect pet-friendly rug should have a compact structure. This ensures that hair and dirt do not nest deep within the fibres of the item, making it easy to clean and helping to maintain hygiene and order in the home.
What are the best materials for pet-friendly rug?
When it comes to choosing the best materials for pet-friendly rugs, it is essential to strike a balance between aesthetics and functionality. It is true that rugs should be easy to clean and wash, but you should not sacrifice the style of your home.
A good choice is to opt for fabrics of vegetable origin, such as cotton, jute and hemp. These materials are durable, ecological and washable. In other words, they have all the characteristics that make them ideal for environments frequented by pets. The versatility of these textiles is also expressed from a stylistic point of view: they are available in many different shapes and sizes to suit every space in the home.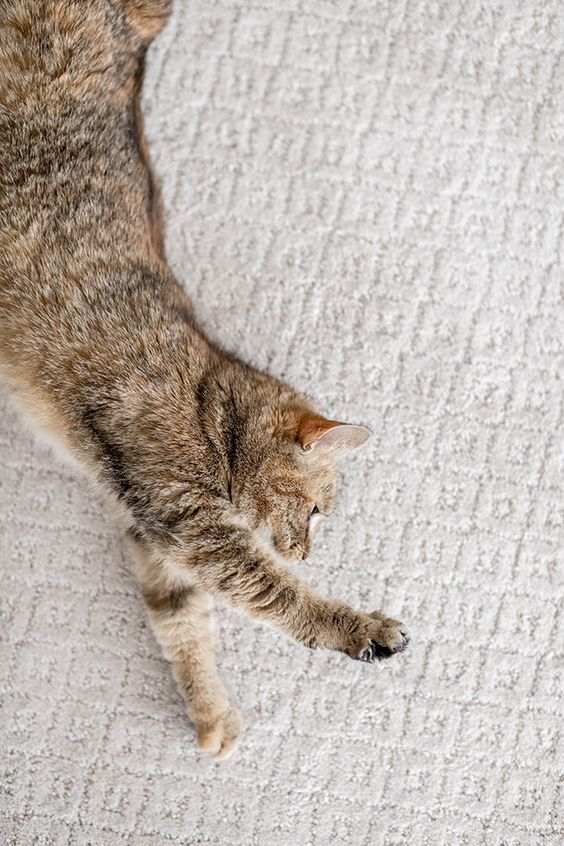 For outdoor spaces or high-traffic areas, a pet-friendly rug made of synthetic fibres can be considered. These pieces are weather and stain resistant and are an ideal choice for gardens or patios that are frequented by dogs, cats and various other pets. Inside the home, a synthetic rug can also be a wise choice, especially if a large number of animals live in the home and if damage to the more delicate rugs is feared.
Besides choosing the right material, it is equally important to find the perfect design for a pet-friendly rug. Since hair and dust will inevitably be deposited on the product, it is preferable to select rugs with decorative patterns that can conceal possible stains or the presence of hair. Striped or geometric motifs with small repeating patterns are good options, as they tend to better camouflage inconveniences caused by pets.
Tips for decorating with pet-friendly rug
When incorporating a pet-friendly rug into your interior design, it is good to find the right compromise between aesthetics and functionality. By taking into account the characteristics of the space to be furnished and the use to which the room is put, the ideal piece can be identified that, in terms of design, colour and style, fits ideally into the environment.
In living areas or bedrooms, for example, one could go for a rug with a more elaborate design, such as a geometric lozenge pattern. This design offers discreet elegance and can effectively conceal hairs and small stains.
Those who prefer more lively-looking rug designs can consider a rug with floral patterns. This design can be perfect for bringing some colour into the room and can effectively camouflage small and large stains.
Colours play a key role in achieving a satisfying result. To create an elegant and well-kept environment, it is a good idea to choose as the base colour of a pet-friendly rug shades that harmonise well with the animals' fur. In this way, you reduce the visibility of hair left lying around the house and avoid having to repeatedly vacuum the product, which could damage its structure.
Nodus creates prestigious rugs.
Bring luxury into your home!
>>> CONTACT US! <<<

Nodus has reinvented the luxury rug. It was in fact the first brand to propose the concept of the rug as a work of contemporary art.
Nodus has always created exclusive products that furnish the most beautiful homes in the world. Do you want to make your home inimitable as a work of art?
Bring a hand knotted rug of the highest quality and design into the spaces of your daily life! Give your family and the people you love the beauty of a dream masterpiece! Every piece of Nodus is designed by famous Designers, making it recognisable and prestigious. In this way, each rug is unique: you will not find another one like it. Like all beautiful and unrepeatable things, one piece in the Nodus collection sets you apart and speaks to others about your taste and elegance. CONTACT US!