Outdoor rugs waterproof: what are they? How to choose according to outdoor design?
Design — Materials and techniques —
Apr 01.2023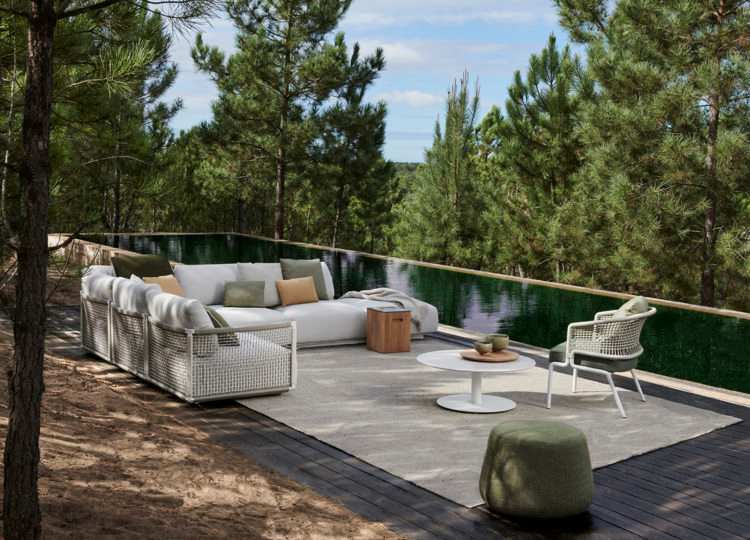 Outdoor rugs waterproof are valued for their ability to protect outdoor areas from rain and moisture without being damaged.
These particular mats are usually made of synthetic materials such as ABS, polypropylene or polyethylene. All of these fibres retain their characteristics even if they come into contact with water. Moreover, as they are able to drain liquids, they dry very easily and are always comfortable.
What are the advantages of outdoor rugs waterproof?
Choosing a waterproof outdoor carpet is a good idea if you want to prevent falls, especially in all cases where the ground can become slippery due to moisture or rain.
Thanks to the natural anti-humidity properties of the materials used to make these outdoor carpets and the specific treatments they undergo, these products provide a non-slip surface that significantly reduces the risk of falls, especially for elderly people and children.
Like all textiles, outdoor rugs waterproof help to protect indoor floors in the home and prevent dirt, leaves or mud from entering.
Outdoor carpets are made to last and to withstand the elements. This is even truer in the case of waterproof products, which are specially designed to withstand the weather, sun and cold, without loss of colour or aesthetic damage. The robustness and durability of these carpets also make them the ideal choice in high-traffic areas such as gardens or entrances.
Those who choose to furnish with one or more outdoor rugs waterproof also appreciate their ease of cleaning and maintenance. In fact, the wear and water-resistant fibres can even be treated with just a hoover or carpet cleaner. For deeper cleaning, dry cleaning or washing with soap and water can be used instead.
What material should be chosen for outdoor rugs waterproof?
Outdoor rugs waterproof can be made from various types of materials, but synthetic fibres are the most commonly used.
Specifically, the materials most frequently used to make outdoor carpets that need to be water-repellent are polypropylene, polyester and acrylonitrile-butadiene-styrene (ABS). These fibres have a few things in common: they all possess excellent water-repellent properties, are easy to maintain and make for elegant and luxurious looking carpets.
Polypropylene is perhaps the most widely used material in the production of outdoor rugs waterproof. The list of merits of this material is particularly long: the resulting products resist moisture and weather perfectly, protect floors and adapt to the most diverse environments.
Polyester is also appreciated for its durability and versatility. In particular, polyester carpets have an elegant appearance, are soft to the touch and have a compact structure, which makes them durable and very easy to clean.
Those looking for a very soft waterproof carpet may consider models made of ABS. Perfect for placement in areas where there is a lot of moisture, such as near a swimming pool, they can also furnish terraces and patios exposed to rain. Thanks to their ability to withstand both water and UV rays, these rugs can remain outside the home all year round without causing the slightest worry.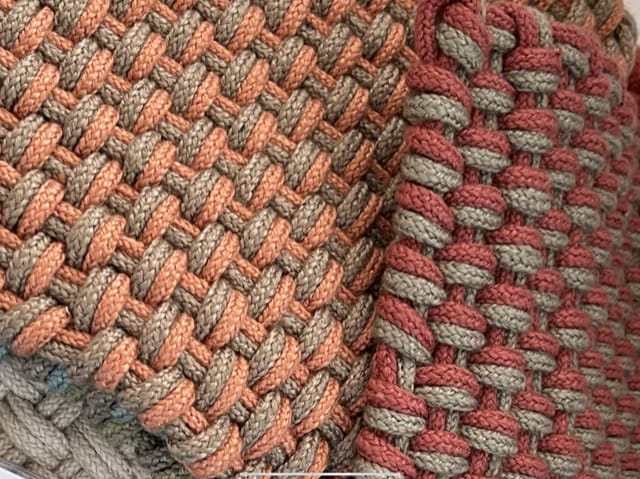 What are the best tips for decorating outdoors with a waterproof carpet?
As with indoor carpets, outdoor models that have waterproof properties can be chosen from an infinite number of shapes, sizes and styles. In addition to being able to choose one of the ready-made models, it is also possible to customise them with prints and designs. Or you can ask for a made-to-measure model.
Among the most common designs of outdoor rugs waterproof are geometric and striped patterns. These decorative motifs are very versatile and can be offered in various colour shades. For a beach house, for example, a waterproof piece that recalls the nautical style, with a combination of blue and white stripes, is excellent. In a city house furnished in a modern style, on the other hand, one can opt for a multi-coloured striped rug, which will liven up even the most anonymous of balconies.
As far as shapes are concerned, the most common choice is a rectangular or round rug, perfect for terraces, gazebos and patios. In spaces with special shapes, such as canopies or swimming pools, you can consider choosing a square model. Or you can opt for an irregularly shaped piece.
To find the right carpet, it is however important to consider the space to be furnished as a whole. Depending on the space you are talking about, outdoor rugs waterproof should be chosen in concert with tables and chairs, if you want to create a space for outdoor dining, or with sofas and armchairs, if the objective is to create a space dedicated to relaxation.
Nodus creates prestigious rugs.
Bring luxury into your home!
>>> CONTACT US! <<<

Nodus has reinvented the luxury rug. It was in fact the first brand to propose the concept of the rug as a work of contemporary art.
Nodus has always created exclusive products that furnish the most beautiful homes in the world. Do you want to make your home inimitable as a work of art?
Bring a hand knotted rug of the highest quality and design into the spaces of your daily life! Give your family and the people you love the beauty of a dream masterpiece! Every piece of Nodus is designed by famous Designers, making it recognisable and prestigious. In this way, each rug is unique: you will not find another one like it. Like all beautiful and unrepeatable things, one piece in the Nodus collection sets you apart and speaks to others about your taste and elegance. CONTACT US!