Novelty rugs: how to recognise them? How to match them to a specific furnishing style?
Design — Luxury rugs —
Jun 30.2023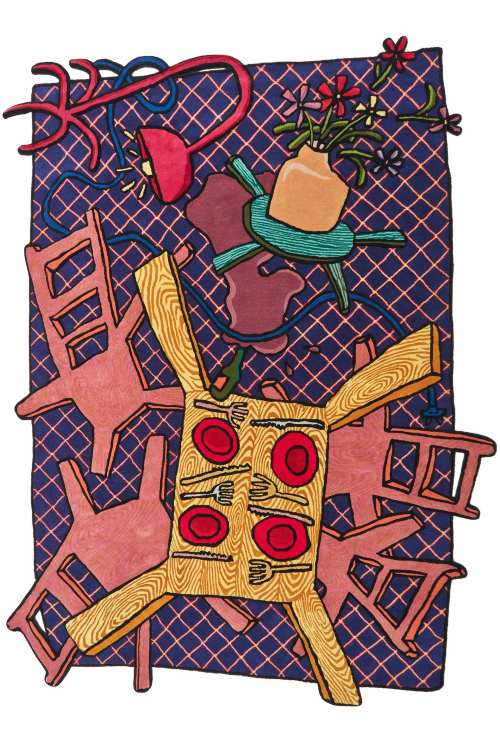 Following the latest trends in carpets, it is possible to furnish the home in an innovative way, experimenting with new patterns to protect and liven up the floor. Often these innovative models are characterised by an original and colourful design, adding a sense of cheer to the overall atmosphere.
When people choose to furnish with novelty rugs, they often rely on unique designs with unconventional decorative motifs, right up to the most extravagant models, made of unusual materials or the result of extensive artistic research.
What distinguishes the most innovative carpets?
One of the main differences between traditional and novelty rugs lies in the design of each pattern. While traditional textile artefacts usually feature intricate patterns and are made using traditional manufacturing techniques, innovative artefacts are characterised by the use of bright colours and the use of decorative motifs that depart from tradition.
When we speak of novelty rugs, we can refer to carpets with unusual shapes, such as those reproducing animals, plants and flowers, or pieces in the shape of famous cartoon characters, famous monuments or reproducing everyday objects. These few examples already give an idea of the great creative potential of carpets of this kind, ideal for giving an unusual and original touch to one's home.
In terms of materials, novelty rugs can be made from the most diverse yarns. Often the most versatile materials are used, such as wool and cotton, but innovative patterns can also be created using yarns of vegetable origin such as jute and sisal or less common materials such as seagrass. It is all a question of considering the type of environment in which the carpet is to be placed and what the desired end result is.
Novelty rugs can prove to be an excellent solution both for decorating the interior spaces of the home and for giving a special touch to outdoor environments. In the latter case, the most suitable materials are polypropylene and polyester, which are able to withstand sun and weather and are easy to work to obtain rugs of all shapes and sizes.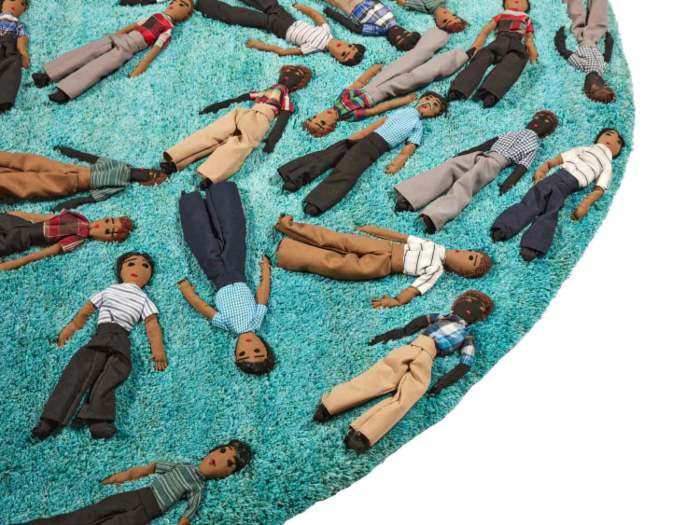 How can novelty rugs be used to add personality to domestic spaces?
Novelty rugs are a great way to add a touch of personality to different rooms in the home. You may consider decorating your home with this kind of artefact especially if you want to move away from tradition and want to create a personalised, irreverent and unusual ambience.
Since these novelty rugs often stand out due to their use of bright colours or their unusual shape, it is a good idea to arrange them so that they can become the focal point of the room's décor. In this sense, it is useful to place the carpet in the centre of the room or at least in a visible position and choose furnishings that are complementary to the piece, so that it stands out in the overall scheme.
The fact that novelty rugs come in so many shapes makes them suitable for every context. If the colourful models that recall the world of cartoons are perfect for creating a playful and fun environment, those with references to the world of nature and travel can allow you to personalise the end result and express your own tastes to the full. By resorting to such a solution, you can, for example, showcase your passions and interests in a creative and visually engaging way, with a few well-selected furnishing elements.
Which novelty rugs should you choose for a specific living project?
Because of their playful character, patterned carpets may prove to be the right choice especially in spaces in the home frequented by children. Furnishing children's and teenagers' bedrooms or playrooms with a colourful carpet that reproduces their favourite characters or that can be transformed into an interactive game allows you to indulge children's tastes, stimulate their imagination and make the room's atmosphere more welcoming and lively.
Fantasy carpets can actually furnish any room in the home. In living rooms and living rooms, for example, this kind of carpet can be used to add colour and make domestic spaces less formal. The most original carpet models can also find a place in professional environments. In an office or creative studio, focusing on pieces of this type helps to break the monotony and encourages new original ideas.
When deciding to furnish with innovative-looking carpets, the most important thing to take into consideration is the need to seek the right balance between the carpet and the rest of the furnishings. A general tip for achieving this is to choose furniture and textiles with complementary colours and styles that blend harmoniously with each other.
Nodus creates prestigious rugs.
Bring luxury into your home!
>>> CONTACT US! <<<

Nodus has reinvented the luxury rug. It was in fact the first brand to propose the concept of the rug as a work of contemporary art.
Nodus has always created exclusive products that furnish the most beautiful homes in the world. Do you want to make your home inimitable as a work of art?
Bring a hand knotted rug of the highest quality and design into the spaces of your daily life! Give your family and the people you love the beauty of a dream masterpiece! Every piece of Nodus is designed by famous Designers, making it recognisable and prestigious. In this way, each rug is unique: you will not find another one like it. Like all beautiful and unrepeatable things, one piece in the Nodus collection sets you apart and speaks to others about your taste and elegance. CONTACT US!