Design rugs for a professional office: how to choose the right item?
Design —
Mar 11.2022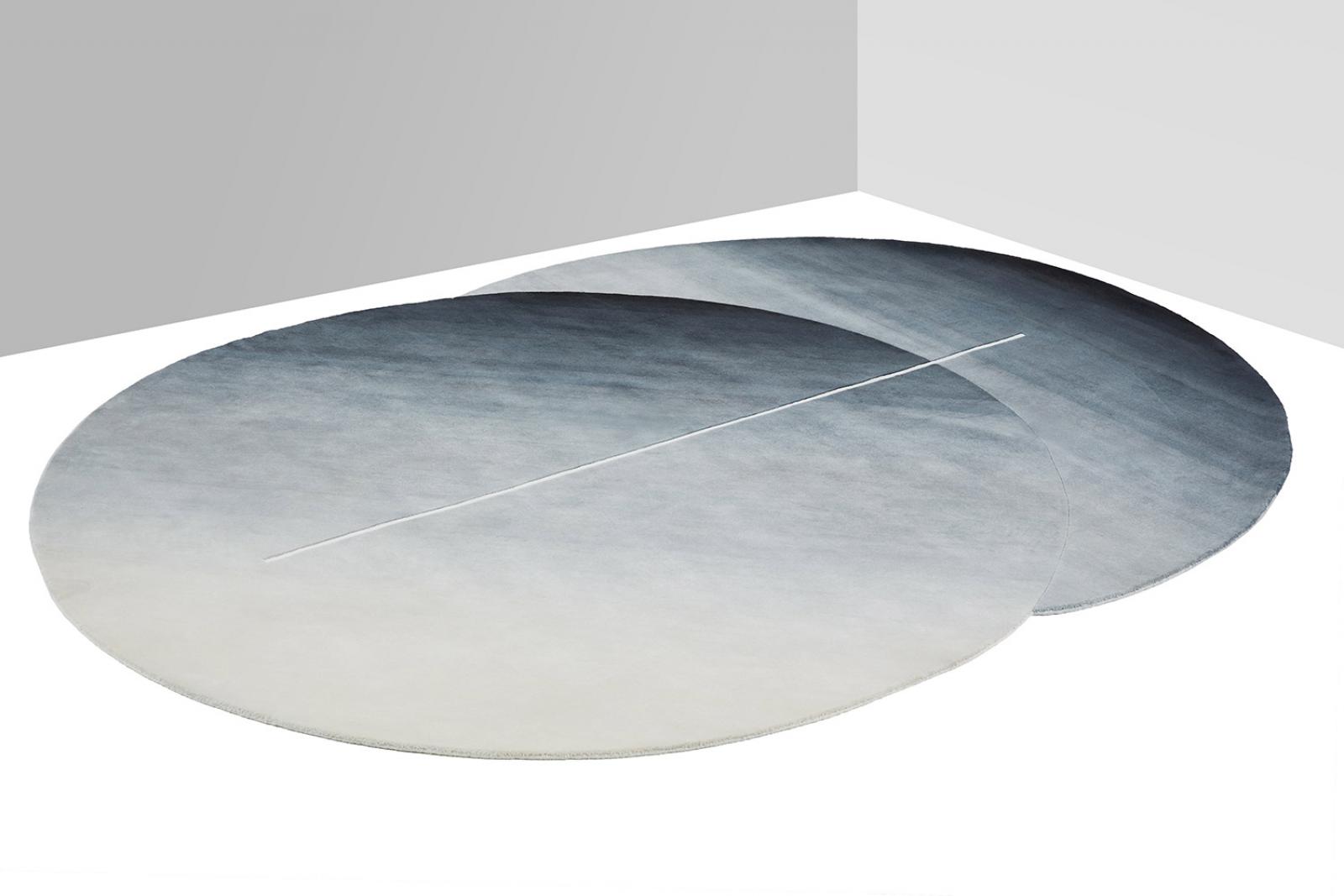 The use of designer rugs makes rooms aesthetically pleasing and conveys the idea of being in an organized and functional space.
This is even more important when you are furnishing a professional office, as the furniture in these rooms needs to be able to support and make work activities more productive. In addition, a professional office needs to give clients a certain type of image, which a designer rug can always do.
The firm's employees should be aware of the fact that the firm's employees are not the only ones to have the opportunity to work with the firm.
Tell me what kind of work you do and I'll tell you what kind of designer rug to choose
Not all work environments are the same and, consequently, it is not possible to define in advance what are the stylistic characteristics that should have a designer rug to be used to enrich a work space. In order to find the right rug model, it is important to think both about the profession performed and the needs that the work environment must satisfy.
Someone who does creative work, for example, needs to be in an environment that is stimulating and conveys energy. If you do a job that requires close attention and high levels of stress, you need to be in a relaxed and welcoming space. These two examples alone give us an idea of how varied workspaces can be and how important the role of rugs is. Through the combined use of color and design, rugs can precisely define the atmosphere of the room and can convey feelings and emotions that can help you work better.
In addition to the type of work you do, the location of the office also has an influence on the choice of the right designer rug. If you have to furnish a professional office in the house, in fact, you must take into account the style of furniture chosen for the rest of the house, while if the office is located in a dedicated space you can create a more independent project.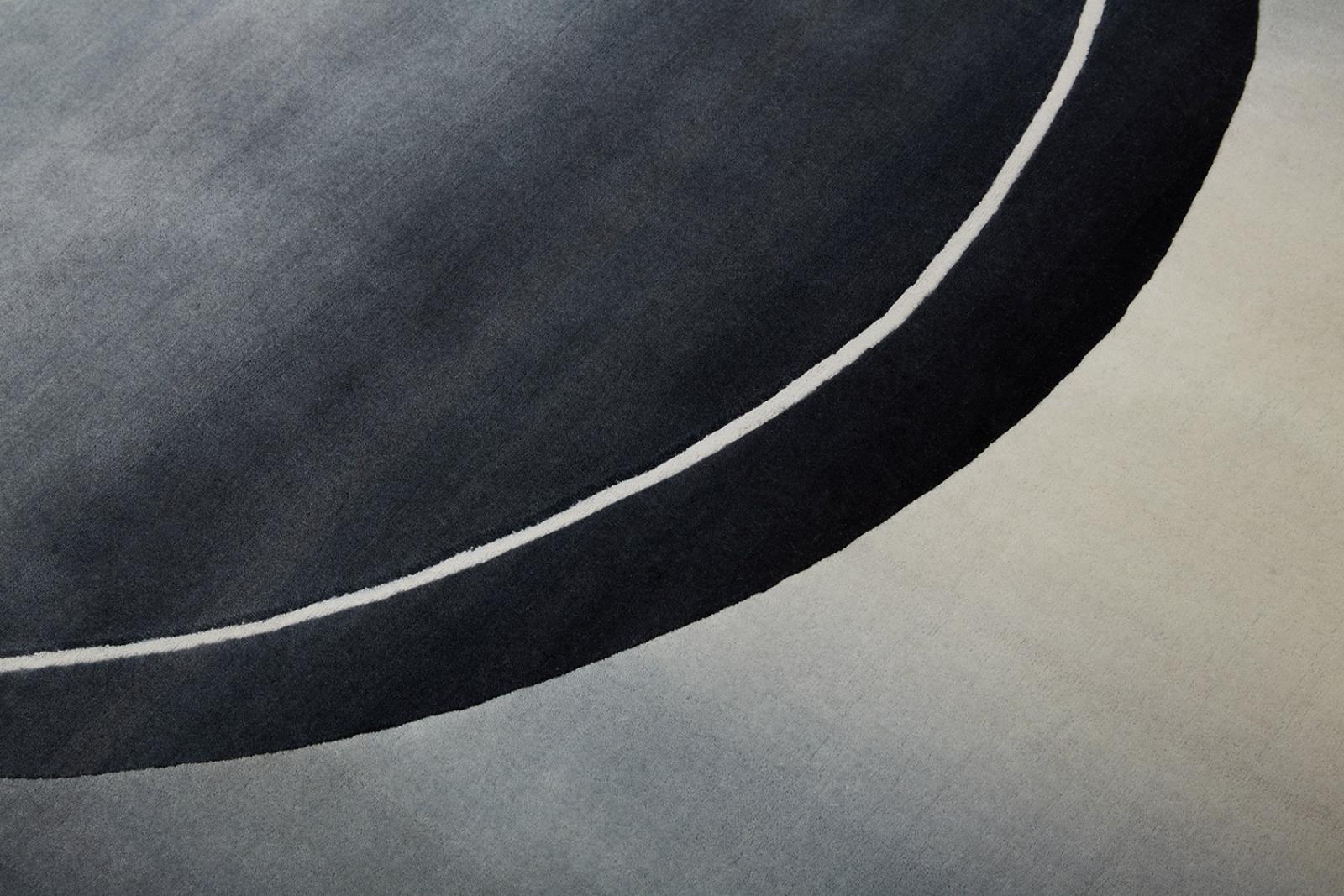 How to use designer rugs to create an ideal working environment
Inserting a designer rug in the office is not only for aesthetic reasons. In fact, the rug can become a kind of additional work tool. Making the right choice of materials and colors to furnish the office creates an atmosphere that helps maintain concentration and increases productivity.
Knowing the principles of color theory is a great help in making the right choices. Warm colors such as orange and red are great options if you want to create a work environment that conveys energy. On the other hand, dark blue and brown tones convey reassurance and confidence and are ideal for those in sensitive professions.
Designs and patterns should also be chosen with the type of professional activity being carried out in mind. To furnish a creative studio, you can indulge yourself with contemporary art rugs and design solutions, even made-to-measure, that propose bold shapes and colour combinations. For more traditional professions, on the other hand, it is more appropriate to opt for a luxury rug with a classic design, such as a vintage oriental rug or a plain rug. The latter are models that suggest elegance and refinement and, if proposed in large format, also give the perception of solidity and concreteness.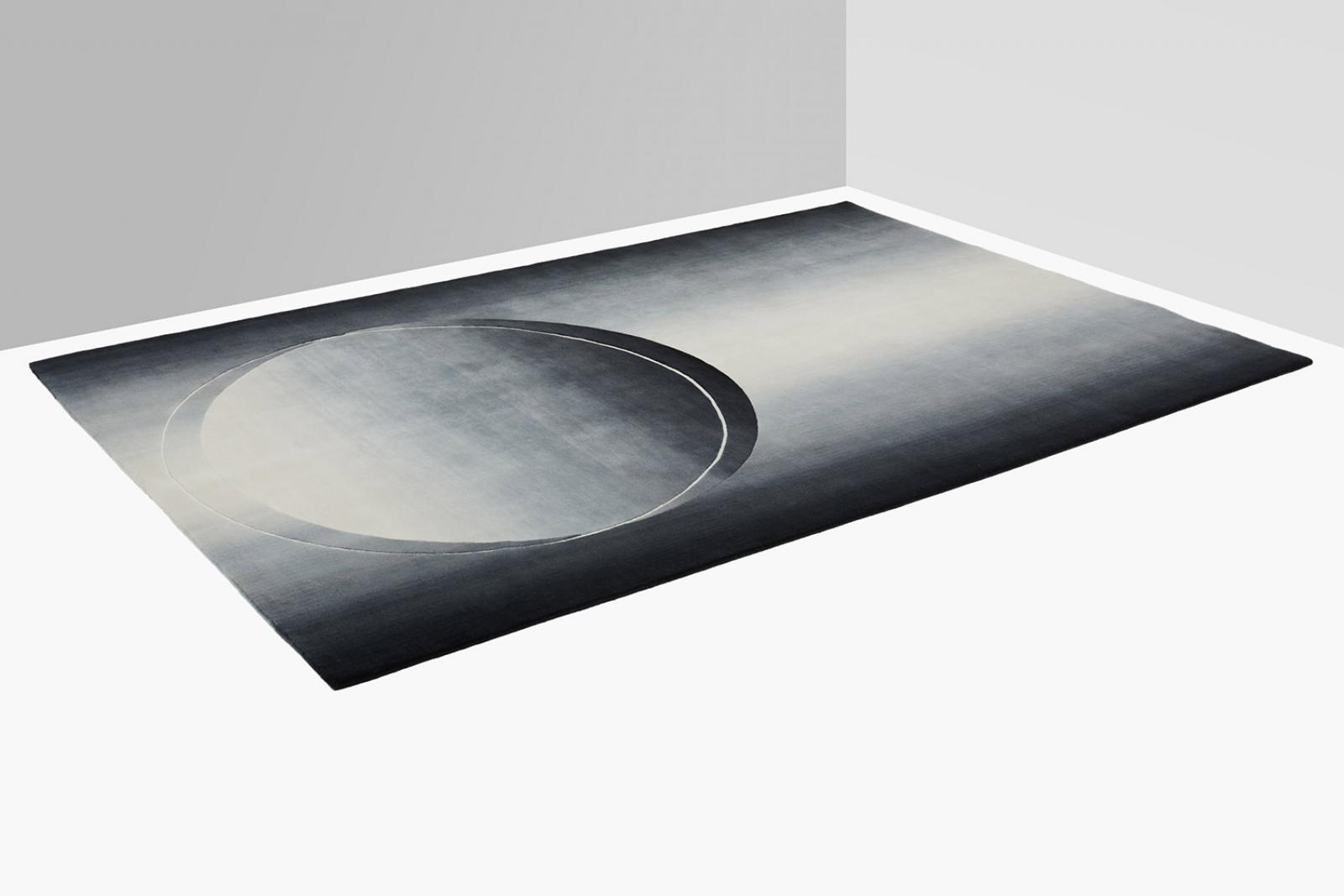 The best rug styles and sizes for furnishing any type of workspace
Those who need to furnish a professional studio have a wide range of options to choose from. From oriental rugs to unusual designer rugs, no item can be ruled out out of hand.
When choosing the size of the rug, the size of the office should be considered first. A large room will be enhanced by an equally large rug, perhaps occupying the center of the room. In a smaller space, however, it is advisable to place the rug at the desk or in the area of the firm where most of the work is done.
In the case of professions that have a strong artistic component, you may also decide to use the rugs as wall decoration. This solution is to be considered for those who carry out a profession that has to do with fabrics, such as designers and tailors, but also for those who work with images, such as painters and photographers.
In essence, even through the use of designer rugs, it is possible to create furnishings that stimulate the imagination or predispose to listening and trust. Thanks to custom-made solutions, every professional can find the perfect designer rug for their office. That is to say, the valuable artifact that best reflects the desired atmosphere and style.
Nodus creates prestigious rugs.
Bring luxury into your home!
>>> CONTACT US! <<<

Nodus has reinvented the luxury rug. It was in fact the first brand to propose the concept of the rug as a work of contemporary art.
Nodus has always created exclusive products that furnish the most beautiful homes in the world. Do you want to make your home inimitable as a work of art?
Bring a hand knotted rug of the highest quality and design into the spaces of your daily life! Give your family and the people you love the beauty of a dream masterpiece! Every piece of Nodus is designed by famous Designers, making it recognisable and prestigious. In this way, each rug is unique: you will not find another one like it. Like all beautiful and unrepeatable things, one piece in the Nodus collection sets you apart and speaks to others about your taste and elegance. CONTACT US!