Layering jute rugs: how and when can it be done? All useful tips
Design — Home —
Sep 22.2023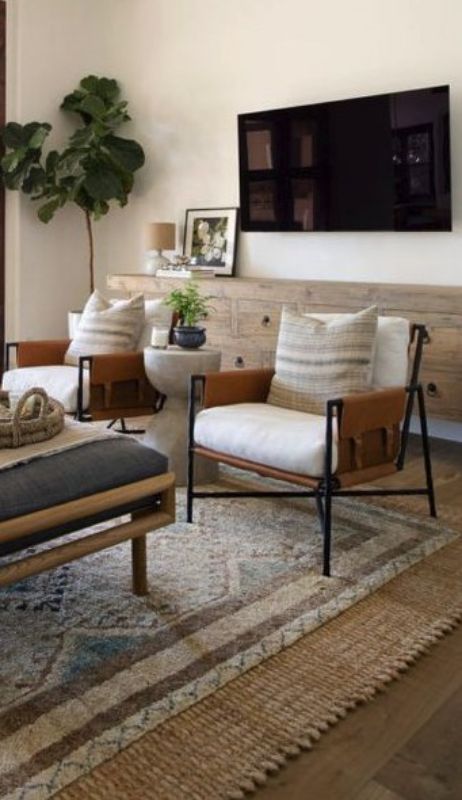 Today's post is dedicated to the layering jute rugs. Specifically, layering textiles made of jute is a great idea if you want to improve the look and functionality of a room without disrupting the furnishings.
Jute is one of the most versatile materials among those used for carpet production. It is a natural yarn that is known for its durability, resulting in light, thin pieces with a very elegant appearance. All these characteristics make jute carpets a perfect solution for customising furniture according to the layer look technique.
What do you need to know about layering jute carpets?
One can decide to furnish with layering jute rugs for a long list of reasons. Often, overlapping is used when one wants to define spaces within a room in a creative and elegant way. In an open space, for example, overlapping carpets make it possible to visually separate the living and dining area or create a cosy corner for reading or relaxing.
This layering of carpets adds depth and dimension to spaces, contributing to a more inviting and uncluttered home.
Layering jute carpets is also a great way to add personality to rooms. This natural material lends a rustic and authentic touch to the décor and helps to create spaces with a cosy and relaxing atmosphere. To add character to rooms, one can opt for jute products in different colours or textures, selecting the textiles that best suit one's style and aesthetic preferences.
Another advantage not to be underestimated when it comes to layering jute rugs is the possibility of creating rooms with an original and customised look. Laying several rugs on top of each other allows you to experiment with different combinations of colours and patterns, resulting in a unique and surprising design. This practice is particularly useful in rooms that have been furnished with furniture with simple lines and neutral colours, in which jute products can become the focal point of the design.
How to overlay jute carpets in the home?
The layering of jute carpets can radically transform spaces in the home, but it is important to make a few preliminary considerations in order to get the most out of the layer look technique.
Firstly, it is useful to focus only on the rooms in the home where layering jute rugs can give the best results. Spaces where overlapping carpets are most common are bedrooms, where a cosy and relaxing atmosphere can be created, and the living area of the home, where overlapping pieces can visually define different areas of use and add a touch of elegance.
Other rooms in which overlapping carpets can make the space inviting and cosy are the entrance hall and corridors. On the other hand, it is not advisable to use overlapping carpets in rooms in the house where there is moisture, such as bathrooms or kitchens, as the jute may be damaged in contact with water.
As far as colours are concerned, in order to achieve an excellent result with layering jute rugs, it is best to opt for light, neutral or pastel shades. This will create a bright and airy atmosphere.
With regard to the shapes and sizes to be used for overlapping carpets, the best advice is to experiment creatively. You can overlap rectangular and round carpets if you want to have an interesting contrast, or you can mix different sized carpets if you want to create a feeling of depth.
Layering jute rugs: the characteristics of jute artefacts to keep in mind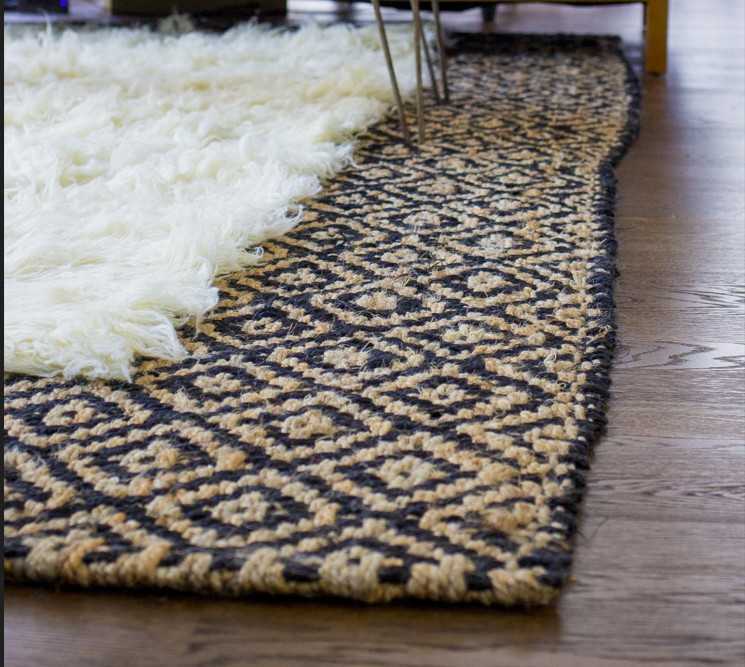 Jute carpets are an outstanding choice for those who want to add a natural and ecological touch to their home décor. These pieces are made from a natural fibre that is extracted from the jute plant and are sustainable and eco-friendly.
In addition to having a natural origin and appearance, jute rugs have a very characteristic rustic beauty, making them perfect to complement the décor of modern or minimalist style homes. For these reasons, they are also understandably suitable in contexts where particular attention is paid to the environment.
Versatility is another strong point of this type of carpet. Models made of jute can easily adapt to a wide variety of environments, from the living room to the bedroom, via the entrance hall and corridor.
Through the technique of layering jute rugs, all these characteristics of these particular handicrafts can be enhanced and, in particular, the beauty and simplicity of these handmade pieces can be emphasised. For example, when placed one on top of the other, jute rugs help create a warm and cosy atmosphere and, in addition, add a touch of originality to the design of the room, whatever it may be.
Nodus creates prestigious rugs.
Bring luxury into your home!
>>> CONTACT US! <<<

Nodus has reinvented the luxury rug. It was in fact the first brand to propose the concept of the rug as a work of contemporary art.
Nodus has always created exclusive products that furnish the most beautiful homes in the world. Do you want to make your home inimitable as a work of art?
Bring a hand knotted rug of the highest quality and design into the spaces of your daily life! Give your family and the people you love the beauty of a dream masterpiece! Every piece of Nodus is designed by famous Designers, making it recognisable and prestigious. In this way, each rug is unique: you will not find another one like it. Like all beautiful and unrepeatable things, one piece in the Nodus collection sets you apart and speaks to others about your taste and elegance. CONTACT US!