How to furnish your home with abstract rugs
Design — Home —
Apr 08.2021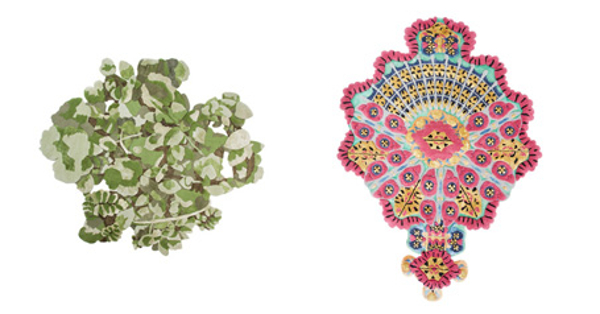 Incorporating abstract-shaped rugs into your interior design multiplies the possibilities for choosing and customising your home. In addition to rectangular, round and square carpets, there is a world of opportunities to be discovered. There are many advantages to furnishing your home with these handicrafts. Among the main ones are the possibilities to customise colours and designs. There is also the advantage of receiving a carpet made to measure for the room to be furnished.
Maximum freedom of expression and customisation
Carpets with abstract and irregular shapes are ideal for those who take an unconventional approach to everyday life and home decoration decisions. Thinking a little outside the box also helps to break the unwritten rules of interior design. This is especially true if the carpet you choose is a true work of contemporary art.
When people talk about carpets, they immediately think of classic rectangular models, perhaps with an oriental design. This is automatically the case. In reality, rectangular carpets are only a small part of the wide range of carpets that can be used to furnish your home. Therefore, you should not limit your choice.
In many cases, abstract and irregular shapes are the best way to add personality to a central room or small passageway. The use of soft lines or square profiles can give a personal touch to any room, as well as giving a unique character to each space.
Choosing an irregularly shaped carpet is also a way of showing your admiration for the creativity of designers. There are no limits to the imagination: abstract carpets can take on an infinite number of shapes and sizes. It's just like paintings and sculptures.
Patterns inspired by the world of nature, with carpets in the shape of leaves, flowers or animals, can be a great way to complete your décor with delicacy and soft colours. If you want to give the room more personality, you can opt for an abstract-shaped carpet with a design that draws on one or more geometric shapes. Spiral-shaped carpets, for example, fall into this category. Or designs made by superimposing several geometric figures. Juxtaposing several squares, circles, rhombuses and rectangles of different colours or mixing all these shapes together creates a unique work of art.
Being able to customise rugs is a huge advantage, as it allows you to choose the most suitable colour for each room. When choosing the colour, a lot also depends on the style of furniture chosen for the room. In a room furnished in a classic or vintage style, it is advisable not to introduce too many colours or particularly bright shades. A modern house, on the other hand, can be brightened up with carpets in a variety of colours. For a totally personalised design, you can choose a carpet with an abstract shape and a colour palette that matches the furniture in your home.
How to make use of unusual and irregular shapes in your home décor
Irregular carpets not only offer freedom of expression to their creators, but also allow for a great deal of freedom in interior design. The availability of models in different sizes and shapes makes it easy to find the perfect rug for every space in your home.
Being able to define custom sizes and shapes makes it easy to furnish even unusually sized homes, finding the perfect balance between furniture, carpets and furnishings. This is particularly true in the living room area, which is often the true nerve centre around which all life in the home revolves.
Irregular luxury carpets are perfect for furnishing large living rooms and lofts in a modern and innovative way. If the project involves dividing the space into different areas, you can also consider choosing a set of rugs of different sizes. These will define and complete the room's décor in a surprising way. Mosaic carpets, carpets with a patchwork design, or carpets that look like jigsaw puzzles are ideas that should be considered carefully.
In the entrance and hallway area, smaller carpets can be placed and, if the two spaces are close together, complementary patterns could be chosen. The resulting effect could be really beautiful.
Abstract and colourful shapes are also perfect for carpets in children's rooms. These designs give the room a light and playful air, and at the same time warm up the atmosphere. Rainbows, animals or children's designs are just some of the many possibilities to choose from. And make your children happy.
Breaking away from tradition and creating rugs with irregular shapes gives designers the freedom to combine styles, materials and colours. This allows them to create unique and individual luxury carpets. Use their potential to make your home exclusive and recognisable!
Nodus creates prestigious carpets.
Bring luxury into your home!
>>> CONTACT US! <<<

Nodus has reinvented the luxury carpet. It was in fact the first brand to propose the concept of the rug as a work of contemporary art.
Nodus has always created exclusive products that furnish the most beautiful homes in the world. Do you want to make your home inimitable as a work of art?
Bring a hand knotted rug of the highest quality and design into the spaces of your daily life! Give your family and the people you love the beauty of a dream masterpiece! Every piece of Nodus is designed by famous Designers, making it recognisable and prestigious. In this way, each rug is unique: you will not find another one like it. Like all beautiful and unrepeatable things, one piece in the Nodus collection sets you apart and speaks to others about your taste and elegance. CONTACT US!