Layering rugs: how is it done? With which types of carpet do you achieve the best result?
Design — Home —
Aug 24.2023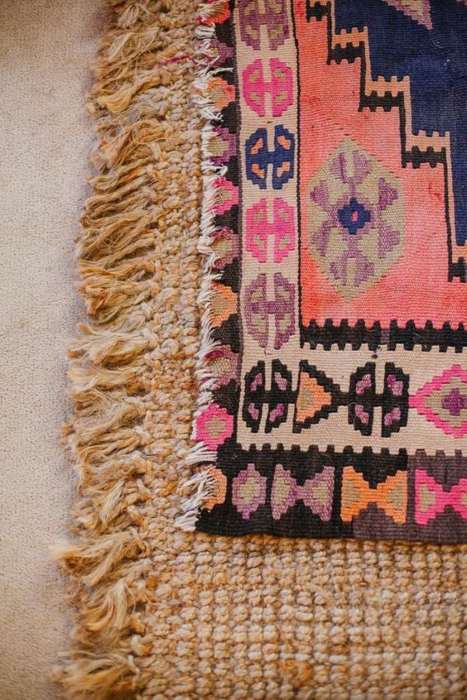 Today we are talking about a trendy topic in modern interior design: layering rugs. Indeed, overlapping textiles is a good idea to achieve an elegant and original result.
The choice of the right carpets to be overlaid depends mainly on the feelings you want to evoke through your interior design and the atmosphere you want to create within the room. For an optimal result, the main rules to keep in mind are to opt for quality materials and to choose a consistent variety of textures.
What are the most obvious advantages of layering carpets?
When looking at the most exclusive interior design projects, it is common to find layering rugs, both in the living area of the home and in the sleeping area. This choice is not only guided by aesthetic reasons, but is linked to the many practical advantages of the so-called layer look.
First of all, choosing to place carpets on top of each other in a room makes it possible to visually fill spaces, even when they are large, without having to resort to purchasing a large-format product. Layering rugs are therefore a practical and economical solution, with the added possibility of easily achieving a customised and unique result.
The versatility and flexibility of overlapping are other aspects not to be underestimated. Arranging carpets in an overlapping position makes it possible to combine different patterns, textures and colours. By choosing the most suitable combinations on a room-by-room basis – even by resorting to made-to-measure , it is possible to add depth and character to any room, making the space more cosy, elegant or sophisticated, depending on the desired end result.
The carpet overlay technique is also useful when one wants to bring out the beauty or special features of a specific textile pattern. Placed on a neutral base, for example, a coloured carpet or one with an elaborate pattern can become the focal point of the room.
What are the best tips on layering rugs?
Overlaying carpets is an art that can transform a space from ordinary to extraordinary. In order for the result to be flawless, however, it is necessary to carefully plan the different activities to be carried out and make sure that the carpets chosen guarantee a harmonious result.
To create a coherent mix of styles and patterns, one can play it safe by choosing a large, neutral-coloured carpet as a base, on which a smaller carpet with a bold or colourful pattern can be layered. This controlled contrast of colours and shapes reduces the risk of a chaotic result and ensures a smooth and coherent transition between carpets.
For an even more original result, different shapes and textures can be mixed together: a round rug, for example, can be placed on top of a rectangular one, while a long-pile rug can be offered together with a flat-weave piece.
When furnishing with layering rugs, the choice of colours is crucial. If you want to create an elegant atmosphere, for example, it is preferable to opt for pieces with tone-on-tone or neutral colours. If you want to create an eclectic ambience, on the other hand, it is a good idea to combine contrasting colours and bright shades. You can also achieve original and extravagant results with layering rugs. In this case, you can go for pieces that have eccentric patterns and have been made in bold colours, as is the case with designer patterns.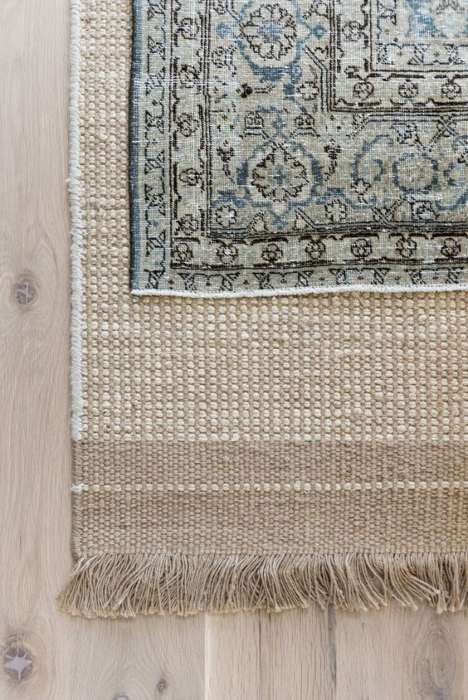 As for the dimensions, it is very important to check that they are the correct ones. When stacking carpets, one should check that the top piece is slightly smaller than the one underneath, leaving a gap of at least 15-30 cm. This way each carpet is defined correctly and the right balance between the two patterns is created.
What types of carpet should be used when furnishing with the layer look technique?
Layering carpets requires a balance of style and functionality. In this respect, the choice of material plays a key role.
Carpets made of wool or natural fibres are an excellent choice when furnishing with the layer look technique. In fact, wool offers durability and comfort, resists stains and wear well and can be made to stand out when placed on a base rug made of natural fibres such as jute or sisal.
Juxtaposing carpets made with different techniques is also a good way to create a harmonious and original result. Knotted and tufted carpets, for example, work very well together, since, when placed on top of each other, they offer a fairly even surface and avoid tripping.
Very extravagant and sophisticated results can also be achieved through the combination of textures. In this sense, one can consider the combination of hand-woven carpets and woven patterns. These textiles have a very special texture, which can be appreciated in everyday use but also from a tactile and visual point of view.
The choice of which patterns to overlay also depends very much on what you want to emphasise: if the ultimate goal is to highlight a particularly elaborate artefact, then it is useful to choose a neutral-coloured, plain-textured carpet underneath.
Our guide to layering rugs ends here. Now it's your turn: based on our suggestions, choose the artefacts that best suit your design and overlap them in the most aesthetically appropriate way!
Nodus creates prestigious rugs.
Bring luxury into your home!
>>> CONTACT US! <<<

Nodus has reinvented the luxury rug. It was in fact the first brand to propose the concept of the rug as a work of contemporary art.
Nodus has always created exclusive products that furnish the most beautiful homes in the world. Do you want to make your home inimitable as a work of art?
Bring a hand knotted rug of the highest quality and design into the spaces of your daily life! Give your family and the people you love the beauty of a dream masterpiece! Every piece of Nodus is designed by famous Designers, making it recognisable and prestigious. In this way, each rug is unique: you will not find another one like it. Like all beautiful and unrepeatable things, one piece in the Nodus collection sets you apart and speaks to others about your taste and elegance. CONTACT US!