Custom business rugs: a step-by-step guide to choosing them
custom rugs — Design —
Oct 01.2023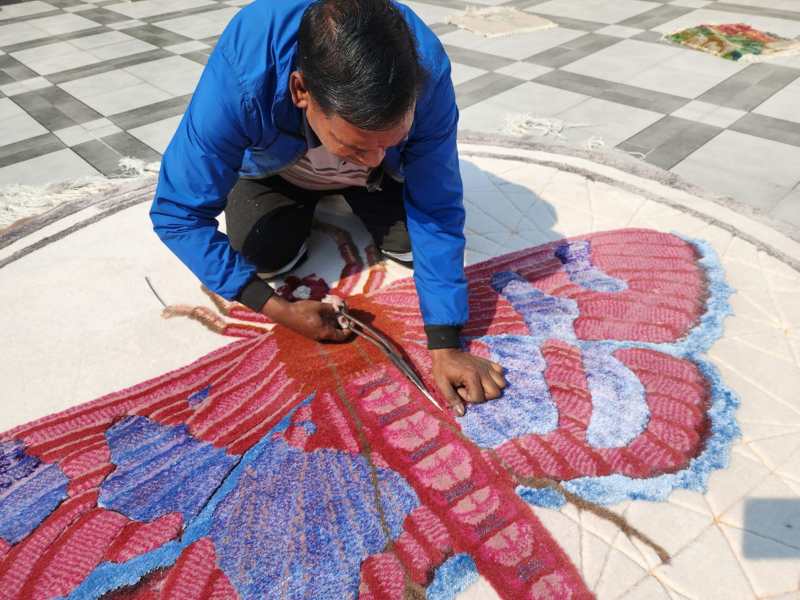 Custom business rugs are a winning strategic choice for many companies. Indeed, this option offers a number of advantages that go far beyond the mere functional aspect.
In addition to covering and protecting floors from footsteps, custom-made rugs make a brand recognisable, allow it to convey its values and personality, and enable it to create an ambience that is both attractive and welcoming.
What are the advantages of custom business rugs?
In the business world, recognisability is a key element. A custom-made carpet bearing the company's logo and distinctive colours becomes an important element of the company's identity. Especially when carpets are placed at the entrance or at other strategic points in the company premises, they help to create a good impression on visitors and consolidate the image of the business.
A second significant advantage of custom business rugs is their ability to meet even the most particular needs of clients. Since every business is unique, customised textiles are the ideal solution to meet the space, design and communication needs of every business.
The possibility of customising these carpets is a further point in their favour. In addition to being able to reproduce the company logo on the carpet or adapt the product's colours to the company's palette, every other aspect of the artefact can be customised, from the size and shape to the details. This flexibility offers a wide range of options to choose from and allows the carpet to match the overall aesthetics of the space to be furnished.
How best to use custom business rugs?
Using custom business rugs in a strategic manner can bring considerable benefits. Since these products are extremely versatile and can be adapted to various types of environments, they can be used in the most diverse contexts, thus improving the appearance and functionality of spaces.
Firstly, the idea of placing custom-made carpets at the entrance of a company, shop or office can be considered. Indeed, when placed at the main entrance, these pieces are meant to welcome customers and help create a good first impression in them. In this space, for example, it is a good idea to place a customised carpet with the company logo and a neat design.
In representative areas of the company, such as meeting rooms and executive offices, customised textiles become an important communication tool. Placed under conference tables or desks, they can recall the company's values and mission.
In commercial settings, such as retail shops, boutiques and showrooms, customised carpets play a key role in enhancing the products or services on sale. A well-positioned piece can guide customers intuitively through the space, highlighting focal points and creating a more pleasant shopping experience.
It is important to note that the use of custom-made carpets for businesses varies. This means that the approach taken in a law office might be different from the ideal one in a clothing shop. Therefore, it is essential to carefully consider the context and the desired objective. Only then can you decide where and how to place your customised carpets.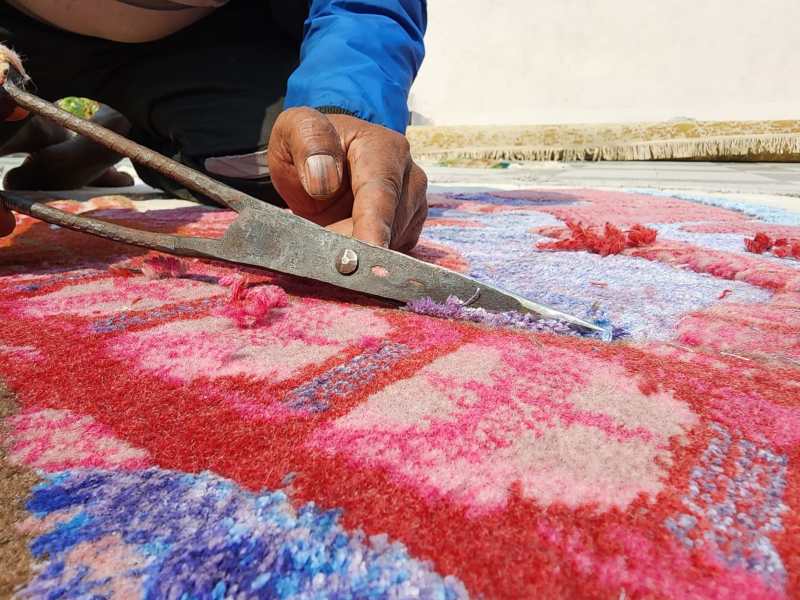 What to consider when choosing custom business rugs?
When it comes to selecting custom-made carpets for the corporate environment, there are several factors to consider in order to make the right choice. Firstly, it is essential to define in detail the desired characteristics of the individual item. Working with experienced professionals in customised carpet design makes the job easier, as it allows the company's requirements to be translated into a top-quality end product that is capable of blending seamlessly into the business space. At this stage, the design, size, shape and colours of the individual carpet model must be defined, ensuring that the textile product in question faithfully reflects the desired corporate image.
The choice of materials is another crucial aspect. In a professional context, custom business rugs must be durable and easy to clean. Materials such as wool and cotton are good for environments where elegance and sophistication are needed. For the busiest spaces and for the entrance area, one can think of products made of synthetic materials, such as nylon and polypropylene, which are very strong and durable fibres. As far as workmanship is concerned, carpets with tightly woven fabrics are preferable because they resist wear better and also tend to stain less.
Finally, it should be kept in mind that colours play a crucial role in the overall appearance of corporate spaces. For custom business rugs, it is important to choose colours that reflect the corporate identity and are able to create a professional atmosphere. For example, neutral colours can suggest competence and seriousness, while bright colours can add a touch of creativity and vitality to the location.
Nodus creates prestigious rugs.
Bring luxury into your home!
>>> CONTACT US! <<<

Nodus has reinvented the luxury rug. It was in fact the first brand to propose the concept of the rug as a work of contemporary art.
Nodus has always created exclusive products that furnish the most beautiful homes in the world. Do you want to make your home inimitable as a work of art?
Bring a hand knotted rug of the highest quality and design into the spaces of your daily life! Give your family and the people you love the beauty of a dream masterpiece! Every piece of Nodus is designed by famous Designers, making it recognisable and prestigious. In this way, each rug is unique: you will not find another one like it. Like all beautiful and unrepeatable things, one piece in the Nodus collection sets you apart and speaks to others about your taste and elegance. CONTACT US!