Wool and cotton rug: what are its characteristics? How does it fit into a furnishing scheme?
Aug 25.2023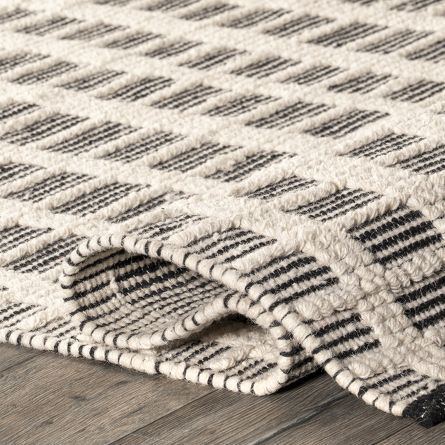 When it comes to choosing a rug for the home, it is useful to focus not only on aesthetics, but also to consider the quality of the materials and the environment for which it is intended. Interior rugs do not only serve to decorate or fill a space, but are functional accessories that offer numerous advantages.
Among the many alternatives available, the wool and cotton rug is worth considering. In fact, this solution combines sustainability, comfort, versatility and safety and makes it possible to create an elegant ambience that at the same time reflects the personal taste of the customer.
What are the advantages of incorporating a wool and cotton rug?
Furnishers and interior designers are increasingly relying on the use of natural materials and eco-friendly furniture in their interior design projects. Rugs are no exception and there is a general rediscovery of models made of wool and cotton.
Both of these materials are of natural origin and have a rather low environmental impact. While wool comes from the shearing of selected sheep, cotton is a natural fibre that is grown and harvested respecting natural balances and without the use of toxic or polluting substances. The use of renewable resources that respect the environment and its inhabitants makes wool and cotton rugs the perfect choice for those who wish to furnish their homes in an eco-friendly and ecological way.
In addition to being sustainable, wool and cotton rugs are also robust and durable. In fact, their fibres resist wear and tear very well and retain their shape for years and years. In addition, these rugs are hypoallergenic and soft, making them safe and comfortable for everyone to use.
One of the objectives of interior decoration projects is increasingly to balance quality, durability and aesthetics. Wool and cotton rug respond very well to this demand, offering flexible solutions that are easy to customise.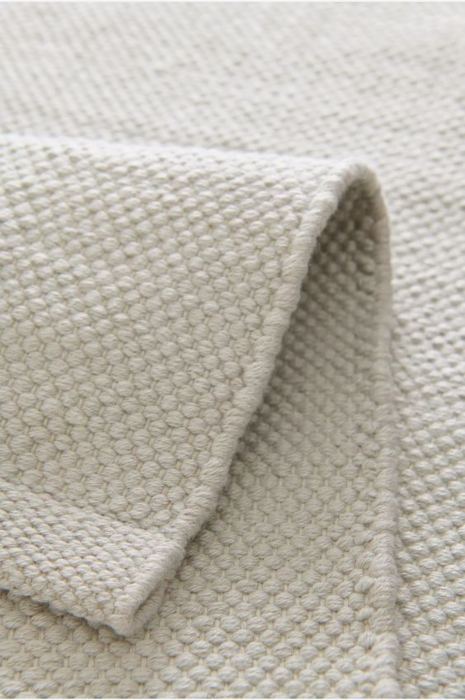 The great versatility of wool and cotton carpets
Wool and cotton rug is a very versatile solution that lends itself to harmoniously decorating every room in the home. From the living room to the bedroom, via bathrooms and common areas, these rugs are able to make every room unique and functional.
Wool and cotton carpets are also easy to customise. You can adjust the shape, size, colour and design of the rugs to find the ideal combination to suit your needs.
In particular, one can appreciate the versatility of wool and cotton rugs by observing how their role evolves over the course of the year. While in the cold months one can appreciate the rug's ability to provide warmth and its thermal insulation properties, in the warmer months the ability to maintain a constant room temperature and the coolness provided by the use of cotton fibres emerge more strongly.
Taking these characteristics into account, one can see a wool and cotton rug as a quality investment, capable of adding character and personality to the various rooms in the home or commercial spaces in which one chooses to place these rugs.
How to choose the perfect wool and cotton rug?
The main aspects to consider when choosing the best wool and cotton rug for your interior design project concern the size, colour and thickness of the product. When choosing to furnish with a rug, it should be considered that each model should fit perfectly in the room, both in terms of space and style.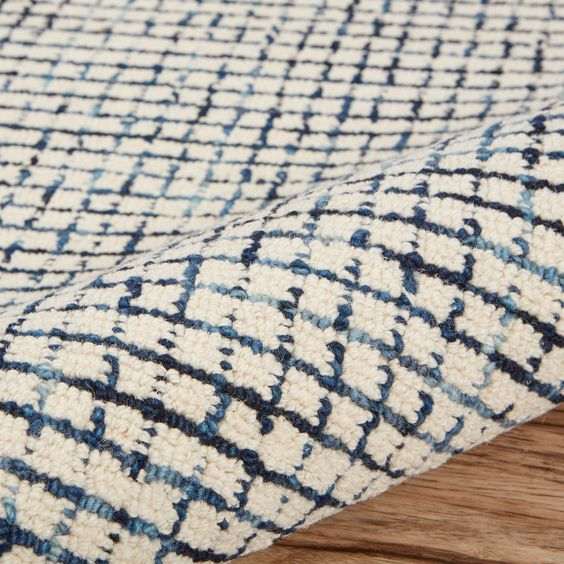 Wool and cotton rugs are very versatile and can find a place in a wide variety of contexts. These textiles, for example, can become perfect furnishing accessories for traditional and rustic rooms, but also for luxurious rooms and contemporary design environments.
When matching rugs, it is always advisable to be guided by existing furnishing elements. By paying attention to the furniture and its arrangement, and also taking their material and colouring into account, the best configuration can be found on a case-by-case basis. The lighting and the possible presence of paintings and prints can also make a difference and can make the chosen wool and cotton carpet model stand out or be overshadowed.
Taking all the above elements into consideration is very important, because it allows you to create a harmonious and elegant result. What's more: by managing to find the wool and cotton rug that fits ideally into the space, this furnishing element will not appear as a simple accessory, but will become an essential element to enhance the space and attract the attention of guests.
Finally, it should not be forgotten that in order to maintain the beauty of the artefact over time, it is essential to maintain it correctly, providing for regular cleaning and a visual examination, to check the state of its fibres and to exclude the possibility that its mantle has been attacked by parasites.
Nodus creates prestigious rugs.
Bring luxury into your home!
>>> CONTACT US! <<<

Nodus has reinvented the luxury rug. It was in fact the first brand to propose the concept of the rug as a work of contemporary art.
Nodus has always created exclusive products that furnish the most beautiful homes in the world. Do you want to make your home inimitable as a work of art?
Bring a hand knotted rug of the highest quality and design into the spaces of your daily life! Give your family and the people you love the beauty of a dream masterpiece! Every piece of Nodus is designed by famous Designers, making it recognisable and prestigious. In this way, each rug is unique: you will not find another one like it. Like all beautiful and unrepeatable things, one piece in the Nodus collection sets you apart and speaks to others about your taste and elegance. CONTACT US!