Which luxury rugs to choose for a country-style home
Home — Luxury rugs —
Sep 02.2021
Which luxury carpets to choose for a country-style home? Country-style homes immediately bring to mind rural landscapes and times long gone by when life was slow and busy in the countryside. Those who wish to bring a bit of that warm and traditional atmosphere to the city can do so by choosing rustic furniture for their homes, enhanced by the presence of a carefully selected luxury carpet.
The strengths of rustic furniture
Thinking that rustic style only works in the countryside is a big mistake. More than other furnishing styles born in contexts far from the cities, rustic style succeeds in filling urban home environments with warmth and personality, giving the rooms an atmosphere characterised by great comfort and creating a welcoming and pleasant environment.
In homes furnished in rustic style, the atmosphere is warm, thanks to the presence of enveloping colours and materials. Wood is a great protagonist of the spaces and is left in its natural tones. Exposed beams, unfinished parquet floors and a few pieces of wooden furniture are enough to make the space immediately warmer. Brick or stone walls and terracotta floors are also common elements in rustic spaces.
What distinguishes rustic and more classic environments are the details. The rustic style accepts imperfections, prefers objects and decorations that have a story to tell and does not disdain furniture that shows signs of age.
If you have decided to decorate your home in a rustic style, you can opt for a mix of new and recycled furniture, combining old furniture with modern design accessories. For the result to be pleasant and functional, it is important to ensure that there is a good balance and that the rooms are not overloaded with objects and colours.
On the subject of colours, in addition to wood tones, the palette of a perfect rustic home is completed by copper and brown tones, which can be softened by neutral decorations or with barely noticeable pastel tones.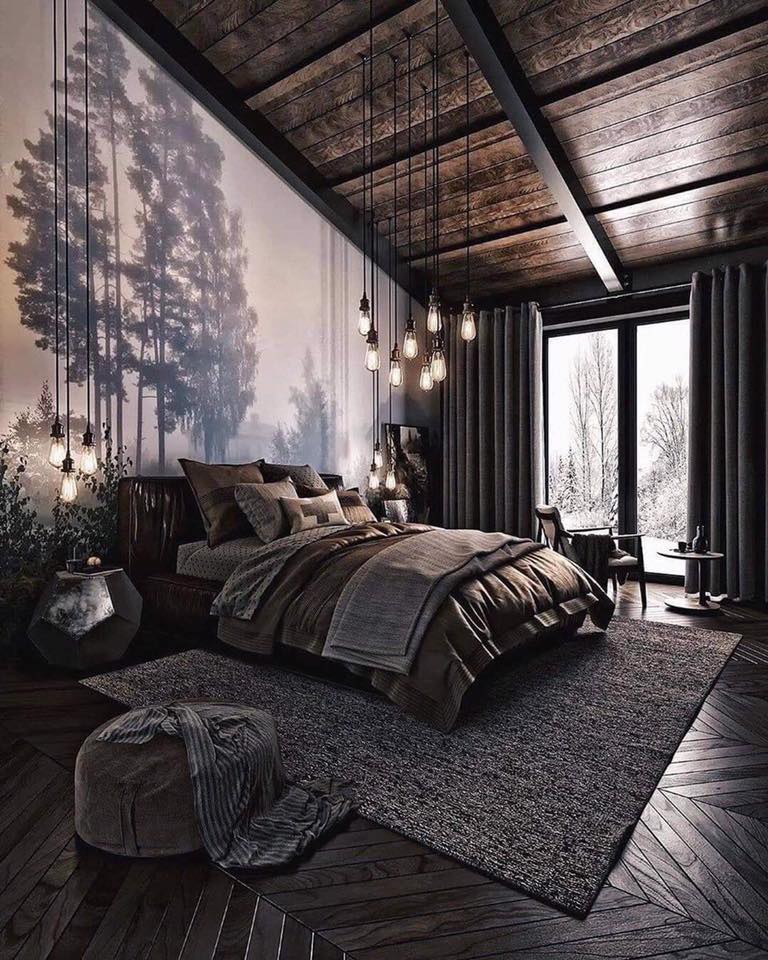 Luxury carpets perfect for enhancing rustic interiors
In homes furnished in a rustic style, the rooms are already quite full of furniture and decoration. In this context, carpets have the delicate task of complementing the interior design by emphasising the qualities of the furnishing highlights.
The easiest and safest way to make the living room or lounge of a rustic house unique is to choose a luxury carpet in neutral tones, to be placed under the dining table or in the sofa area. A cream, beige or light grey carpet, in the same tones as the other textiles in the room, gives a refined touch to the room without clashing.
If you want to give the room a bit of pizzazz, you can opt for overlapping carpets. This gives you a greater degree of freedom, as it allows you to mix colours and textures. You can choose a dark or saturated coloured carpet as a base and place a light carpet on top of it, which will appear even brighter. In the living room area, a short and a long pile carpet can be layered, which is extremely warm and perfect for the relaxation corner.
The watchword for a rustic-style product? Simplicity
The luxury carpets that work best for a rustic style home have a simple design, such as plain, geographical patterns or shaded colours. If you have very large spaces you may also decide to include a Persian carpet or a contemporary luxury pattern. Once again, it is the balance that is created between all the elements in the room that determines whether the combination is successful or not.
In most cases, rugs with traditional shapes, rectangular or square, are chosen for homes furnished in a rustic style, depending on the size of the space in which they are to be placed. If you want to soften the linearity of this style of furnishing, you can act on the shapes of the carpet and create movement by choosing a model with an irregular shape. A dynamic result can also be achieved through overlapping. By combining rugs of different shapes and sizes it is also possible to achieve a greater degree of customisation, making every corner of the room truly your own.
Nodus creates prestigious rugs.
Bring luxury into your home!
>>> CONTACT US! <<<

Nodus has reinvented the luxury rug. It was in fact the first brand to propose the concept of the rug as a work of contemporary art.
Nodus has always created exclusive products that furnish the most beautiful homes in the world. Do you want to make your home inimitable as a work of art?
Bring a hand knotted rug of the highest quality and design into the spaces of your daily life! Give your family and the people you love the beauty of a dream masterpiece! Every piece of Nodus is designed by famous Designers, making it recognisable and prestigious. In this way, each rug is unique: you will not find another one like it. Like all beautiful and unrepeatable things, one piece in the Nodus collection sets you apart and speaks to others about your taste and elegance. CONTACT US!