Tibetan Dragon Rugs, kindness and benefits for humanity.
Design — Materials and techniques —
Nov 23.2022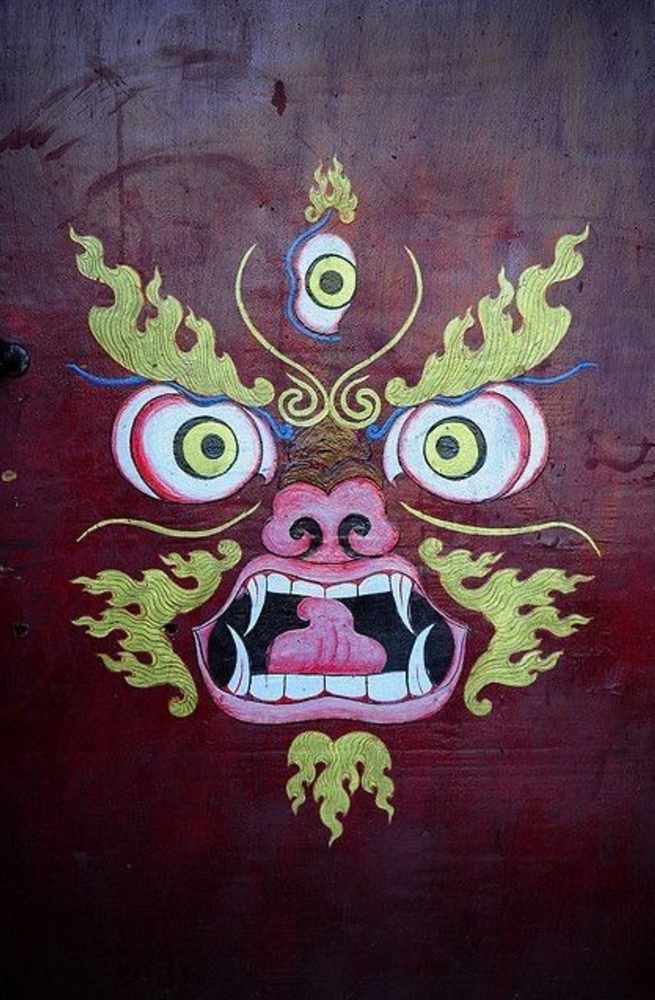 Tibetan dragon rugs are thought to have appeared relatively late in the history of carpets. This is because Tibetanr rugs were frequently misidentified as Chinese carpets or were thought to be inspired by adjacent pile- weaving techniques. The first cases recorded in the West were not obtained until the 1880s.
There is also no written documentation regarding the trade of Tibetan rugs. However, the Tibetan rugs heritage is centuries old, but political developments have prevented it from prospering. The Tibetan carpet industry including the likes of Tibetan dragon rugs were rapidly growing in the nineteenth and early twentieth centuries before collapsing in the second half of the twentieth. We can see an economic rebound in the 1970s, but only in Nepal and India.
Tibetan Dragon Rugs
The dragon is a protective symbol in Tibetan culture. The predominant theme of these traditional Tibetan dragon rugs are dragons. The stylized oriental dragon is employed to make two medallions on a plain background, bringing out the colors of red, beige, and tan. Producers of dragon rugs had only a few organic products at their disposal in terms of color, such as madder (red), indigo (blue), Tibetan rhubarb (yellow), and walnut (brown and grey colors). The border also depicts the powerful and deeply ingrained Tibetan belief in the protector-the dragon. It is a high-quality wool on cotton the Tibetan rugs which may have also be used as wall hangings.
Making And Appearance of Dragon Rugs
This is an example of one of many high-quality Tibetan dragon rugs crafted by skilled artisans in Nepal. Wool dyeing, carding, spinning, weaving with the special Tibetan knot, and finishing are all part of the process. Each rug takes about a month to make by one artist.
Because Tibetan dragon rugs are handmade, tiny differences in shape, size, or color may occur; these variances are part of the appeal of a handmade product. This aspect of the handmade process is what distinguishes our products and should not be regarded as flaw. They will never have an impact on the overall appearance of the product or its capacity to be used as intended.
• The Tibetan dragon rugs with Dragons and Phoenixes in feet is 6*3 feet.
• The mass of these carpets is approximately 5 kg.
• The Tibetan carpet-making procedure consists of multiple steps. Carpet weaving is a
traditional Himalayan vocation that dates back many years.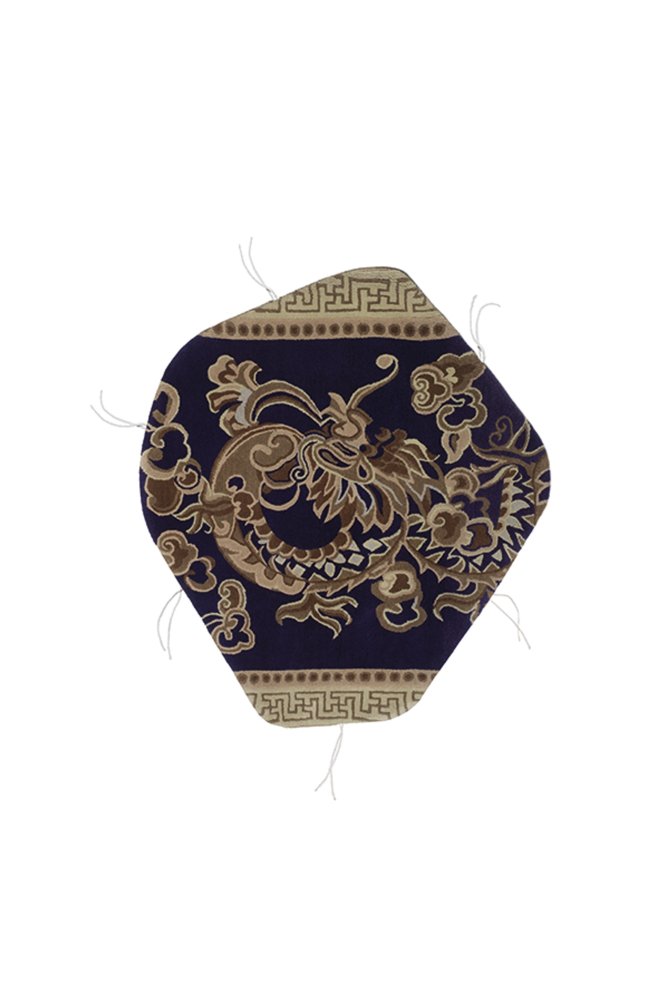 Handcrafting of Dragon Rugs
The Tibetan rugs category includes all of the dragon designs rugs handcrafted in Nepal. The Tibetan Dragon is a protective sign. The positive thing about dragons is that they are kind. They deliver various benefits to humanity. Tibetan Dragon Rugs are hand-knotted by skilled weavers in Kathmandu, Nepal. In Tibetan tradition, the Dragon is seen as a protector. One dragon rug process takes 2 to 3 months to complete.
Contrary to common assumption, Tibetan carpets are now predominantly woven in Nepal from the wool of Tibetan Highland sheep. Furthermore, the wool is primarily from New Zealand. Tibetan wool imports are limited due to political considerations, and as a result, their costs are exceedingly expensive. Nonetheless, Tibetan Highland sheep's wool was originally used in the production of Tibetan rugs. Today, the rug industry is thriving in Nepal, thanks in part to the Tibetan exodus that began in 1959. Tibet does not export rugs in such large quantities.
A lovely old Tibetan dragon rug, handwoven around 1960, with a single dragon pursuing a burning pearl on a rich red field. Excellent wool quality and secondary colors. This rug is in good shape with some damage from age. It has been properly cleaned and the fringed and selvedges are authentic and secure.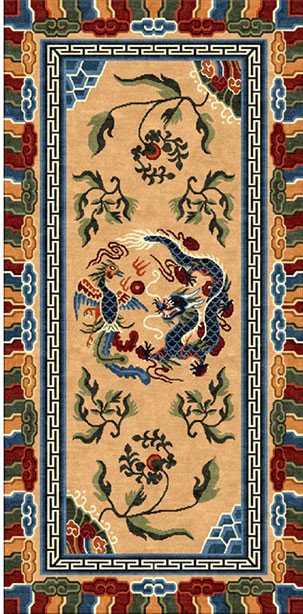 Uses Of Tibetan Rugs
Tibetan dragon rugs have long had a purpose in Tibetan life and culture.
• These are the most frequent and are almost never utilized as floorings. A dragon rug is a style of rug that is typically seen in 5'6 by 3'0 sizes. Some have a large red felt border and a cotton cloth backing. Nyeden carpets are rugs that are exclusively used for sleeping.
• The carpets can also be hung on the walls or used as horse seats.
• Whereas these types of carpets were accessible to all, pile rug pillows, for example, were only obtainable to the more wealthy sections of society.
Conclusion
The Tibetan Dragon is thought to have the capacity of perfect connection and enlightenment, capable of awakening us from delusion and expanding our knowledge via hearing. Dragons cannot be seen with the human eye, but their presence is known to be signaled by a tremendous sound that awakened people from mistaken ideas and preconceptions.
Nodus creates prestigious rugs.
Bring luxury into your home!
>>> CONTACT US! <<<

Nodus has reinvented the luxury rug. It was in fact the first brand to propose the concept of the rug as a work of contemporary art.
Nodus has always created exclusive products that furnish the most beautiful homes in the world. Do you want to make your home inimitable as a work of art?
Bring a hand knotted rug of the highest quality and design into the spaces of your daily life! Give your family and the people you love the beauty of a dream masterpiece! Every piece of Nodus is designed by famous Designers, making it recognisable and prestigious. In this way, each rug is unique: you will not find another one like it. Like all beautiful and unrepeatable things, one piece in the Nodus collection sets you apart and speaks to others about your taste and elegance. CONTACT US!