Thin jute rugs : what characteristics do they have? How do they match with different furnishing styles?
Materials and techniques —
Oct 06.2023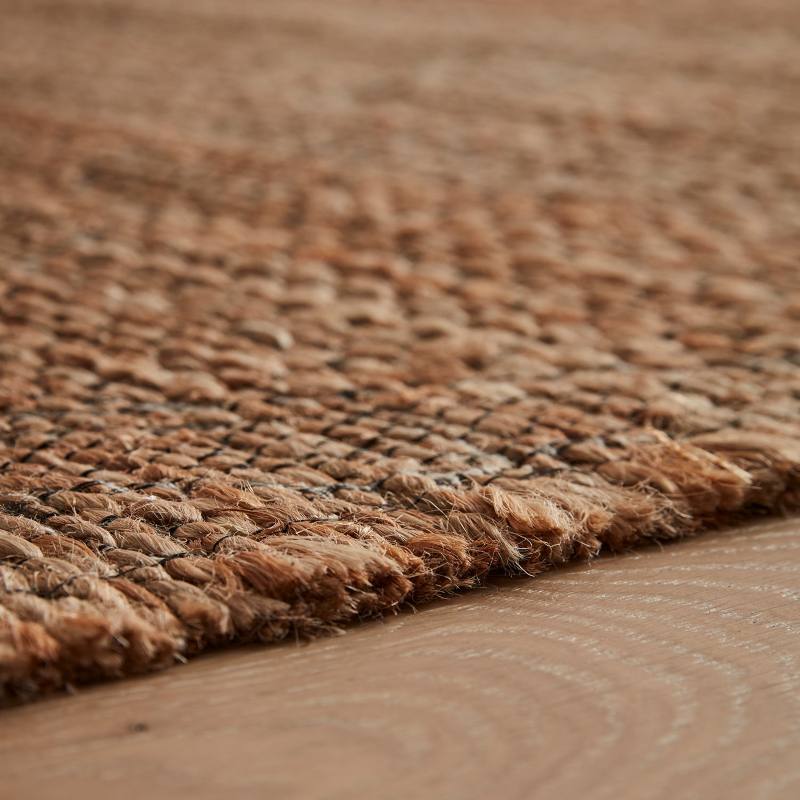 Thin jute rugs are a particular category of artefacts with a low pile thickness that can be successfully inserted in many areas of the home, each time managing to enrich the space with elegance and functionality.
These carpets have an original aesthetic and are among the most versatile of all. Because they are flexible, light and natural-looking, they can be used anywhere one wishes to benefit from the durability and natural appearance of this extraordinary material.
What are the main characteristics of thin jute rugs ?
The main characteristic that makes thin jute rugs special is their extraordinary lightness. Thanks to the manufacturing process that keeps the thickness of the product to a minimum, these products appear thin and manageable. All these qualities make thin jute carpets very practical and perfect for use in any domestic environment.
Once placed in a room, these rugs can be moved around easily, offering the possibility of changing their position at will according to the needs of the decor.
Besides being handy and versatile, thin jute rugs are also appreciated for their durability. Since these pieces are made of strong fibres that can withstand daily wear and tear without any problems, they can be placed in different areas of the home, from the living area to the bedroom, always guaranteeing a long service life.
Thin jute rugs are suitable for many different areas of the home also due to their natural and elegant appearance. The most suitable combination is with rooms furnished in a natural style, but the combination of thin jute carpets with Nordic, rustic or industrial furnishings also works very well. More generally, this kind of artefact is an excellent solution whenever one wants to create an environment with a sober and refined atmosphere.
Among the advantages of thin jute rugs are their ease of maintenance and cleaning. Daily cleaning of these carpets is quick and easy. Just vacuum regularly to remove dust and dirt accumulated between the fibres and call in specialised personnel for more thorough cleaning or to treat any stains.
Finally, it should be noted that jute is a sustainable, biodegradable and environmentally friendly material. This makes carpets made of this material an optimal solution for those who want a natural and ecologically inspired interior design.
Where can thin jute rugs be used in home furnishing?
Jute carpets that have a pile thickness that is low or very low lend themselves to a wide range of uses in home furnishing. Since they are extremely versatile, they can be placed in different rooms to create a cosy and elegant atmosphere.
In the entrance area of the home, thin jute rugs can welcome guests by adding a touch of class and warmth to the space. Choosing a thin jute piece in a neutral colour can create an unobtrusive focal point and help protect the floor from dirt and wear, while a coloured jute piece brings vibrancy to the space and immediately catches the eye.
A useful tip for creating a cosy and elegant entrance area is to combine the carpet with natural-looking furniture, such as a solid wood bench or a wrought-iron coat rack.
In the living area, these rugs can be placed under a coffee table, under the dining table or in front of the sofa. In these areas of the room, a thin jute piece can add a touch of texture and style to the room and emphasise the elegance of the furniture. To make the most of the characteristics of these rugs, it is advisable to combine them with furniture of minimalist design or sofas with essential lines.
In the sleeping area, thin jute rugs can be placed at the foot of the bed, next to an armchair or in front of the wardrobe. Whichever placement is chosen, the final effect is that of being in an intimate and comfortable space. To amplify this feeling, jute rugs can be combined with natural fabrics such as linen or cotton.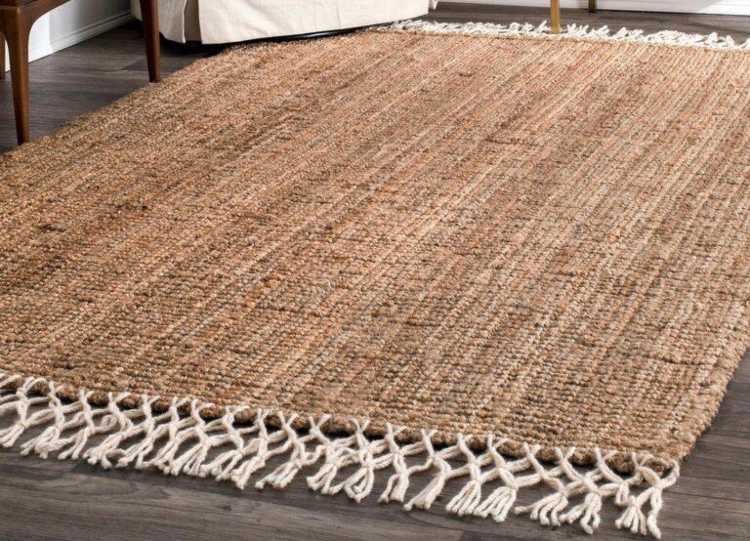 How can thin jute rugs be used in interior design?
Thin jute rugs fit ideally into rooms furnished in a natural style with tropical influences and a strong leaning towards the eco-friendly.
These textiles are generally offered in natural tones, but even when coloured, they maintain an understated and discreet appearance, perfectly in line with an ecological and natural aesthetic. Those who want to add an extra touch of personality to the room can turn to thin rugs with geometric patterns.
The ideal combination for these items is with modern furniture with clean lines. The contrast between the lightness of the jute carpet and the solidity of modern furniture creates a fascinating visual balance.
Those who want to achieve an even more individual and special result can take advantage of jute rugs by using the layer look technique. By layering several thin carpets made of different materials, colours or textures, a layered effect can be created that adds depth and originality to the room.
Nodus creates prestigious rugs.
Bring luxury into your home!
>>> CONTACT US! <<<

Nodus has reinvented the luxury rug. It was in fact the first brand to propose the concept of the rug as a work of contemporary art.
Nodus has always created exclusive products that furnish the most beautiful homes in the world. Do you want to make your home inimitable as a work of art?
Bring a hand knotted rug of the highest quality and design into the spaces of your daily life! Give your family and the people you love the beauty of a dream masterpiece! Every piece of Nodus is designed by famous Designers, making it recognisable and prestigious. In this way, each rug is unique: you will not find another one like it. Like all beautiful and unrepeatable things, one piece in the Nodus collection sets you apart and speaks to others about your taste and elegance. CONTACT US!