Matteo Ragni interviewed by Nodus
Design —
Aug 08.2021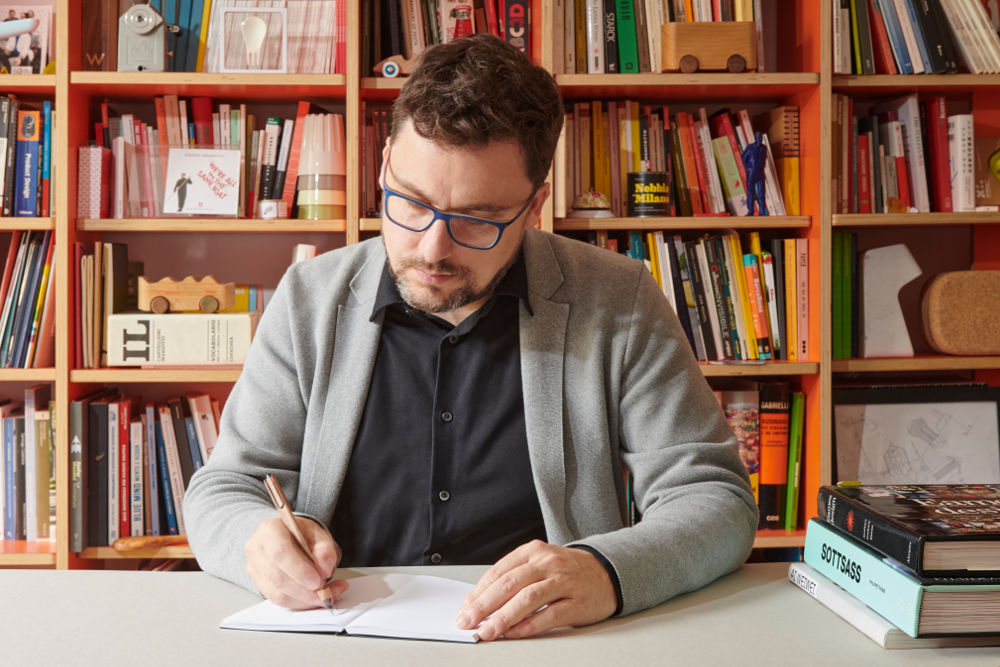 Nodus collaborates with the world's most famous designers. These creatives are famous for their style and the continuous innovation they bring with their ideas. One of these artists is Matteo Ragni. We interviewed him. Let's get to know him better and find out what his ideas on design are and what he envisages for the future.
How would you define the essence or primary characteristics of your work? Every designer has their own style, their own distinctive features… what are yours?
I believe that my work is characterised above all by the ability to listen, a good dose of common sense and an obsession with designing objects with a strong narrative power.
What are the people or stories that have most influenced you in your career?
Carlo Pagani, the rough and demanding architect I worked with during my training as an architect, Gio Ponti, Achille Castiglioni, Vico Magistretti, but also and above all all the people who work in the companies I have had the pleasure of meeting and who have taught me in the field what it means to be a good designer.
How does the cultural aspect linked to your country and its traditions enter into your projects?
I was lucky enough to be born and grow up in Milan, Italy, a unique country full of stimuli, as well as the cradle of culture and design. Thanks to my work, I have had the opportunity to travel a lot and appreciate more the value of a typically Italian attitude to beauty.
How do you see the future and what do you think will be the new trends in design?
We designers work with the future and we must try to look beyond it with great optimism and energy. I am not particularly interested in reasoning in terms of trends, I prefer to think about solving real, concrete problems regardless of the colour of the year.
What do you think about sustainability today? Do you think it is a basic element of design or an added value?
It seems to me a rhetorical question. today and since always, there is no concept of design unrelated to the values of sustainability, which translates into common sense, thinking about the entire life cycle of the product and not just the sustainable materials used.
How much does the social aspect count and how often is it present in your projects?
I don't like it when the social aspect is put before projects that are not meaningful in themselves. Each of our design actions implies the involvement of a community of people who, thanks to their production, will be able to live in greater dignity, whatever their country or social condition.
Is design more emotion, more rationality/functionality, or is there no prevalence of either aspect?
For me design is solid poetry.
What do you think about the role of textiles in design?
Every material or technique is interesting for the potential it expresses. The world of textiles offers many interesting applications.
To conclude, an aphorism or a phrase that represents you.
"Observe long, understand deeply, do in an instant", Bruno Munari.
Nodus creates prestigious rugs.
Bring luxury into your home!
>>> CONTACT US! <<<

Nodus has reinvented the luxury rug. It was in fact the first brand to propose the concept of the rug as a work of contemporary art.
Nodus has always created exclusive products that furnish the most beautiful homes in the world. Do you want to make your home inimitable as a work of art?
Bring a hand knotted rug of the highest quality and design into the spaces of your daily life! Give your family and the people you love the beauty of a dream masterpiece! Every piece of Nodus is designed by famous Designers, making it recognisable and prestigious. In this way, each rug is unique: you will not find another one like it. Like all beautiful and unrepeatable things, one piece in the Nodus collection sets you apart and speaks to others about your taste and elegance. CONTACT US!