Tapestry On Wall, the beauty of textile art 
Design — Materials and techniques —
Sep 26.2022
We adore how dramatically they can alter space and how much fun it is to use them in original ways. Here, we're delving deeper into the tapestry on wall to address common queries and rekindle your admiration for their artistry.
History of Tapestries
A scenario or well-known painting is depicted in wall tapestries, which are woven wall hangings. European castles and big churches served as the first venues for developing mediaeval and Renaissance tapestries. They initially mostly represented religious settings and later historical events. Kings and another aristocracy would commission artists to create tapestries depicting the historical wars and other events in which they participated, particularly if they were victorious. Large stone churches and castles are draughty structures challenging to keep warm in the winter. Because insulation was unheard of back then, tapestries were used to insulate houses.
The ability to move tapestries easily from one place to another for display was crucial. They were rolled up like carpets for transportation to a new area. The ability to roll them up was ideal for monarchs and other aristocrats of the mediaeval and Renaissance periods who would carry the tapestries with them when they travelled. Large paintings were more difficult to move from one area to another than tapestries, so it more widely accepted than tapestries. Tapestries offer a variety of colour perspectives from various angles and lighting due to how they are woven. Tapestries are priceless and have achieved fame as independent works of art.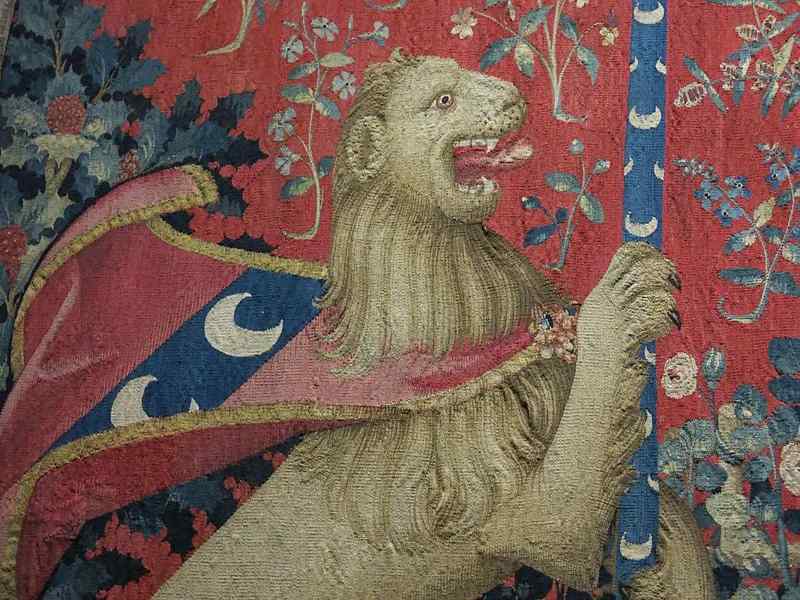 Belgian and French Tapestries
Belgian and French tapestries are woven in a way that allows for various perspectives on colour under various lighting and viewing angles. During the Middle Ages, tapestries from Belgium and France rose to fame as important works of art. Numerous materials, including wool, silk, cotton, linen, and acrylic, are used to weave these tapestries. The use of gold, silver, and silk threads gives tapestries a larger range of hues, making them some of the finest in the world. The nobles of the mediaeval and Renaissance eras desired the best depictions of their lives for public consumption. The art form illustrating European history for future generations to learn about the past was tapestries made in Belgium and France. These high-quality tapestries are an attractive addition to anyone's house because they are created using only the finest materials and craftsmanship.
The Lady and the Unicorn
Numerous exquisite examples of mediaeval tapestries, like the Lady and the Unicorn Tapestries, a series of six tapestries created in the Middle Ages and renowned around the globe for their beauty, may be found at the Cluny Museum in Paris, also known as the National Museum of Medieval Arts. Tapestries and weavings from numerous nations, including Iran, Egypt, Italy, Spain, and Great Britain, can be found in the Cluny Museum.
The Lady and the Unicorn Tapestries were found at the Chateau de Boussac in 1841, and because of George Sand's works, they entered history almost quickly. The municipality of Boussac 1837 purchased the chateau and all of its belongings, but it wasn't until 1841 that They found the tapestries. The French government gave the tapestries to the Cluny Museum in 1882. The Lady and the Unicorn tapestries were most likely made for the Lord of Fresne in Tournai around 1460.
Religious Background of Unicorn Tapestries
Since ancient times, the unicorn has served as a legendary symbol. Some of the earliest representations of the unicorn come from ancient China and show a creature with one horn sticking out of its forehead that resembles a huge horse. Unicorns appeared in the texts and artwork of numerous ancient societies in Asia and Europe, and eventually, they became holy icons.
By the middle ages, most of Christian Europe saw the unicorn as a holy and secular emblem. The unicorn symbolized Christ and stood for virtue, holiness, and purity. Due to the unicorn's significant meaning, it was frequently depicted in tapestries and other historical artwork. Even unicorns are mentioned in the Bible. However, some historians doubt their inclusion due to problematic translations. Deuteronomy 33:17, Psalm 22:21, 29:6, and 92:10, Numbers 23:22 and 24:8, and Isaiah 34:7 all make mention of unicorns. These passages don't imply that unicorns aren't actual animals or that allusions to them are made in error.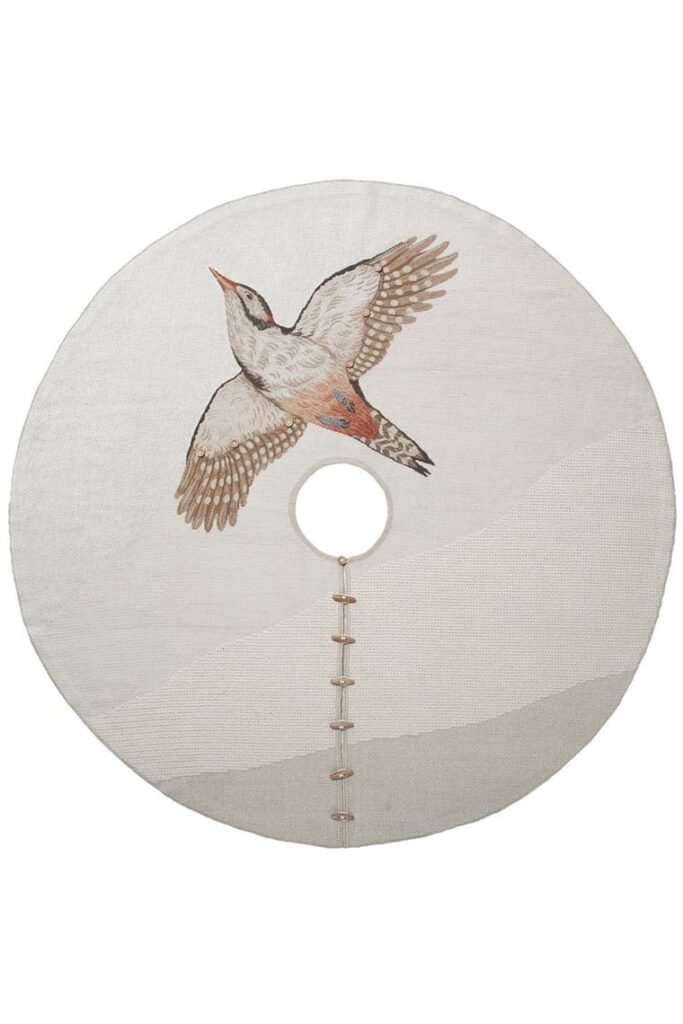 The Jacquard Loom
Joseph-Marie Jacquard created the mechanized loom known as the Jacquard loom at the beginning of the 19th century. It significantly sped up and simplified the process of weaving tapestries. Although automation was helpful, tapestries were still produced by hand. They weaved each pattern on a Jacquard loom under the direction of a set of punch cards. Before the development of the Jacquard loom, weaving a tapestry on wall required a lot of skilled craftspeople, took years, and was a labour-intensive operation. Weavers could now focus on the originality and excellence of their designs thanks to the Jacquard loom. Additionally, it standardized weaving quality and opened up new markets for tapestries. The drive toward mechanical textile and tapestry on wall production began with the invention of the Jacquard loom.
Punch cards are used in a process on the Jacquard loom to regulate the weaving movements that would otherwise be done by hand. Even with the Jacquard loom, weaving tapestries required a lot of repetition since the threads needed to be continuously looped. However, the Jacquard loom did simplify the process because it produced the patterns from the individual threads that would have otherwise needed to be woven by hand. The Jacquard loom greatly simplified the tapestry on wall making process by automating most individual thread weaving procedures
Things to Know About Wall Tapestries
tapestry on wall is a woven decorative cloth whose design is built up throughout the weaving process. Almost any heavy material, whether handwoven, machine-woven, or even embroidered, has generally been referred to by this moniker when used to cover furniture, walls, floors, or embellish clothing
What IS A tapestry on wall ?
Historically, tapestries were enormous, woven textiles with a complex patterns, like this one. They used to act as pictorial insulation, keeping draughty ancient castles warm in the winter (ugh, like, SO unpleasant). While woven tapestries are still readily available today, " tapestry on wall " now encompasses any piece of cloth intended to hang on a wall. Our tapestries are constructed of a lightweight, silky poly that is the simplest way to liven up your area, even though they are useless in keeping your castle warm (sorry). They are the exact opposite of bulky.
Where's the best place to hang one?
They are a great addition to any room, but hanging them where they can have the most impact is better. We enjoy hanging it above furniture like a couch, bed, mantle, or on a smaller wall where they might have the appearance of wallpaper.
Ok, but HOW do I hang it up?
It's amusing that you inquired because we have some great suggestions. We even wrote an entire post about it! If you don't want to get creative, we find that using high-quality thumbtacks on each corner works just fine. Check it out for some of our favourite hanging tips.
How do I care for it?
Your tapestry on wall will be seriously wrinkled when it arrives in the mail. You can iron it on low heat or put it in the dryer with a damp washcloth. Additionally, if you unintentionally became too engrossed in Game of Thrones and accidentally spilt an entire glass of wine on your prized tapestry on wall, wash it in cold water on the gentle cycle, then tumble dry it on low. It will look brand new (unlike the STARK FAMILY!!!).
Are they useful for anything else?
Uh, duh. Even though it is referred to as "wall tapestries," they can serve various purposes. We've witnessed some incredibly impressive tapestry on wall stunts, such as:
pulling your comforter over your head for a short refresh
making the ideal tablecloth
placed around a dated headboard to create a striking new look.
shown as a fantasy selfie backdrop.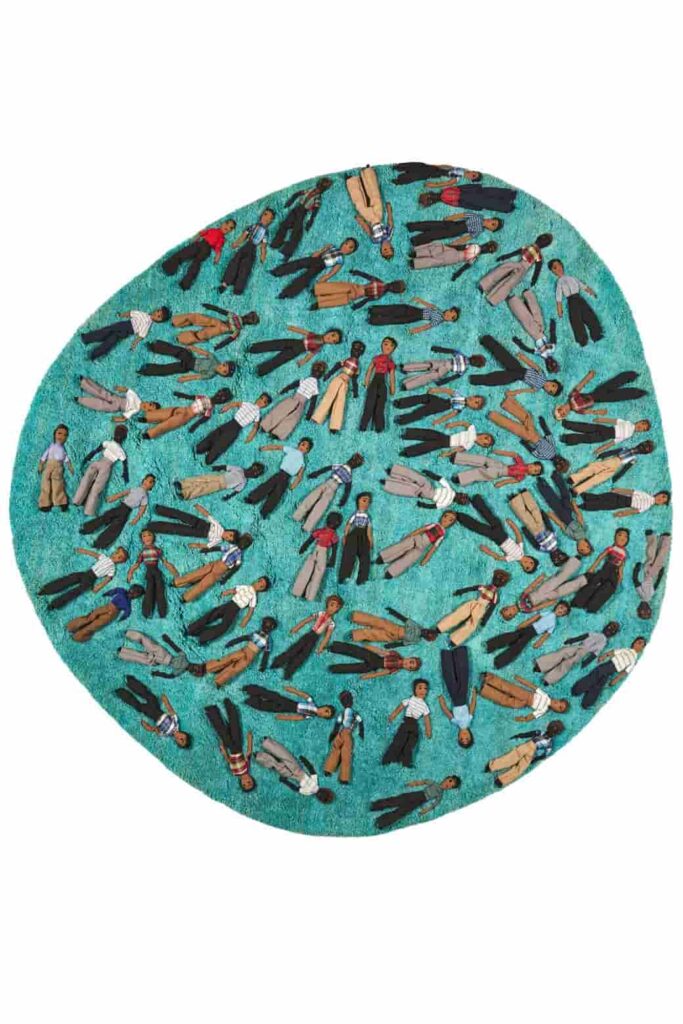 Types of Wall Tapestries
When distinctively decorating our homes, wall tapestries are a great concept. Although numerous decor items are on the market, nothing is more stunning than a designer tapestry on wall. To lend a royal and opulent sense to your home, hang it on the wall or ceiling of your bedroom, living room, or any other area.
These chic tapestries come in a wide range of colours and styles, making it challenging to pick the best one. Choose the correct colourful design for your wall tapestry to turn drab walls into cheery ones. You can choose from the list of popular wall tapestries below for your home.
Mandala Wall Tapestry
Mandalas depict the universe and are based on spiritual symbols used in Buddhism and Hinduism. Mandalas are a popular design for wall tapestries as well. Decor helps to create a welcoming environment. So, consider hanging a mandala in your preferred style to bring colour and drama to your room's lovely decor.
Elephant tapestry on wall
Elephant tapestry on wall is the best alternative for adding a boho look. Due to its Rajasthani-themed print, it attracts notice right away. People also think about using these wall tapestries as wall hangings, which would make visitors to your home feel welcome.
Sun Moon Tapestry
The sun and moon tapestry on wall is the most colourful tapestry and contains all the necessary components to enhance any room's design. Choose the elephant tapestry to breathe new life into your living space if you want to add some new decorative elements.
Omber Floral Wall Tapestry
Thanks to this gorgeously designed wall tapestry, your interior decor will quickly take on a bohemian and hippy feel. You may add vibrant colours to your drab room by using these tapestry wall hangings as a bedspread, curtain, tablecloth, or ceiling cover. When selecting the ideal one, consider the size of the wall you intend to decorate with the wall tapestry.
Hippie Wall Tapestry
Hippie tapestries are a wonderful, abundant method to convey your feelings. Please choose the best match based on the decor of your room and the colour and texture of your wall since they come in various colour shades and styles.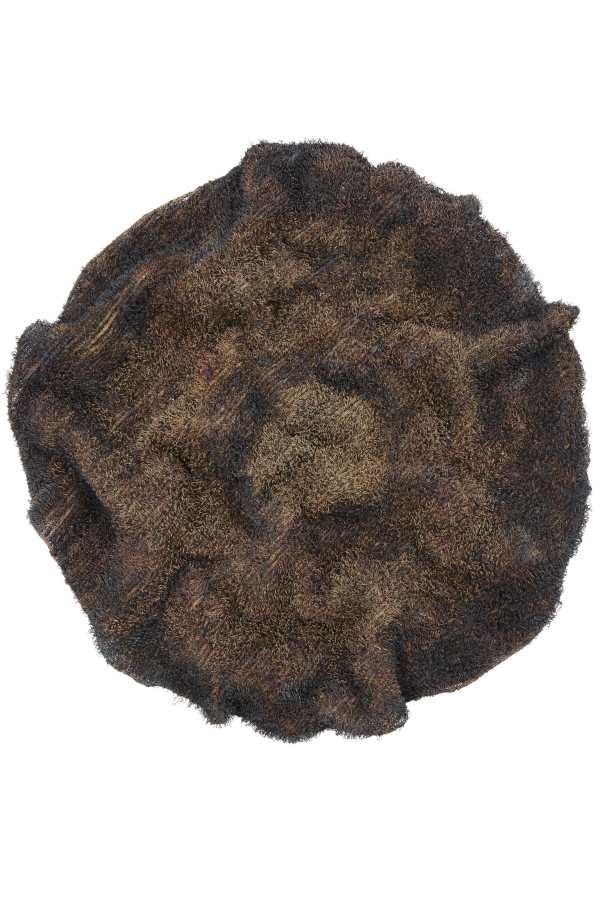 Tapestry On Wall ideas
Textiles are crucial for couches, flooring, window coverings, and even walls. Tapestries are the perfect piece of art since they portray an interesting picture like a painting but with the addition of a plush touch. However, your wall hanging doesn't have to be conventional. Many of these rooms from our archives contain tapestries from the 17th and 18th centuries that are still fashionable today. Other areas with tapestries have abstract patterns, a new take on this traditional form. If hanging one enormous, striking tapestry won't work, think about hanging two smaller ones or covering a piece of furniture with textiles. It's worth the investment if history is any guide.
How to Hang a Tapestry
We recommend a tapestry if you want to beautify your blank walls but don't want to create a traditional gallery wall. We're talking about various textile art forms, from weavings to vintage fabrics—we don't imply that your residence should resemble the Vatican. Whether you hang these artistic pieces over the sofa or behind the bed to act as an eye-catching alternative to a headboard, they add colour, texture, and pattern to the room. Unsure of how to hang your new cloth purchase from the wall? We have solutions to help you hang a tapestry anyplace, even in rental properties where the walls must be spotless. Find your ideal tapestry and be motivated to breathe new life into your walls.
Use Nails or Pushpins
How can a tapestry be hung most simply? Use pushpins or nails. (Plz refrain from using ugly thumbtacks!) Larger weaves are ideal for this procedure; smaller weaves may result in holes in the garment. For a casual drape, hang by the corners. For a straight appearance, fasten with a series of nails spaced evenly across the top of the piece.
Stretch over a Framr
Stretching cloth over a wooden frame or plywood board can transform it into a work of art. The tapestry should be folded and stretched over the frame before being stapled. To hang pictures on the wall, use sawtooth hangers. To prevent the wood from showing through the fabric if your fabric is thin, you might wish to stretch and staple the canvas to the frame first.
Secure with Velcro
Here's how to hang a tapestry and still get your security deposit back if you're renting an apartment and trying to avoid putting holes in the walls: To fasten the tapestry to the wall, use Velcro tape is self-adhesive. It is an excellent alternative technique if you don't want to poke holes in the cloth or have a curved wall.
Use a Baseboard
A baseboard will aid in securing the piece to the wall and provide additional support for heavy linens and tapestries. Pick a board that will fit into the tapestry's back rod pocket. If your tapestry lacks a pocket, you can manually make one out of a thick piece of fabric. Reduce the board's size, so it is smaller than the tapestry's width—drill holes where you marked where the screws will go. The board should slide inside the pocket. Fold the tapestry on wall 's sides inward and fasten the board to the wall with screws.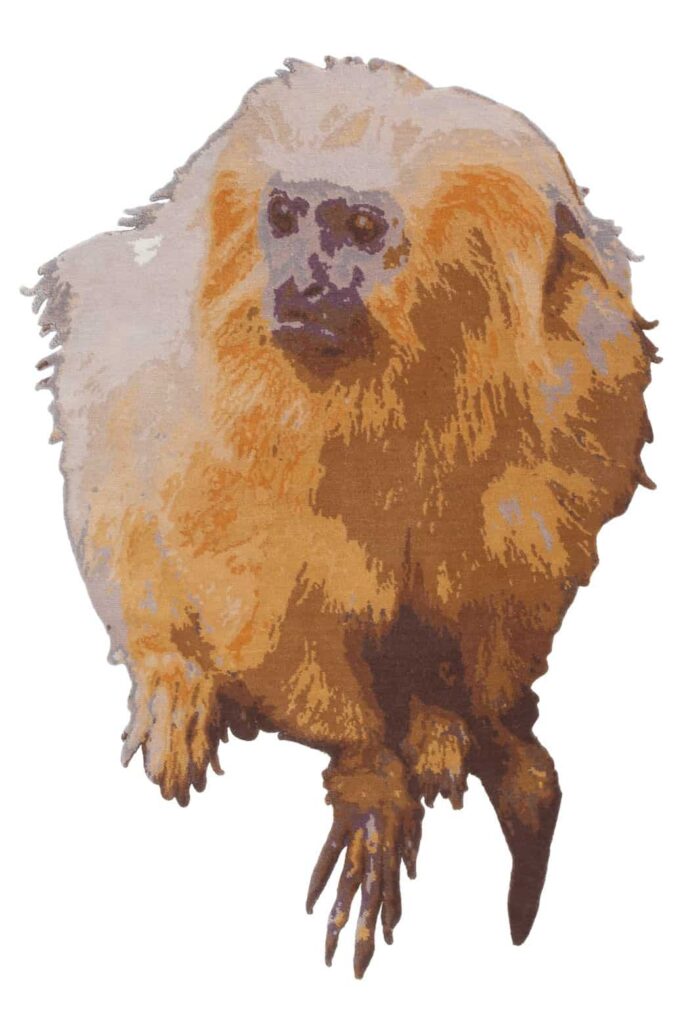 Hang from a Rod
Tapestries with compartments at the back can be hung using a rod. If your piece is wide or rectangular, you could drape it over the rod to make an eye-catching display over the sofa or a fake headboard.
Frame It
Smaller tapestries and delicate materials might be best protected by glass. The artwork will be protected and given a respectable display in a frame or shadowbox.
Create a Canopy
There's no reason to confine oneself to a wall. To create a wonderful bed or a cosy sitting place, hang your textile from the ceiling or drape it onto the wall.
Try a Poster Hanger
Not only are poster hangers useful for paintings on paper. To keep the tapestry flat against the wall, use a wooden device.
Before Buy Tapestries
The majority of us already know about tapestries. There is a huge variety of sorts, designs, and colours available, and you can make your own. Contrary to other available art forms, tapestries are extremely lightweight and thin, making it possible to hand them up to the wall without risking structural damage. Just a few nails or thumbtacks are all required for hanging tapestries when you purchase them.
You Can Save Money and Time
We are all aware of how time-consuming painting walls can be. Although advertisements for paint suggest that painting walls would be simple, this is untrue. In the long run, buying tapestries will save you time and money because you won't need to spend any money on painting the walls. It is impossible to go through the time-consuming and exhausting procedure of selecting a wall colour, removing the old, painting the wall trims, and cleaning the space. All you have to do is purchase some top-notch tapestries and place them on the walls.
Give a Touch of Art and Color conveniently.
When decorating full-sized walls with art, painting can be involved and time-consuming; however, when you purchase tapestries, you can decorate your home with art without difficulty and without painting a single inch. Tapestries are available in various colours and sizes, and some merchants, like Fine Art America, even offer custom sizes that you may order based on the height and width of the wall. Finding the right tapestries for your home shouldn't be difficult if you want to brighten up and add colour to your room.
Adding a Sense of Calmness
People often hang tapestries in their homes to demonstrate to the outside world that they have a connection to their home and that it has a mind and soul. It is one of the main motivations behind this practice. Hanging tapestries is typically not an issue because they are composed of cloth, which can be either thin or thick. Since designs are woven into the cloth, if you have a certain design in mind, it can be incorporated into the tapestries. To enhance their appeal and show your connection to them, you can add a unique pattern, colour, and detail if you don't want to buy tapestries.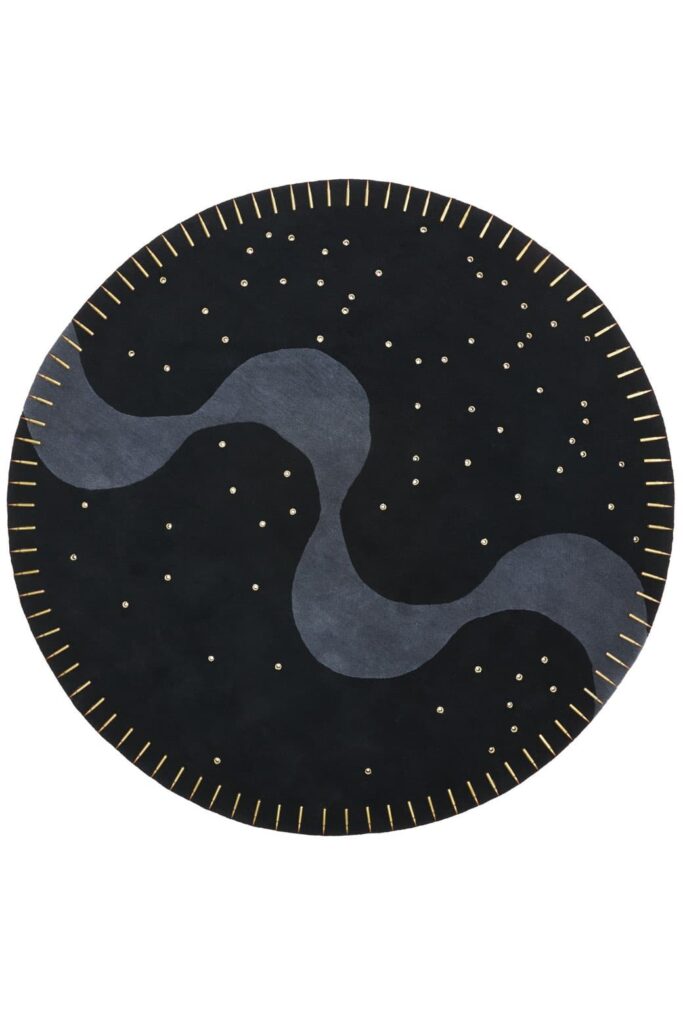 Where you can find the Luxury tapestry
Nodusrugs is an excellent site to shop for high-quality, luxurious hand-knotted tapestries for walls. A customizable offer is available, and you can order a custom design. They sell Cangaco, a limited edition five-piece collection designed by Estudio Campana. Monkey Design by Estudio Campana Limited Edition of 10 Pieces Collection is available on Nodusrugs. The famous Tapestries of Nodusrugs are listed here. For additional information, please visit their website.
Metal rug: Brass
By Nacho Carbonell, the design. One piece limited edition collection Limited release. A brass carpet is an actual piece of modern art deserving of the exhibition in a museum. It is manufactured by hand in Nepal using specialized equipment and safety gear. It is a modern carpet that may provide any home environment with a strong personality and something special.
Rooster
We are invited to take home a hand-knotted wool rug made to look like wild animals by Fernando and Humberto Campana. It can be taken as a lighthearted invitation. Or as a metaphorical carpet that serves as a reminder of the joy of living near nature and all of its vibrant liveliness.
Metal rug: Aluminium
A metal carpet, perhaps? A rug made of aluminium, of course! A true tapestry-style object for hanging on a wall (its ideal placement). This contemporary rug, totally hand-knotted on the warp and weft, is of museum grade. The craftsmanship requires specialized tools created especially for the piece's execution.
Metal rug: Copper
A contemporary carpet is in front of us that defies every established rule governing a traditional artefact. In this case, copper is the component ingredient rather than wool or silk. Talented Nepalese artisans weave a wall tapestry. A hand-made object spun, sculpted and painted to the highest level of museum quality.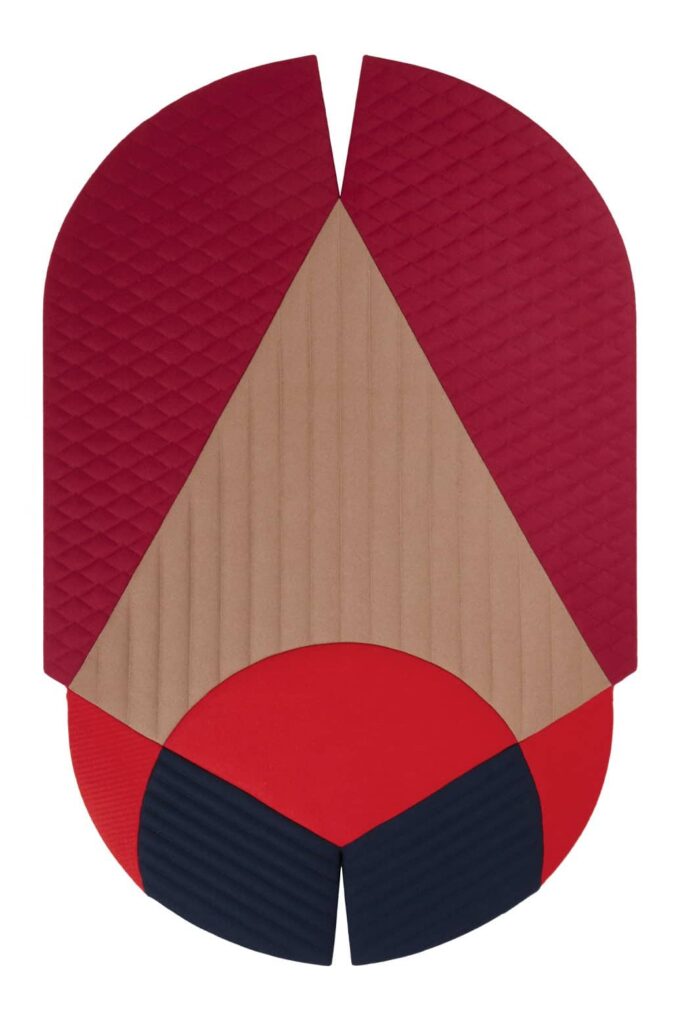 Migration Gazza
Wear a wool and wood rug! An object that is a carpet, a tapestry and a cape that appears to be ready to be worn is given life by Formafantasma—produced with skill by Portuguese artisans, who continue the long-standing tradition of regional master knitters.
Migration Pettirosso
Poncho, carpet, or tapestry on wall ? All three are present in the work of art that Formafantasma's brilliance produced. The hand-embroidered piece depicts the history of the Portuguese master knitters with seven different forms of embroidery. This contemporary carpet's design pays homage to the notion of transformation and the hot-button issue of migration, which sends individuals away from their homes to foreign lands.
Migration Aquila
A wool and wood rug that is an actual tapestry on wall but can also be worn as a shawl is the result of the fusion of art and fashion. The row of buttons that closes the cut along a radius hints at this. The motif alludes to modern (migration) and traditional aspects in a symbolic manner (change, the passing of time).
Nodus creates prestigious rugs.
Bring luxury into your home!
>>> CONTACT US! <<<

Nodus has reinvented the luxury rug. It was in fact the first brand to propose the concept of the rug as a work of contemporary art.
Nodus has always created exclusive products that furnish the most beautiful homes in the world. Do you want to make your home inimitable as a work of art?
Bring a hand knotted rug of the highest quality and design into the spaces of your daily life! Give your family and the people you love the beauty of a dream masterpiece! Every piece of Nodus is designed by famous Designers, making it recognisable and prestigious. In this way, each rug is unique: you will not find another one like it. Like all beautiful and unrepeatable things, one piece in the Nodus collection sets you apart and speaks to others about your taste and elegance. CONTACT US!