Sustainable outdoor rugs: how to choose the right pieces for your project?
Design — Materials and techniques —
Aug 13.2022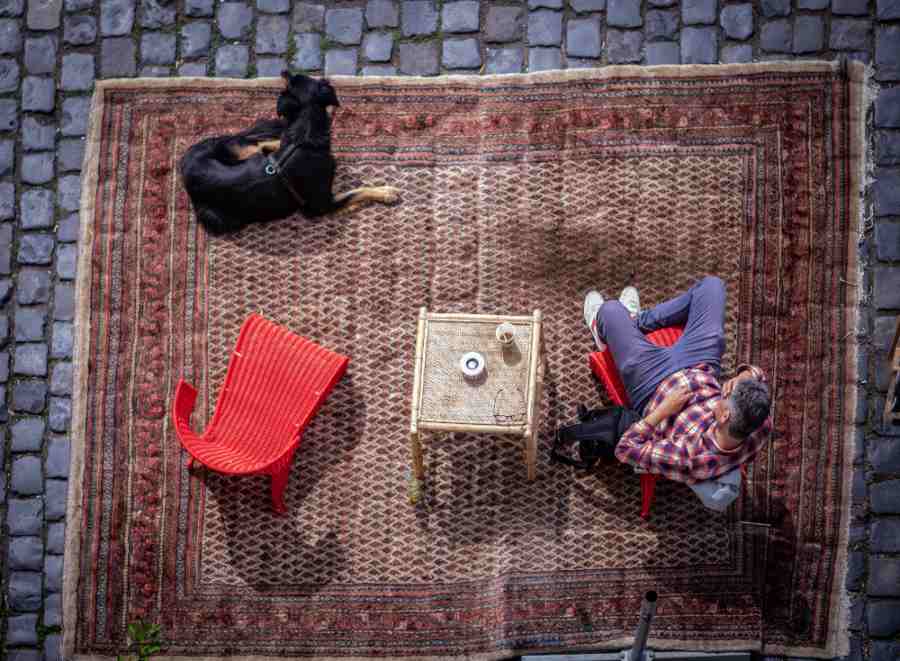 The reasons for choosing sustainable outdoor rugs are varied. There are those who make it an ethical issue, those who decide to furnish their homes exclusively with environmentally friendly furniture and decorations, and those who love the natural look of the materials used to make eco-friendly rugs.
Whatever the reasons for using sustainable carpets to furnish terraces, gardens, gazebos and patios, here are some tips for making the best choices.
The most beautiful natural outdoor rugs
Outdoors, you need rugs that are not only aesthetically pleasing and comfortable, but that are also resistant to moisture and temperature changes. For a material to be considered ideal for an outdoor carpet, it also needs to be low-maintenance.
Some natural materials such as coconut and sisal are excellent in these respects. Good alternatives for sustainable outdoor rugs are also bamboo, jute and hemp, which are materials that are particularly appreciated for their simple and elegant appearance.
All of these rug models are easy to combine with chairs, sofas and outdoor tables. Sisal and coconut fibre rugs are also perfect for use by the pool, to create an elegant and comfortable relaxation corner.
Outdoor furniture can be furnished either with hand-knotted rugs or with woven models. The former provide greater strength and durability and are preferable if the outside of the house is exposed to the weather or if there is heavy traffic. Woven rugs, on the other hand, have a reduced thickness and are an excellent solution for decorating a patio or gazebo away from sun and weather.
How to choose the right sustainable outdoor rugs?
The natural colours of undyed fibres are strong points of sustainable outdoor rugs. The wood-like tones and neutral colours of the finest yarns are versatile and suit a wide variety of furnishing styles.
Those who opt for eco-friendly rugs often prefer to leave the fibres to their natural appearance. If you want to add a touch of colour to your décor, you can choose a carpet made of fibres treated with vegetable dyes. Floral and geometric patterns are best suited for terraces and patios.
As far as shapes are concerned, the most common choice is rectangular rugs, which are perfect to be combined with tables, sofas and armchairs. Round rugs are also a frequent choice, which is great for creating a convivial outdoor space. Furthermore, when you want to furnish the outside of your home with characterful choices, you can opt for an irregularly shaped rug or a custom-made model.
Bespoke design is recommended whenever you have special requirements or when you need a carpet that deviates from standard models in terms of shape, material or design. This obviously also applies to sustainable outdoor rugs.
Specifically, compared to indoors, there is usually more space available and fewer constraints in outdoor areas of the home. This allows more freedom of action in choosing the size and shape of the carpet, but also in choosing its optimal layout.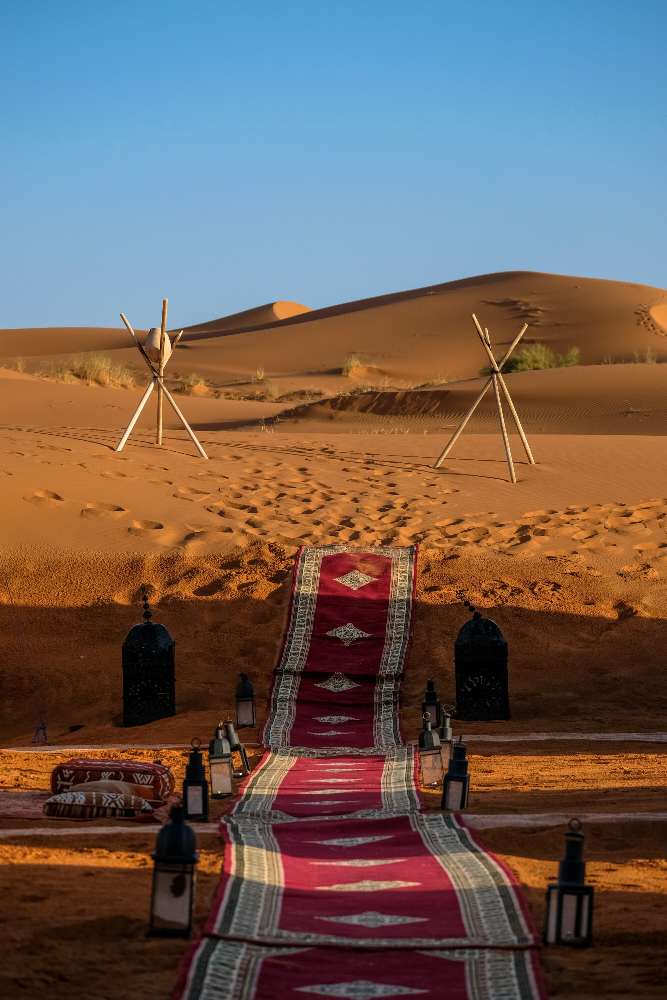 Some tips for furnishing the outdoors with sustainable rugs
To best furnish the outdoors of your home with sustainable rugs, it is important to make sure that the model of the carpet you choose matches the floor or surface on which it will be laid. On patios and terraces, it is important that the colours of the carpet and the floor are in harmony and that there is sufficient contrast.
The same reasoning applies to sustainable rugs that are placed around the edge of a swimming pool. Often, dark brown teak flooring is chosen for this specific corner of the house. Light-coloured rugs, such as those made of coconut fibre or jute, are perfect and go very well with wood.
When placing rugs outside, it is always important to identify the optimal area for each model. There are hardwearing designs that can be placed even in very sunny areas, and more delicate models that need a more sheltered, shady spot. Finding the perfect layout is crucial with dyed rugs, as some colours may change if they are exposed to direct sunlight or moisture.
The wide variety of sustainable outdoor carpet models makes it easy to find the most suitable products for your home, whether you prefer traditional furnishing styles or have chosen to furnish the room in a contemporary style. Furthermore, with outdoor rugs made of sustainable materials, you can create designs that are in continuity with those chosen for the interior. Or it is even possible to create a design with contrasting artefacts.
Nodus creates prestigious rugs.
Bring luxury into your home!
>>> CONTACT US! <<<

Nodus has reinvented the luxury rug. It was in fact the first brand to propose the concept of the rug as a work of contemporary art.
Nodus has always created exclusive products that furnish the most beautiful homes in the world. Do you want to make your home inimitable as a work of art?
Bring a hand knotted rug of the highest quality and design into the spaces of your daily life! Give your family and the people you love the beauty of a dream masterpiece! Every piece of Nodus is designed by famous Designers, making it recognisable and prestigious. In this way, each rug is unique: you will not find another one like it. Like all beautiful and unrepeatable things, one piece in the Nodus collection sets you apart and speaks to others about your taste and elegance. CONTACT US!