Round bamboo rug: how to choose it? In which furnishing projects can it be inserted?
Design — Home —
Sep 09.2023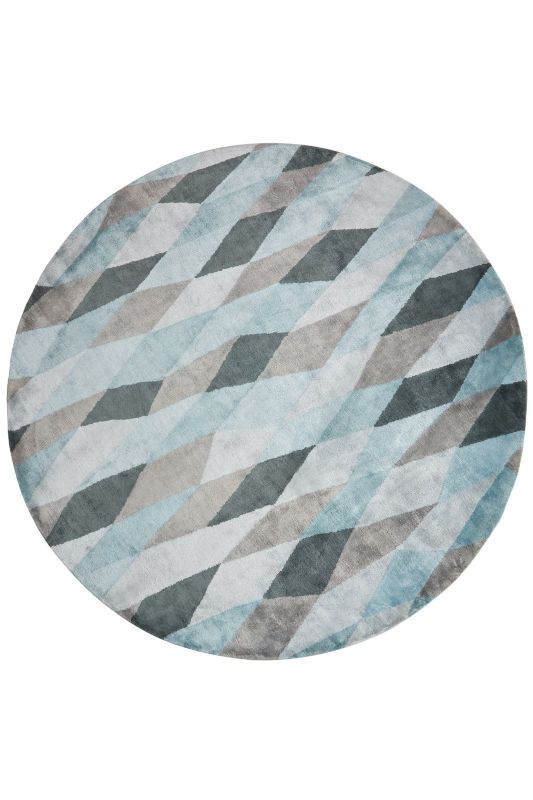 A round bamboo rug is a versatile and aesthetically appealing choice, ideal for enhancing the atmosphere of spaces inside and outside the home.
These carpets are distinguished from those made of other materials by their fresh and natural appearance, which can add a youthful and elegant touch to any room.
What are the qualities of a bamboo round rug?
Bamboo round carpets are very versatile models. Indeed, they can be used indoors, to decorate the entrance area, the living room, the bedroom or even the dining room, for example. However, they can also be used for outdoor spaces in the home. Thanks to the fact that bamboo resists humidity and temperature changes well, these textiles can be successfully placed on the terrace or in the garden, taking care, however, not to expose the piece to rain.
As bamboo carpets can be used indoors and outdoors, it is possible to create beautiful interior design projects and create a sense of stylistic continuity between different rooms in the home.
The weave of a round bamboo rug is obtained by weaving together the light but strong fibres of bamboo. This weaving process gives the individual pieces a solid and durable structure that is able to withstand everyday wear and tear. Since the fibres are light, a bamboo carpet is also easy to move and can be placed in various places in the home, depending on one's needs at the time.
It should also be emphasised that one of the main strengths of this type of artefact is its natural appearance. The use of undyed bamboo fibres gives the room a fresh feel. This feeling, combined with the slightly irregular weave that characterises such round carpets, contributes to a feeling of authenticity in the space and a connection with nature.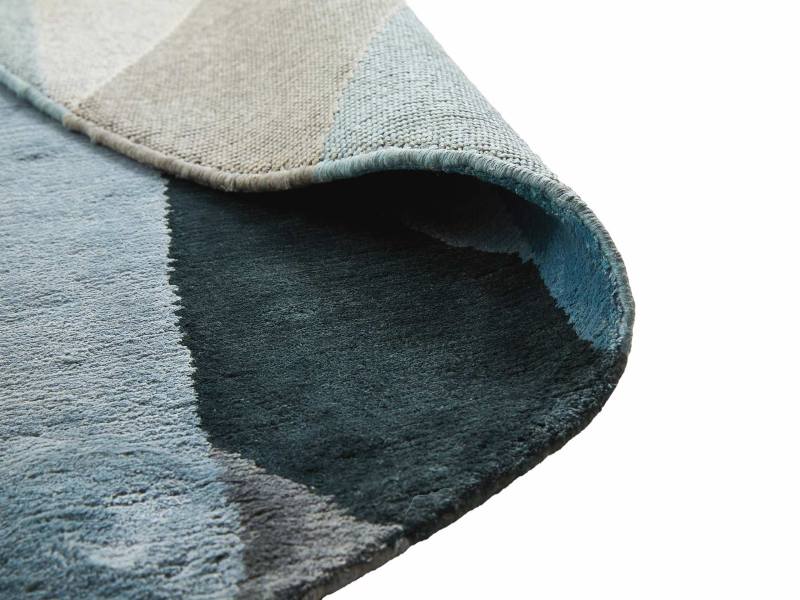 How to use bamboo round carpets in interior design?
Handcrafted round bamboo carpets can be a wonderful addition to furniture. On the other hand, their versatility offers endless furnishing possibilities.
One of the indoor spaces where round bamboo carpets can express their decorative potential is the entrance hall. Especially when the space is small and not elongated, a round bamboo rug can help define the space and give it character. The room can be enriched with the presence of a small console, a built-in wardrobe or mirrors.
This is not the end of the story. In fact, round bamboo carpets are also an excellent choice to complete the decor of a living room with minimalist or eco-friendly furniture. In this space of the home, one can think of placing the rug under the dining table, which is also round, or in the relaxation area.
Outdoors, one can think of placing a round bamboo rug to liven up the look of a terrace or patio. In spaces such as these, the item can be the main piece of furniture or can coordinate with armchairs and sofas.
In a large garden, similar carpets can help create a relaxed atmosphere in which one can sit and enjoy time in the open air. Placed under a canopy or inside a gazebo, bamboo textiles offer comfort and style.
In short: whether indoors or outdoors, a round bamboo rug is an important resource for defining spaces and accentuating specific elements of the décor. A few examples? Bamboo pieces can be used to visually delimit different areas of a room. Especially in an open-plan environment, this is an interesting way to use carpets and gives the room a neat and tidy look.
Alternatively, one can consider using a round bamboo rug to highlight specific furniture elements. Placing, for example, a rug under a column topped with a decorative vase or under an outdoor table allows you to draw attention to these elements with a very simple decorative intervention.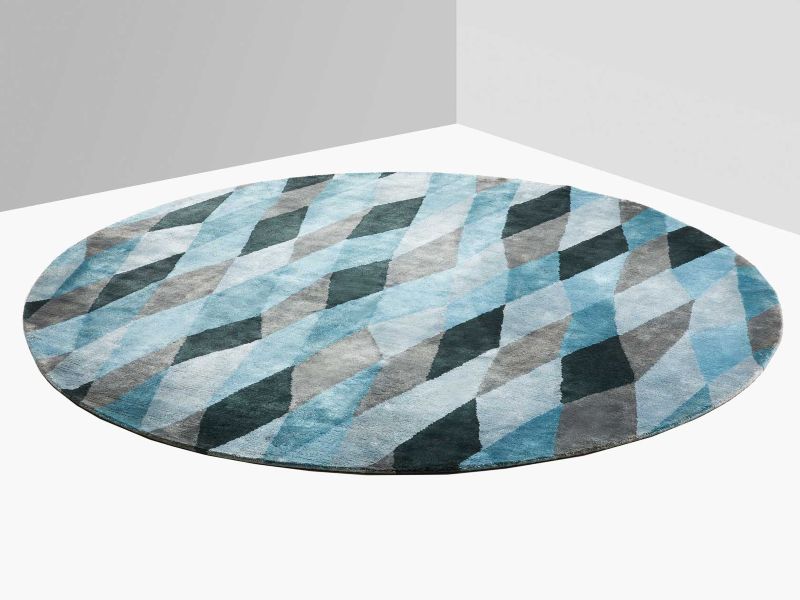 How to choose a round bamboo rug?
Choosing a handcrafted bamboo round rug often requires a tailor-made design and a lot of attention to detail.
First, you need to focus on the colours and style of the carpet. If you have decided to give your environment an eco-friendly or tropical look, a round bamboo rug is a perfect choice. Specifically, these models integrate ideally with a neutral colour palette and earthy tones, helping to create a relaxing atmosphere in tune with nature.
On the other hand, those who wish to add a touch of originality and personality to their space may consider choosing a bamboo rug with coloured fibres. Such models often have bright and bold colours and are suitable for a furnishing style that is just as lively and has a contemporary feel.
Nodus creates prestigious rugs.
Bring luxury into your home!
>>> CONTACT US! <<<

Nodus has reinvented the luxury rug. It was in fact the first brand to propose the concept of the rug as a work of contemporary art.
Nodus has always created exclusive products that furnish the most beautiful homes in the world. Do you want to make your home inimitable as a work of art?
Bring a hand knotted rug of the highest quality and design into the spaces of your daily life! Give your family and the people you love the beauty of a dream masterpiece! Every piece of Nodus is designed by famous Designers, making it recognisable and prestigious. In this way, each rug is unique: you will not find another one like it. Like all beautiful and unrepeatable things, one piece in the Nodus collection sets you apart and speaks to others about your taste and elegance. CONTACT US!