Outdoor polypropylene rugs: what are they? How are they chosen?
Materials and techniques —
Apr 07.2023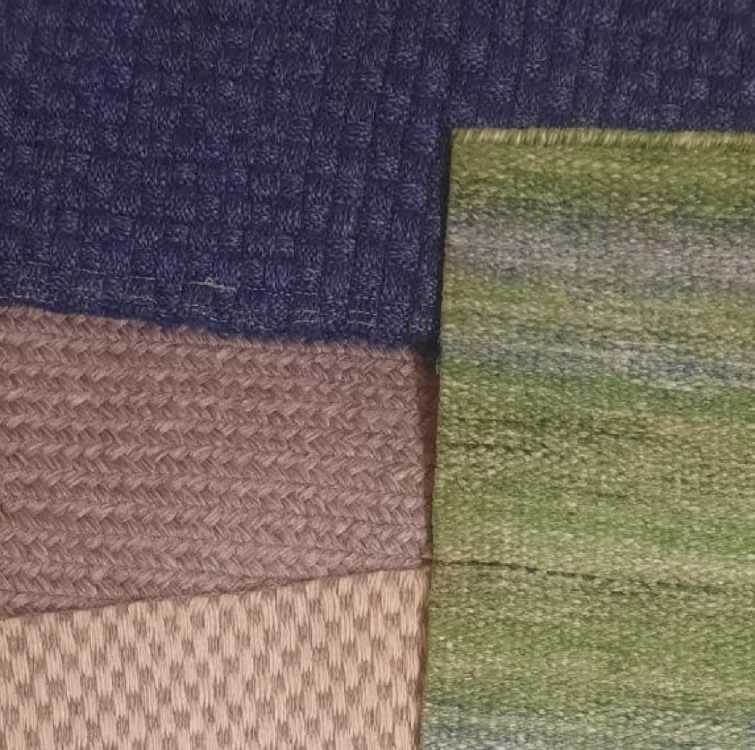 Outdoor polypropylene rugs are an essential element in making outdoor spaces in the home elegant and cosy.
Compared to the alternatives available, which are made from synthetic or natural fibres, outdoor polypropylene rugs stand out for their great decorative power and their ability to resist the sun, stains and moisture. The solidity of the product, combined with its aesthetics, makes models in this specific material the best choice for furnishing outdoor environments of all types and sizes.
What are the features and advantages of outdoor polypropylene rugs?
If there is one material that can resist stains, sun, moisture and weather more than others, it is polypropylene. Consequently, these qualities of the material make it the perfect choice for an outdoor carpet.
When it comes to outdoor furniture, one must bear in mind that polypropylene has exceptional UV and weather resistance. The structure of the synthetic fibres and the manufacturing process make the surface waterproof and prevent it from being damaged by sunlight and water. Even when exposed to direct sunlight or in the rain, these products do not fade easily and, indeed, retain their original appearance, unchanged over time.
The water-repellent properties mean that the carpet dries quickly and, even in the presence of humidity or standing water, these properties prevent the formation of mould or fungus, which could otherwise also be hazardous to health.
The compactness of the polypropylene fibres reduces the accumulation of dust or dirt on the surface of the carpet. To clean them, simply vacuum or wash them with mild soap and water. Polypropylene is therefore an excellent option to consider, whether for an elegant rug to be placed in front of the entrance to the house or for a piece to be placed in the garden.
Specifically, outdoor polypropylene rugs can complete the decoration of balconies and terraces, but also gazebos, gardens and patios. Thanks to the ease with which they can be cleaned and maintained, these models are also very practical to use. In addition, they retain their beauty over time.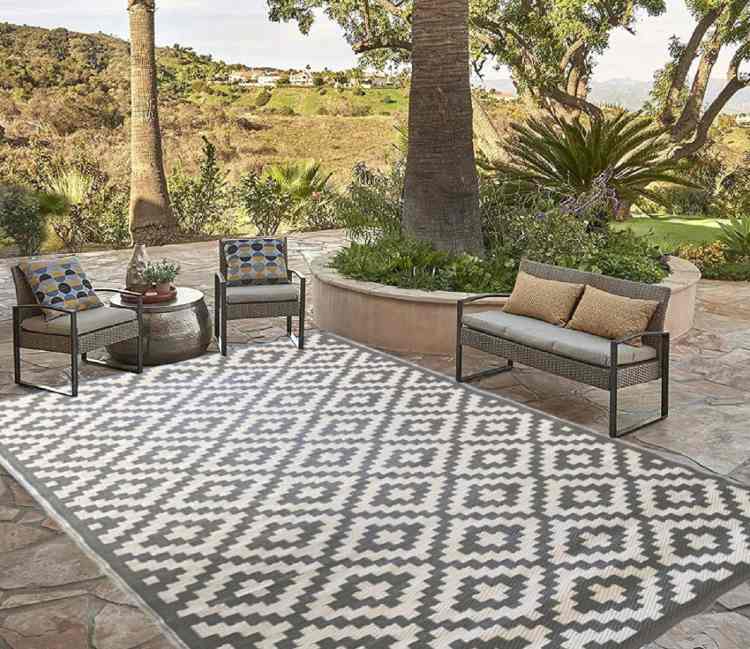 How can outdoor polypropylene rugs be used in furniture?
As very durable and versatile rugs, polypropylene outdoor models can be adapted to many different uses. This type of carpet is often used to decorate terraces, balconies and gardens. Since these rugs are available in so many different colours and designs, they can complement any style of décor.
Polypropylene rugs can also find a place in the wetter outdoor areas of homes, such as the pool area or near a fountain. Thanks to the quick-drying synthetic fibres and the non-slip structure of the product, the carpet is safe to use and greatly reduces the risk of losing balance or falling.
When one decides to furnish with one or more outdoor polypropylene rugs, one does so primarily for the decorative properties of this product, but one should not underestimate its ability to protect floors from wear and tear. In addition to the effect of trampling and traffic, it must be considered that using a polypropylene outdoor carpet avoids the scratches and abrasions that can be caused by moving furniture used to decorate the garden or terrace, for example.
In short: furnishing with a carpet made of polypropylene allows you to beautify the appearance of your home's outdoor spaces all year round. Since this material resists cold and rain, in fact, there is no need to store it in winter. Therefore, there is no need to change the outdoor furniture during the cold season.
How to choose the right outdoor polypropylene rugs for your home?
When choosing a polypropylene outdoor carpet, it is important to balance several aspects. First of all, the right size of the product must be identified. Ideally, the product should be in proportion with the area to be covered. The choice of size is very important in order to achieve a harmonious result and not to leave a very large area uncovered, with the risk of the room looking too bare.
The choice of design and colours to be used for outdoor polypropylene rugs is equally important. The main tip to keep in mind is to choose a design that suits your decorating style and the theme of your outdoor space. The availability of many colours and designs simplifies the search and allows you to opt for a carpet with geometric or floral prints, for example.
Nodus creates prestigious rugs.
Bring luxury into your home!
>>> CONTACT US! <<<

Nodus has reinvented the luxury rug. It was in fact the first brand to propose the concept of the rug as a work of contemporary art.
Nodus has always created exclusive products that furnish the most beautiful homes in the world. Do you want to make your home inimitable as a work of art?
Bring a hand knotted rug of the highest quality and design into the spaces of your daily life! Give your family and the people you love the beauty of a dream masterpiece! Every piece of Nodus is designed by famous Designers, making it recognisable and prestigious. In this way, each rug is unique: you will not find another one like it. Like all beautiful and unrepeatable things, one piece in the Nodus collection sets you apart and speaks to others about your taste and elegance. CONTACT US!