The differences between a luxury wool rug and a luxury silk rug
Luxury rugs —
Feb 03.2021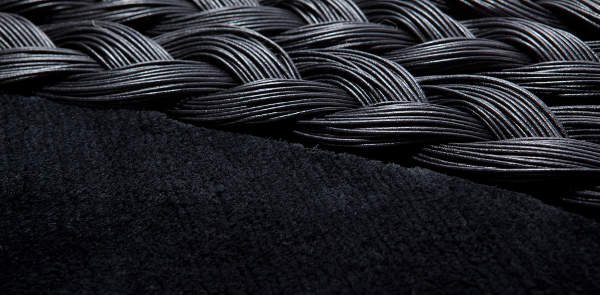 Wool and silk are the materials most often used in the production of luxury rugs. For centuries, these fibres have been used to make carpets for the most exclusive homes, from imperial palaces to contemporary houses.
Although wool carpets have a number of features in common, there are many differences between wool and silk carpets, which can be appreciated from a number of different perspectives. Before you invest in buying carpets for your home, it is a good idea to understand these differences in order to make the most of the characteristics and advantages of the different materials.
Wool carpets vs. silk carpets
Differences in structure. Both wool and silk fibres have exceptional levels of strength. The fibres are knotted around threads that are usually cotton or wool, giving the carpet a compact and solid structure. Because silk is thinner than wool, silk carpets can have a very high knot density and much more elaborate and precise patterns. Wool, on the other hand, is more resistant to being walked on and stained. The characteristics of the materials should also be taken into account when determining which cleaning systems are best suited. For silk carpets, which are much more delicate, a professional cleaning service should be chosen to avoid damaging the pile. Even the most luxurious wool carpets can be cleaned with a good hoover without fear of damage. Choosing a product that mixes the two materials, i.e. buying a wool carpet with a percentage of silk fibres, is a good solution to have a piece that combines both the qualities of resistance of wool and the delicacy and brightness of silk.
The differences in touch. Running a hand over a pure silk carpet is extremely pleasant. The fibres are fresh, soft and slippery. In contrast, wool is a warm material whose softness depends on the type of weaving used and the origin of the animals. The sensations one feels in contact with the carpet also depend on the density of the structure of the carpet. A piece made with denser knots will be more compact than one that has fewer knots per square centimetre.
Visual differences. It is perhaps when you see it that the differences between a wool and a silk luxury carpet are most obvious. While wool is an opaque fibre, silk is very shiny. Silk is therefore able to produce carpets with a unique luminosity and colour nuances. The different characteristics of wool and silk also affect the colours and design of the carpet. Silk, which is thinner and more malleable, makes it possible to create carpets with a high degree of detail and precision. When choosing the best material for your carpet, you should therefore consider the result you want to achieve. A wool carpet is ideal if you want a carpet with intense colours. Or if you are looking for a light-coloured rug with a minimalist design that complements the decor of your room. A silk carpet, on the other hand, is the right choice for those who want a rug that catches the eye with its refined design and iridescent colours.
The differences in furnishings. Wool is the material par excellence used to create carpets capable of furnishing any type of environment. Thanks to the versatility of this material – which can be raw or finely processed, used in its natural colour or dyed with vegetable, animal or synthetic dyes – wool carpets can be adapted to all kinds of interior design. Over the centuries, luxury wool carpets have been used to adorn the rooms of kings and emperors. They have also been gifts given to diplomats, politicians and royalty. Silk carpets, due to their exclusivity, are suitable for extremely refined environments. The delicacy of silk can be considered both the main strength of this type of carpet and a weakness. Consequently, in order to be sure to enhance the value of the silk carpet, it is important to avoid placing it in the most frequented areas of the house. If you want to make the most of its characteristics, you can also decide to buy a high-design silk carpet and place it on a wall, like a real work of contemporary art.
Nodus creates prestigious carpets.
Bring luxury into your home!
>>> CONTACT US! <<<

Nodus has reinvented the luxury carpet. It was in fact the first brand to propose the concept of the rug as a work of contemporary art.
Nodus has always created exclusive products that furnish the most beautiful homes in the world. Do you want to make your home inimitable as a work of art?
Bring a hand knotted rug of the highest quality and design into the spaces of your daily life! Give your family and the people you love the beauty of a dream masterpiece! Every piece of Nodus is designed by famous Designers, making it recognisable and prestigious. In this way, each rug is unique: you will not find another one like it. Like all beautiful and unrepeatable things, one piece in the Nodus collection sets you apart and speaks to others about your taste and elegance. CONTACT US!