Luxury carpet and children: tips and tricks
Luxury rugs —
Jan 26.2021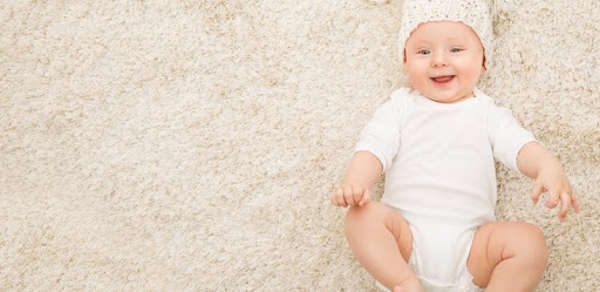 Because of their characteristics, luxury carpets are perfect for rooms where children live. As well as protecting the floor and beautifying the room, carpets provide a safe and comfortable environment for children.
With a little care, you can preserve the beauty of your carpets and protect them from damage and stains. Even if you have particularly lively children in the house.
Child-proof luxury carpets
When it comes to luxury carpets, the first thing that comes to mind is their aesthetic function. Undoubtedly, carpets are an important decorative element in defining the style of your home. But in addition to their aesthetic function, carpets also play an important role, especially in rooms with children.
First of all, a room furnished with a carpet offers warmth and protection, much more so than other types of flooring. These qualities of carpet can be appreciated in the bedroom as well as in the living room or lounge.
Carpets are the ideal choice for children of all ages. For infants, it is a warm and safe surface on which to crawl and take their first steps, while for older children it is a surface on which to play safely. Carpets not only decorate the room, they also protect against slipping on the floor and cushion falls. In addition, they allow small children to walk, run or play in complete safety. The thickness of the carpet can also dampen noise and make the atmosphere less chaotic, even if there are one or more particularly restless children.
Another advantage of carpets is their natural ability to define spaces. Especially in the bedroom, this can be used to identify the play area or study area.
Carpets can also adapt perfectly to changes in furniture as they occur. In other words, they can follow the growth path of the child. In fact, a carpet can be moved around the room to make the best use of the space. If in the first years of life the carpet defines the area in which to walk and play, as the years go by it can accompany the afternoons of study or play in the company of friends.
Which luxury carpets are best if there are children in the home?
When it comes to choosing a carpet for a prestigious home with children, the most immediate requirement is to combine the desire for exclusivity with the need for a long-lasting carpet.
To succeed in this task, it is crucial to choose a durable carpet that provides a comfortable and safe environment. Especially if there are small children involved, long pile or fringed carpets should be avoided. These can be dangerous as they increase the risk of tripping and falling.
To ensure that the beauty of a luxury carpet remains intact over time, it is important to vacuum the carpet regularly in order to remove dirt and dust accumulated between the fibres and to quickly deal with any stains.
When choosing a carpet for your home, it is also important to consider carefully what colours will suit the room. To minimise the visibility of stains, light colours and minimalist designs should be avoided.
When choosing the colour, much depends on the environment of the house in which the carpet will be placed. In the living room, for example, you can opt for an ethnic design with oriental inspiration. Elaborate designs and rich colours can camouflage stains well and furnish the room with style.
For the children's bedroom or playroom, you can choose a luxury carpet whose design is specifically geared towards children. The right colour should be chosen taking into account the colour of the furniture and the walls. If you have opted for pastel-coloured furniture and light colours for the rest of the room, you can dare to choose a brightly coloured carpet. Those who have chosen natural wood furniture combined with walls or wallpapers in more intense colours can find the right balance with a carpet in natural tones and a simple geometric design.
Materials should also be considered carefully. Wool is the most preferable fibre: it is naturally very resistant, even to humidity, and ensures a warm and cosy environment for children.
Nodus creates prestigious carpets.
Bring luxury into your home!
>>> CONTACT US! <<<

Nodus has reinvented the luxury carpet. It was in fact the first brand to propose the concept of the rug as a work of contemporary art.
Nodus has always created exclusive products that furnish the most beautiful homes in the world. Do you want to make your home inimitable as a work of art?
Bring a hand knotted rug of the highest quality and design into the spaces of your daily life! Give your family and the people you love the beauty of a dream masterpiece! Every piece of Nodus is designed by famous Designers, making it recognisable and prestigious. In this way, each rug is unique: you will not find another one like it. Like all beautiful and unrepeatable things, one piece in the Nodus collection sets you apart and speaks to others about your taste and elegance. CONTACT US!