Irregular shaped rugs: what do they look like? A step-by-step guide to making the right choice
Design — Home —
Apr 28.2023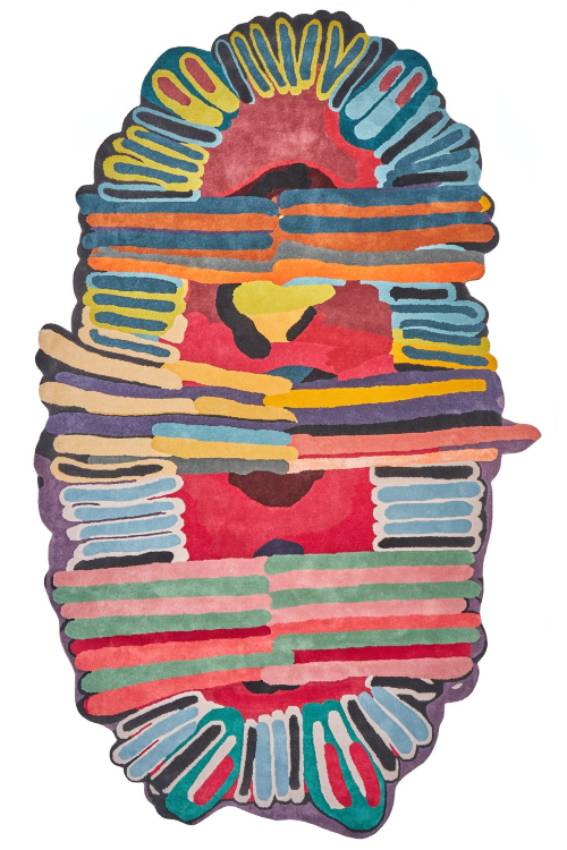 Irregular shaped rugs can prove to be the trump card of architects and interior designers. While it is true that carpets can change the face of a room, making the atmosphere more or less warm or more or less elegant, this is even truer for luxury rugs that have a creative and original shape.
Think of the effect an abstractly shaped piece, a flower-shaped piece or a pattern reproducing the silhouette of an animal or object can give.
How can irregular shaped rugs be used to make a home décor original?
A strength of irregular shaped rugs lies in their versatility. These carpets are much more flexible than traditional rectangular, square, round or oval designs.
Resorting to an irregular shaped carpet is useful both when you want to furnish a uniquely shaped room and when you are looking for an unusual solution to furnish a room that has a particular shape or proportions.
An irregular shaped rugs is the perfect choice whenever you want to give the carpet a central role in the room's décor. Thanks to its unusual shape, the carpet immediately catches the eye and becomes the focal point of the room. This effect can be amplified by carpets made of yarns dyed in bright colours or by rugs with unusual designs.
Irregular shaped rugs can be used to make creative and original furnishings in all areas of the home, even outdoors. One can be placed indoors immediately if one wants to communicate originality to guests. In the lounge or living room an abstractly shaped carpet can be a great way to give personality to the relaxation area and to make a very simple sofa stand out, for example.
In the bedroom, irregular rugs can also prove to be the right choice. Small rugs with soft, sinuous shapes can replace an anonymous bedside rug, while a large irregular rug can be placed under the bed for style and comfort.
How to position irregular shaped rugs creatively and for a surprising result?
Irregular rugs multiply the possibilities of furnishing endlessly. Both the number of spaces that can be furnished and the different aesthetic combinations increase.
Thanks to irregularly shaped carpets, it is also possible to define spaces in the home in a more precise and original way, especially when furnishing a large room that serves several functions at once. Distributing several irregularly shaped carpets within the room limits the different areas and reflects the personality of each space.
A rug with rounded shapes and in light or pastel colours is perfect for a reading corner in a large living room, while a larger rug in the shape of a flower or leaf can complete a relaxation corner.
Small, irregular shaped rugs can also become wall art. Hung on the wall like pictures, these carpets add colour and liven up the look of the room. With light-coloured furniture and/or minimalist lines, such a choice can be a winning one.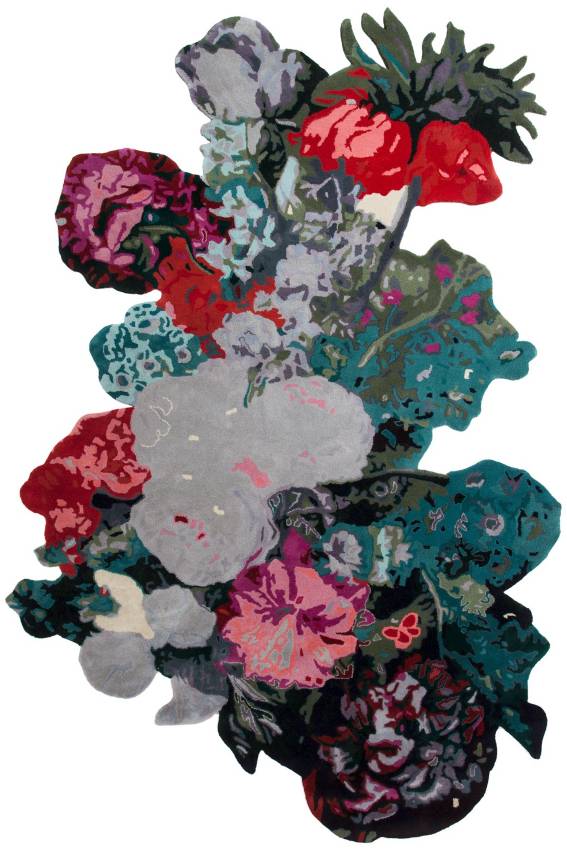 How to find the ideal solution for every type of home environment?
When you choose to furnish with irregular shaped rugs, you can experiment with the most diverse materials. In addition to the more classic natural fibres such as wool, silk and cotton, less common vegetable yarns such as jute, sisal and hemp can also be considered.
For irregular shaped rugs intended for outdoor areas, synthetic materials are the best solution: polyester, polypropylene and acrylic, in particular, are perfectly resistant to moisture and light and can tastefully furnish gardens, pool areas and terraces.
On the choice of material depends not only the appearance of the carpet, but also its performance and functionality. When weighing up several alternatives, it is best not to limit oneself to considering only the design and shape of the pattern, but it is also important to assess the qualities and characteristics of the yarn.
Another aspect to be taken into great consideration is the colour combination of the carpet. The same shape offered in several colour palettes can give a different look and feel to the room, also in relation to the other furnishings present.
Irregularly shaped carpets offer many advantages and can make home spaces creative and original. For a result that impresses with its beauty, the choice of the right pattern should be made with care, carefully assessing the impact the carpet has on the appearance of the room.
Nodus creates prestigious rugs.
Bring luxury into your home!
>>> CONTACT US! <<<

Nodus has reinvented the luxury rug. It was in fact the first brand to propose the concept of the rug as a work of contemporary art.
Nodus has always created exclusive products that furnish the most beautiful homes in the world. Do you want to make your home inimitable as a work of art?
Bring a hand knotted rug of the highest quality and design into the spaces of your daily life! Give your family and the people you love the beauty of a dream masterpiece! Every piece of Nodus is designed by famous Designers, making it recognisable and prestigious. In this way, each rug is unique: you will not find another one like it. Like all beautiful and unrepeatable things, one piece in the Nodus collection sets you apart and speaks to others about your taste and elegance. CONTACT US!