How to match luxury carpets with plants in your home
Luxury rugs —
Jun 14.2021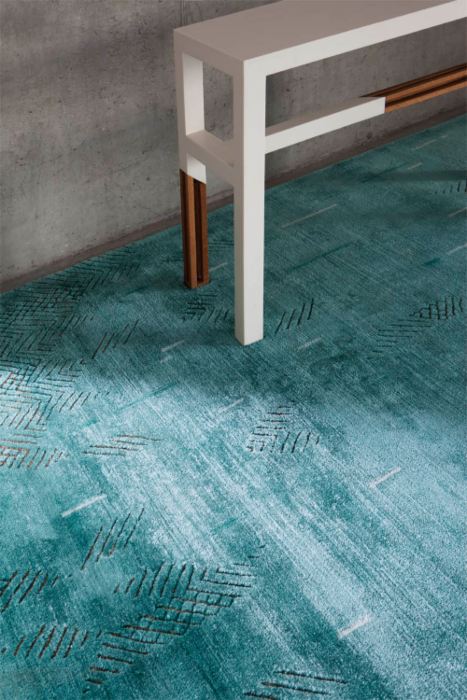 Floral and bucolic patterns and nature-inspired palettes are among the latest trends in interior design. Furnishing your home with plants, flowers and decorations inspired by nature can create a relaxing and calming environment. Matching the right carpets to the plants in your home helps to enhance the green spaces and increases the harmony of the different rooms in your home.
Carpets and plants: a perfect match for every type of home
Decorating with plants not only gives the home a fresh, vital atmosphere, but also contributes to the well-being of those who live there. Ornamental plants and flowers purify the air and help to calm the senses. As well as making rooms more pleasant to look at, plants play a valuable purifying role, as they consume carbon dioxide and release oxygen into the air.
The use of floral patterns and designs, combined with real plants, is typical of furnishings that nod to bohemian or boho chic styles. But similar combinations inspired by the world of nature are also possible to bring a breath of fresh air and novelty to homes furnished in a more classic and traditional style.
Contemporary luxury carpets are perfect for this purpose. With their original design and intense colours, they create a perfect balance with colourful orchids, elegant ferns or delicate bonsai trees. The benefits of combining plants and carpets are manifold. In addition to cleaner air and a more lively atmosphere, you can benefit from an environment that promotes relaxation and well-being.
The combination of plants, flowers and carpets can make any room in the house special. In the living area you can use bright colours that convey energy and dynamism, while in the sleeping area you can choose floral patterns in light colours that convey calm and tranquillity. In the study or children's room it is best to choose a combination of plants and carpets that encourages concentration and stimulates productivity. A carpet with an abstract design and colourful colours provides the right amount of energy to get through a day of study or work. In these rooms of the house the ideal combination is with small green plants that require little attention. Succulents are perfect: they have a great ability to decorate rooms, they fit easily on a shelf or in a corner of the room and are also suitable for those who do not have a green thumb.
Floral and nature-inspired patterns throughout the home
The synergy between carpets and nature can be exploited both indoors and outdoors. Combining the carpet with plants and flowery corners in the garden reinforces the way both the carpet and the green spaces are perceived.
A luxury carpet in neutral colours or a design inspired by classic Oriental carpets can be placed on a terrace or patio and made to stand out by placing pots of peonies or camellias or plants from the palm family nearby.
Preferring one floral decoration over another depends not only on your own preferences, but also on the style you choose to furnish your home. In a home decorated in a contemporary style, with light-coloured furniture, it is up to carpets and botanicals to bring colour. Choosing brightly coloured flowers helps to brighten up the room and creates a pleasant visual harmony.
If you spend a lot of time away from home or on the road and are worried that you might not be able to take care of your green spaces properly, you don't have to give up the desire to create a bucolic atmosphere in your home. Floral and plant-inspired patterns are also perfect for wallpapers and home textiles. You can easily combine them with carpets in neutral colours, if you want to emphasise the bucolic decorations, or with carpets of a somewhat complementary design.
Within the Nodus collection you will find several designs inspired by the world of nature that you can use to make the rooms in your home unique and special. Kiki van Eijk's Orchis and Hydrangea creations and Lorenzo Palmieri's Centocchio model are original interpretations of the floral and natural world.
Nodus creates prestigious carpets.
Bring luxury into your home!
>>> CONTACT US! <<<

Nodus has reinvented the luxury carpet. It was in fact the first brand to propose the concept of the rug as a work of contemporary art.
Nodus has always created exclusive products that furnish the most beautiful homes in the world. Do you want to make your home inimitable as a work of art?
Bring a hand knotted rug of the highest quality and design into the spaces of your daily life! Give your family and the people you love the beauty of a dream masterpiece! Every piece of Nodus is designed by famous Designers, making it recognisable and prestigious. In this way, each rug is unique: you will not find another one like it. Like all beautiful and unrepeatable things, one piece in the Nodus collection sets you apart and speaks to others about your taste and elegance. CONTACT US!