Hand tufted area rugs: how are they made? How can they become the ideal furnishing accessory for a home?
Materials and techniques —
Mar 04.2023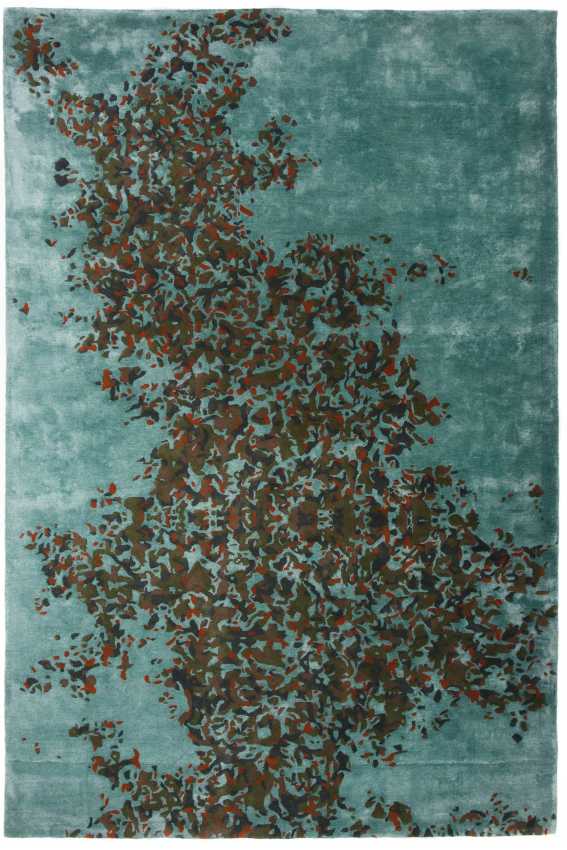 Today's article talks about a very popular category of textile artefacts: hand tufted area rugs. Let's get to know all their characteristics and peculiarities, also giving useful advice for designers and end customers.
When looking at collections of modern carpets , it is common to find many models made using the taftatura technique . In fact, hand tufted area rugs are particularly popular because the processing allows a certain softness of the fibres to be maintained and because these patterns take less time to make.
Moreover, the pieces obtained with this specific type of processing are versatile and practical to use. They are therefore suitable for decorating various spaces in the home.
How is a hand tufted area rug made?
Hand tufted area rugs are produced in a handcrafted manner, but with the support of a gun that fixes the fibres to a cloth. The processing of the carpet differs from knotting in terms of both the materials used and the steps followed in the manufacturing process.
Creating a tafted carpet is generally a much faster and cheaper process than that required for a hand-knotted product. To create a tafted carpet, first of all, the design to be made is reproduced on the canvas. Then, the coloured fibres to be used are selected and the design is composed, using the special gun. When the design is finished, the back of the piece is glued to a base and the pile is shaved to create a regular surface of the desired height.
With this type of processing, both short-haired and long-haired carpets can be obtained with a contemporary, abstract or artistic design. By using high-quality fibres, elegant and long-lasting carpets are created that can embellish different rooms in the home with their charm.
Specifically, which customers love Hand tufted area rugs? Above all, they are people looking for refined, soft and modern-looking artefacts. These models immediately stand out for their beauty, but also for their great versatility.
How to furnish a room with a hand tufted area rugs?
Generally speaking, it is advisable to place hand-tufted carpets in low-traffic areas of the house. Even when they are made of high-quality materials, these carpets are rather delicate and prone to wear and tear if you walk on them often or place them under furniture.
The fact that the fibres are not knotted tightly together but are attached individually to the base of the carpet makes them somewhat more fragile. Some care should therefore be taken to preserve their beauty.
Given their delicacy, the spaces in the home where it is advisable to place a tafted rug are mainly the bedrooms and the living room, taking care not to place it under the table or near chairs. Hand tufted area rugs can be used indifferently at the foot or sides of the bed, or to decorate the space around the sofa.
Carpets that are small in size and low in height can be interpreted as works of art, to be put on display and hung on the wall, as if they were a painting. Such a solution can be the right choice to give personality to a large entrance hall. Or it is ideal for decorating a large, bare wall in the living area.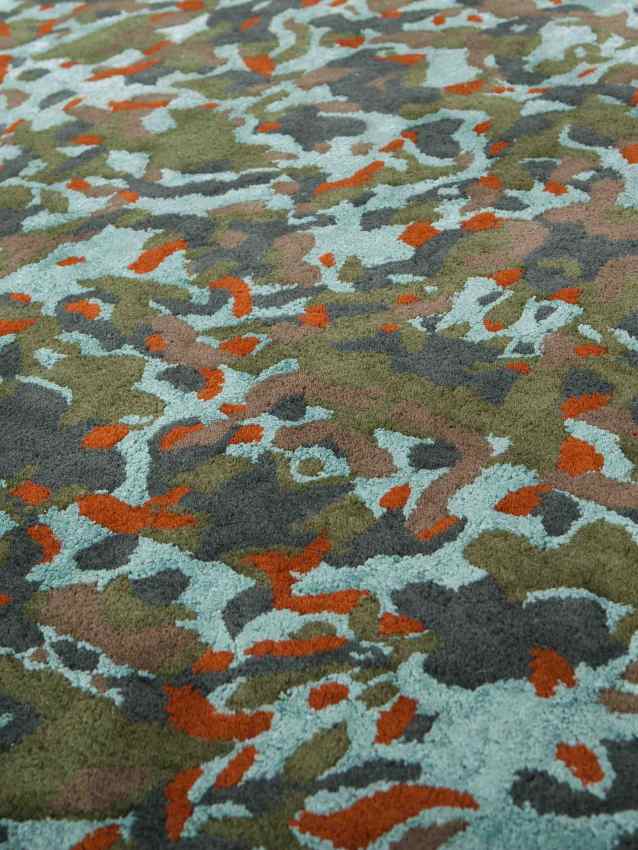 What do you need to know before choosing hand tufted area rugs?
When you are considering the idea of buying a hand tufted area rug, it is important to make a few considerations to make sure that the solution you choose is the best one to meet your needs.
First of all, one must bear in mind that the carpet is glued to the base. Choosing to rely on competent manufacturers with demonstrable experience is important, in order to be certain that safe glues have been used. That is, products that do not release toxic or potentially dangerous substances into the air.
Even when good quality, natural glues are used, you should consider whether or not to place a tufted carpet in a room where there is an underfloor heating system. Be aware that the heat from the floor can cause the carpet to overheat and melt the glue that holds the fibres together. With this in mind, you absolutely do not risk damaging the artefact when using underfloor heating continuously.
Other elements to consider when choosing hand tufted area rugs ? We can mention the way in which the artefacts are maintained and cleaned. For routine cleaning, it is advisable to use a hoover with a gentle programme to avoid damaging the fibres and creating fraying. For deeper cleaning or washing of the model, on the other hand, it is advisable to contact professionals, who can treat the individual piece with the right delicacy, so as to avoid tearing or damage to its pile.
Nodus creates prestigious rugs.
Bring luxury into your home!
>>> CONTACT US! <<<

Nodus has reinvented the luxury rug. It was in fact the first brand to propose the concept of the rug as a work of contemporary art.
Nodus has always created exclusive products that furnish the most beautiful homes in the world. Do you want to make your home inimitable as a work of art?
Bring a hand knotted rug of the highest quality and design into the spaces of your daily life! Give your family and the people you love the beauty of a dream masterpiece! Every piece of Nodus is designed by famous Designers, making it recognisable and prestigious. In this way, each rug is unique: you will not find another one like it. Like all beautiful and unrepeatable things, one piece in the Nodus collection sets you apart and speaks to others about your taste and elegance. CONTACT US!