Modern stair runners
Design — Home —
Sep 07.2022
You may get modern stair runners with designs that immediately give your home a more up-to-date feel within the selection we provide at Nodusrug. You can find modern stair runners that complement your home's decor among many different tones, patterns, and colors. A contemporary stair runner from nodusrugs can make an excellent first impression on guests and help maintain your home's image as the chic gathering place you envision for years to come. You can choose a hallway stair runner from our modern stair runners collection to carry that style into your entryway.
Update your staircase look with a contemporary stair runner from nodusrugs, where you can choose from a wide variety of carefully picked designs. We hope that you will find a style that you like within the collection, as it features a wide variety of designs with various colors, patterns, and functionality to meet your demands at home.
Modern Stair Runners For Your Home
The modern stair runners are adaptable to various settings, and their fashionable patterns and colors may serve as a showpiece or a subtle accent. There are grey contemporary stair runners that are understated in design and give your home a lasting modern vibe, and there are beige modern stair runners for interior spaces that exemplify a neutral concept.
Durable stair runners that last
We hope you will find a modern stair runner in our collection that will last through multiple redesigns and is also simple to install. You can find more runner options to peruse in the nodusrugs hallway runner collection, where our design experts have several hand-picked styles.
Modern Carpet Stair Runners
You can calculate the number of steps in a staircase by measuring the riser and tread of the first step and multiplying by that number. We suggest rounding up by 10% to get to a final value. It guarantees there will be enough product for the installation, as the dimensions of each step can vary slightly, and curving the modern stair runners over each 'bull nose' may require a little extra.
The width of the runner is determined by how much of the staircase is visible on either side, which is largely a matter of personal preference.
Staircase Runner Ideas To Instantly Transform A Hallway
There's a reason stair runner concepts have stood the test of time in hallway decoration. Covering worn-out staircases in wonderful colors, patterns, and textures and protecting against daily wear and tear, they are not only lovely but also the most practical decision to go for. Choose a modern stair runner for heavy use if you want to protect your stairs from constant foot traffic.
According to our experts, runners should not be classified as protective but rather decorative in their own right." Runners are a good way to give a welcoming touch to any hall or stairs, turning a cold entrance into a cozy one. Runners set over underlay on wooden or stone floors muffle the sound of footsteps while revealing the natural material below, making them a more stylish option than carpeted rooms.
Is Wool A Good Carpet For Stairs?
Wool is a great (although pricey) option for the stairs because its fibers don't absorb dirt and stains. Manufactured fabrics like polypropylene are just as effective and cheaper but tend to flatten unless the pile is shorter.
What Is The Best Carpet For Stairs?
Because of their high foot traffic, stairwells require carpeting that can withstand heavy use. Synthetic nylon carpets may be the safest and strongest option for stair carpeting, but wool is an excellent alternative because its fibers repel stains and filth (although it is more expensive). On the other hand, Berber carpets are excellent for high-traffic areas like stairwells since their construction prioritizes loops over strands.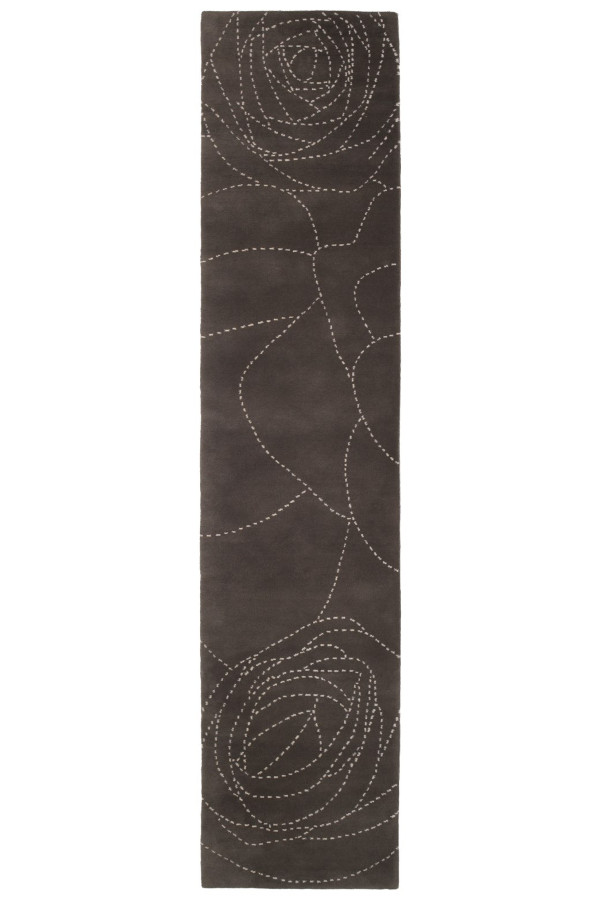 Why Is Carpeting On Stairs A Good Idea?
Stairs carpeted in a family house benefit both young children and the elderly. Spills and bare feet can be especially hazardous on hardwood floors. While carpeting the stairs may not prevent falls, it does make them safer to navigate. There are many fashionable stair carpet options, both patterned and plain, for your stairs and landing. So, in such a case, look through the recommendations.
Why Nodus Rugs
Our carpets are crafted with the utmost care and precision from the world's highest quality materials. Boho, Contempo, Geo, and Southwestern are some of the featured styles. All-Wool Construction Origin of the Hand Tufted Weave. Wool carpet is widely utilized as stair runners. It is because wool is an extremely long-lasting fiber that is also 100% organic. A wool runner on the stairs will last for many years. With its classic design and extensive size and form options, Nodusrugs is a versatile pick for every area in the house. Nodus rug motifs are an ode to traditional rug-weaving techniques. Nodus patterns are painstakingly made to resemble vintage styles, and the colors mirror today's most fashionable looks.
Nodus creates prestigious rugs.
Bring luxury into your home!
>>> CONTACT US! <<<

Nodus has reinvented the luxury rug. It was in fact the first brand to propose the concept of the rug as a work of contemporary art.
Nodus has always created exclusive products that furnish the most beautiful homes in the world. Do you want to make your home inimitable as a work of art?
Bring a hand knotted rug of the highest quality and design into the spaces of your daily life! Give your family and the people you love the beauty of a dream masterpiece! Every piece of Nodus is designed by famous Designers, making it recognisable and prestigious. In this way, each rug is unique: you will not find another one like it. Like all beautiful and unrepeatable things, one piece in the Nodus collection sets you apart and speaks to others about your taste and elegance. CONTACT US!