Giuseppe Manzoni interviewed by Nodus
Design —
Aug 29.2021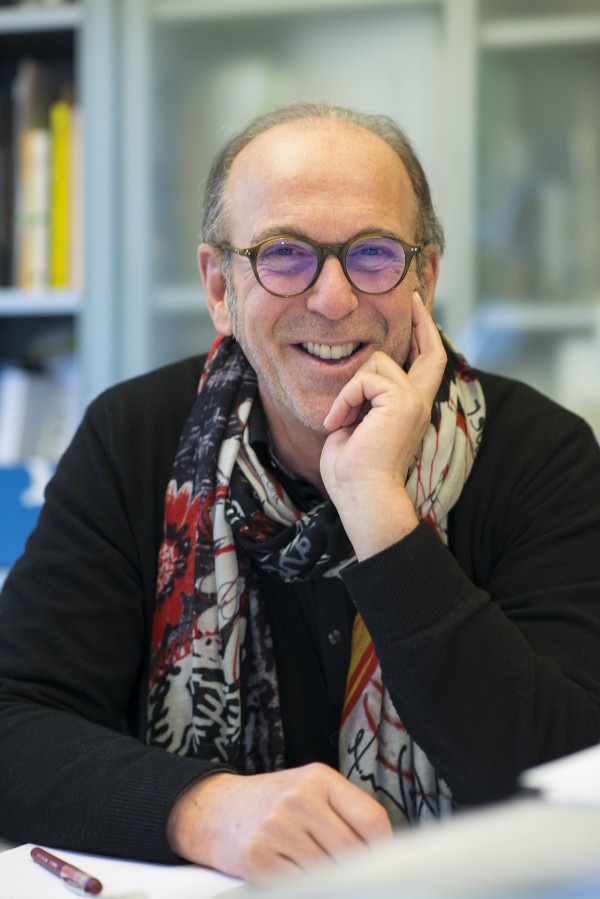 Nodus collaborates with the world's most famous designers. These creatives are famous for their style and the continuous innovation they bring with their ideas. One of these artists is Giuseppe Manzoni. We interviewed him. Let's get to know him better and find out what his ideas on design are and what he envisages for the future.
How would you define the essence or primary characteristics of your work? Every designer has his own style, his own distinctive features… what are yours?
It's difficult to define yourself or your work. It is usually expressed by those who observe your work, whether they are admirers or detractors. I am not so self-referential, lacking in doubts and full off certainties! I could summarize it like this: I bring into my projects a creative path that comes from afar, in continuous evolution, always trying to be contemporary, combined with a desire for research "seasoned" with a bit of lightness and irony!
What are the people or the stories that have influenced you the most in your career?
Bruno Munari for his ability to get to the essence of design. Alberto Rosselli for the complexity of his character. Giò Ponti for his ability to transform his intellectual reflections into the most varied and transversal design applications, from skyscrapers to vases. Three brilliant creatives.
How does the cultural aspect linked to your country and its traditions enter into your projects?
The luck of having been born and raised in a "magic circle" that, with Milan as its center, in a few dozen kilometers of radius embraces and encloses an infinite reality of creativity, which remains on you and pervades you, and fills you with infinite stimuli. You just have to seize them.
How do you see the future and what do you think will be the new trends in design?
After this "pandemic" experience, there will certainly be a very strong rebound, with a dynamic future and with a great theme at the center, such as the rebalancing of our development with, hopefully, a more careful evaluation of our activities in relation to the environment.
What do you think about sustainability today? Do you think it is a basic element of design or is it an added value?
It will be indispensable, even after this terrible experience of the pandemic, but also "dramatically useful" to bring the concept of "sustainability" back to the center of every production process, from the finding of the raw material to the transformation process, to the finished product and its distribution. If we know how to keep the concept of "sustainability" always in mind and know how to put it into practice, we will have learned something!
How much does the social aspect count and how often is it present in your projects?
The social aspect goes hand in hand with the concept of sustainability. Sometimes, indeed too often, we forget that the social aspect in a world so interconnected and globalized must be evaluated in an indispensable way.
Is design more emotion, more rationality/functionality, or is there no prevalence between one of the two aspects?
Design is first of all emotion, then obviously the functional and rational aspects come in, but it always starts from an emotion. The creative path is born and sprouts first of all from an emotion, which is in our head.
What do you think about the role of textiles in design?
Textiles are a fundamental aspect that accompanies man in his evolutionary path. So it is an essential part of design.
To conclude, an aphorism or phrase that represents you?
"A discreet water carrier in the sea of creativity".
Nodus creates prestigious rugs.
Bring luxury into your home!
>>> CONTACT US! <<<

Nodus has reinvented the luxury rug. It was in fact the first brand to propose the concept of the rug as a work of contemporary art.
Nodus has always created exclusive products that furnish the most beautiful homes in the world. Do you want to make your home inimitable as a work of art?
Bring a hand knotted rug of the highest quality and design into the spaces of your daily life! Give your family and the people you love the beauty of a dream masterpiece! Every piece of Nodus is designed by famous Designers, making it recognisable and prestigious. In this way, each rug is unique: you will not find another one like it. Like all beautiful and unrepeatable things, one piece in the Nodus collection sets you apart and speaks to others about your taste and elegance. CONTACT US!