Alicja Palys interviewed by Nodus
Design —
Jul 03.2021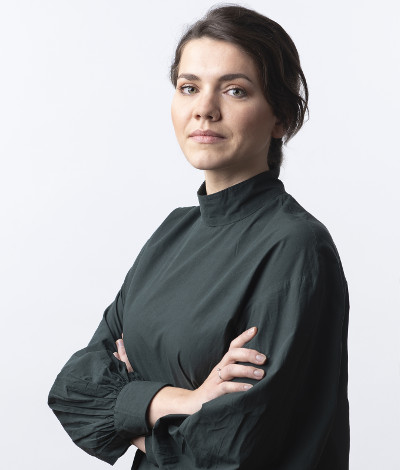 Nodus collaborates with the world's most famous designers. These creatives are famous for their style and the continuous innovation they bring with their ideas. One of these artists is Alicja Palys. We interviewed her. Let's get to know her better and find out what her ideas on design are and what she envisages for the future.
How would you define the essence or primary characteristics of your work? Each designer has his own style, his own distinctive trait… which are yours?
My goal is to overcome cognitive barriers and interpretational stereotypes. First of all, I want my projects to become part of a more complex relationship with people, as well as with other things and contexts. I focus on details that are important to the whole.
What are the people or stories that have influenced you the most in your career path?
I remember when, while studying, I was impressed by the attitude of the great Polish designer of the post-war period – Teresa Kruszewska. She was ambitious, extremely hardworking, curious about what's new in design. Back then, I wanted to be a designer like her, but adapted to our modern times. Although the character of Kruszewska didn't have a direct impact on my career path, it was my quiet motivation for a long time.
How much does the culture of your country and its traditions permeate your projects?
Polish culture, traditions and manufacturing techniques are very rich and inspiring. I often refer to them, although i think this inspiration is not visible in my projects. I would call it a hidden value.
How do you imagine the future and what do you think will be the new trends in design?
I do not try to design in the direction of changing trends. Although I am strongly driven by my intuition, I always keep in mind the timelessness, the human being, his nature and emotions, which don't change along with the trends.
What do you think of the role of sustainability at present? Do you think it is a basic element of design, or it is an added value, in your opinion?
Sustainability is an obligatory element of design, the responsibility of designers and producers. It is consciously looking at the production of material goods and consumption. We should offer durable, timeless products that will last for many years, that are to accompany its owner for many years. Produce with a minimal carbon footprint, use renewable, available materials, and be aware of the benefits and losses of our operations.
How important are the social issues in your design and how often are are they influencing your projects?
Social issues are often a production process in my work. I mean – the people behind it. I try to cooperate with conscious producers who respect employees, materials and the environment. I would like my projects to be fair and have a positive effect on both the user and the people who created the product for him.
Is Design more emotion, more rationality/functionality, or is there no prevalence between one of the two aspects?
I think emotions are extremely important in design. They define the human being. It is thanks to emotions that the user will establish a relationship with the product, love it or hate it. And because we design for people who are to use our services, functionality goes hand in hand with emotions.
What do you think about the role of textiles in design?
Textiles are a field to "show off" in design. They have no visual limitations, they are like paintings or graphics. It is a medium deeply rooted in art and design. It can spread culture, be a carrier of tradition, give character and create an atmosphere.
To conclude, an aphorism or a phrase that represents you.
Words by Naoto Fukasawa: "Thinking needs time. Feeling can be done in a moment".
Nodus creates prestigious carpets.
Bring luxury into your home!
>>> CONTACT US! <<<

Nodus has reinvented the luxury carpet. It was in fact the first brand to propose the concept of the rug as a work of contemporary art.
Nodus has always created exclusive products that furnish the most beautiful homes in the world. Do you want to make your home inimitable as a work of art?
Bring a hand knotted rug of the highest quality and design into the spaces of your daily life! Give your family and the people you love the beauty of a dream masterpiece! Every piece of Nodus is designed by famous Designers, making it recognisable and prestigious. In this way, each rug is unique: you will not find another one like it. Like all beautiful and unrepeatable things, one piece in the Nodus collection sets you apart and speaks to others about your taste and elegance. CONTACT US!