Giulio Iachetti interviewed by Nodus
Design —
Aug 01.2021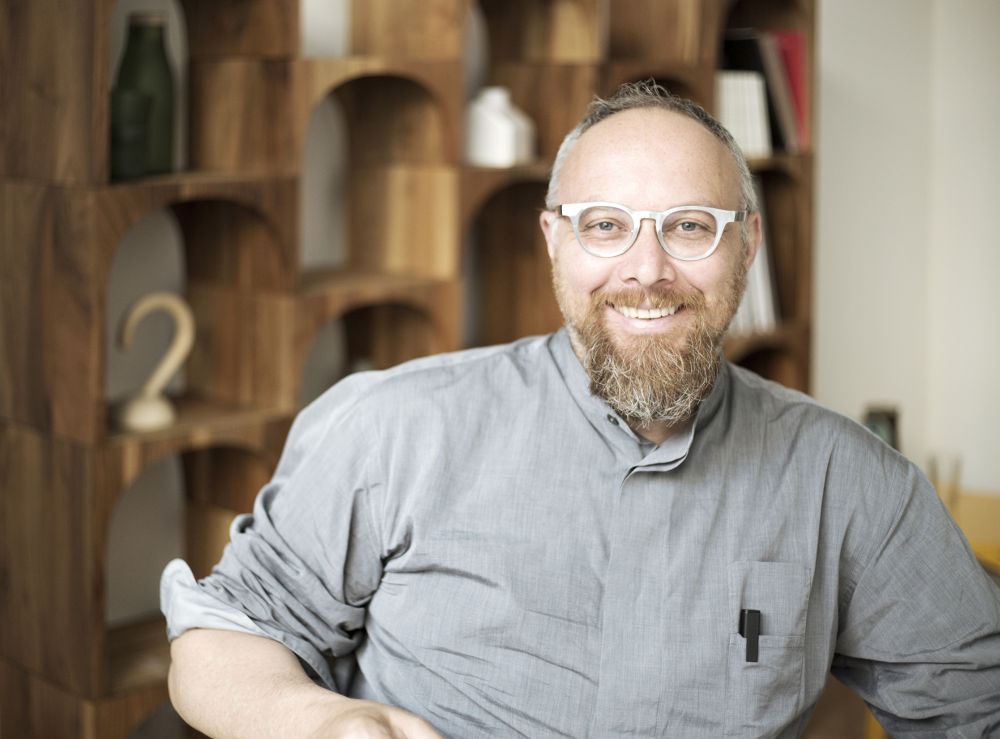 Nodus collaborates with the world's most famous designers. These creatives are famous for their style and the continuous innovation they bring with their ideas. One of these artists is Giulio Iachetti. We interviewed him. Let's get to know him better and find out what his ideas on design are and what he envisages for the future.
How would you define the essence or primary characteristics of your work?
An aptitude for synthesis.
Every designer has his own style, his own distinctive features… what are yours?
I don't like to talk about style, I try to interpret the project each time according to my sensitivity, and above all by looking for narrative content in addition to the normal functionality that an object must express.
What are the people or stories that have most influenced you in your career?
Certainly the all-Italian approach to design, with reference figures such as Marco Ferreri, Paolo Ulian, Riccado Blumer, Alberto Meda and Denis Santachiara.
How does the cultural aspect linked to your country and its traditions enter into the projects?
Those stories are inside me, the memories, the Italianness of the little things that make us a nation, the title of a Sanremo song, the fog of the Po Valley, the smells of the countryside, that poem sent from memory that tells of a certain idea of Italy, of its human and urban landscapes, of the "meriggiare pallido e assorto" ("pale and absorbed sunset") that each of us has experienced in some corner of Italy, at some time in our lives…
What do you think about sustainability today? Do you think it is a basic element of design or an added value?
Sustainability should be practiced rather than evoked, to be used as a fig leaf to communicate a green soul that is often not there.
How much does the social aspect count and how often is it present in your projects?
I consider my 'design at the Coop' project to be a point of convergence between the much-vaunted 'design for all' and its actual practice. On that occasion a group of very good Italian designers designed a collection of useful, beautiful and affordable objects for Coop.
Is design more emotion, more rationality/functionality, or is there no prevalence of one of the two aspects?
A design project is a synthesis of all these components. If we manage to distinguish them clearly, we may be dealing with a non-harmonious product.
What do you think about the role of textiles in design?
I do not distinguish between materials, the value lies in the project and the idea.
To conclude, an aphorism or a phrase that represents you.
Design is an aptitude for synthesis, I wrote it at the beginning and I like to end like this!
Nodus creates prestigious rugs.
Bring luxury into your home!
>>> CONTACT US! <<<

Nodus has reinvented the luxury rug. It was in fact the first brand to propose the concept of the rug as a work of contemporary art.
Nodus has always created exclusive products that furnish the most beautiful homes in the world. Do you want to make your home inimitable as a work of art?
Bring a hand knotted rug of the highest quality and design into the spaces of your daily life! Give your family and the people you love the beauty of a dream masterpiece! Every piece of Nodus is designed by famous Designers, making it recognisable and prestigious. In this way, each rug is unique: you will not find another one like it. Like all beautiful and unrepeatable things, one piece in the Nodus collection sets you apart and speaks to others about your taste and elegance. CONTACT US!