Francesca Lanzavecchia and Hunn Wai interviewed by Nodus
Design —
May 26.2022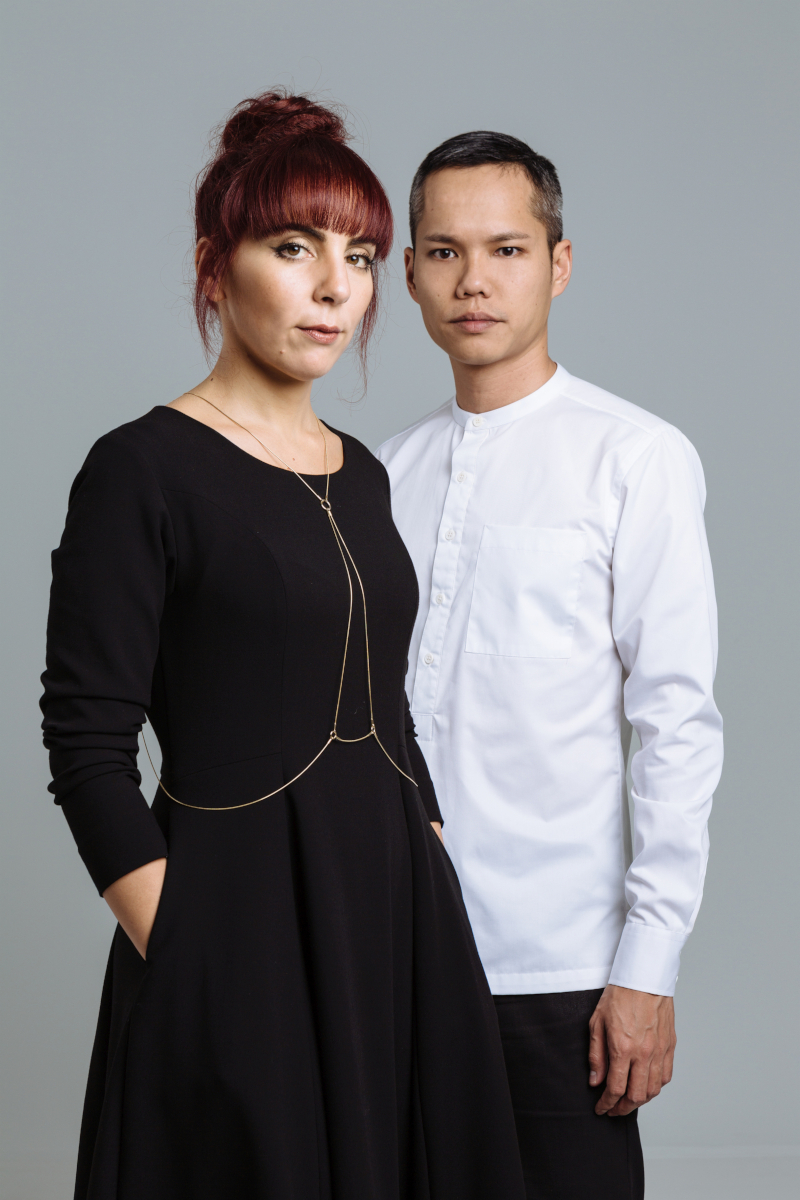 Nodus collaborates with the world's most famous designers. These are creatives who are famous for their style and the continuous innovation they can bring with their ideas. Two of them are Francesca Lanzavecchia and Hunn Wai. We interviewed them. So let's get to know them better, to understand what their ideas about design are and what developments they envision for the future.
How would you define the essence or primary characteristics of your work? Every designer has their own style, their own distinctive features… what are yours?
Our work is always driven by process and design research, our mission is to infuse the industry with poetry, humour and humanity. Our Design is on the one hand light and playful but also inquisitive and tries to make people see the world from other points of view.
What are the people or stories that have influenced you the most in your career?
Our clients, with whom we design, solve problems, imagine futures and reinvent technologies and materials.
How does the cultural aspect linked to your country and traditions enter into your projects?
We wanted to set up a studio as a bridge between two continents in order to continue to hybridise our two worlds: the old continent with its excellence and incredible craftsmanship with Singapore, a frenetic and cosmopolitan city-state projected into the future but at the heart of colourful South East Asia. Being a bridge between these very different realities allows us never to take anything for granted, to understand the contexts from different points of view and to find, for example, new solutions for an ancient production process or historical inspirations to infuse into future projects or lifestyles and rituals to import.
What do you think about sustainability today? Do you think it is a basic element of design or an added value?
We think sustainability is and should be an integral part of design, a seed that should be planted in every brief and carefully cultivated throughout the design process. We don't want to be landfill designers and when we design we always ask ourselves if the objects, spaces or experiences we design deserve to exist.
How important and how often is the social aspect in your designs?
We could answer always; for us design is always in relation with human beings and therefore intrinsically has to deal with social aspects. We are in love with humanity, both its strengths and its frailties, and we want to create designs that are deeply human.
Is design more emotion, more rationality/functionality, or is there no prevalence of either aspect?
For us, emotion is undoubtedly more important, but not at the expense of functionality. We would say that design is a two-sided child of technology and the heart.
What do you think about the role of textiles in design?
We imagine a softer and more welcoming future, more transparent and fluid in which textiles will have a great role to play.
To conclude, an aphorism or a phrase that represents you.
Edgar Allan Poe: "There is no exquisite beauty without some strangeness in the proportion".
Nodus creates prestigious rugs.
Bring luxury into your home!
>>> CONTACT US! <<<

Nodus has reinvented the luxury rug. It was in fact the first brand to propose the concept of the rug as a work of contemporary art.
Nodus has always created exclusive products that furnish the most beautiful homes in the world. Do you want to make your home inimitable as a work of art?
Bring a hand knotted rug of the highest quality and design into the spaces of your daily life! Give your family and the people you love the beauty of a dream masterpiece! Every piece of Nodus is designed by famous Designers, making it recognisable and prestigious. In this way, each rug is unique: you will not find another one like it. Like all beautiful and unrepeatable things, one piece in the Nodus collection sets you apart and speaks to others about your taste and elegance. CONTACT US!