When to choose a luxury floral design rug?
Luxury rugs —
Apr 22.2021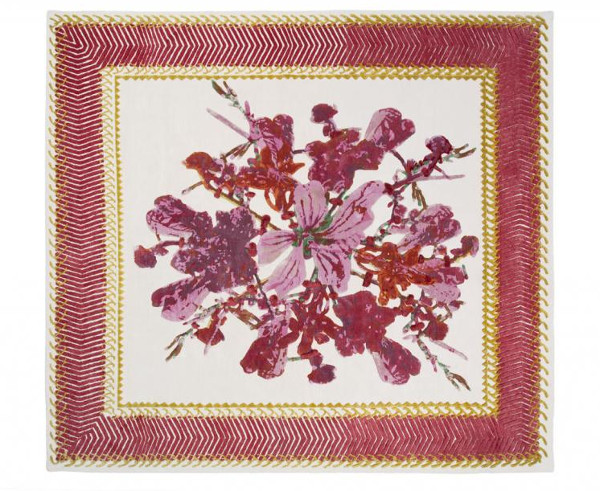 Luxury rugs with a floral design have the undeniable advantage of being able to adapt to both classic and modern interiors, making for a cosy and welcoming atmosphere. Floral designs have been used in carpet making for centuries. Over time, the use of flowers and botanical elements has changed from small, stylised decorations to large flowers, ready to fill rooms with colour.
Colour balance is most important
The most important consideration when choosing to furnish a room with a luxury floral carpet is the overall colour balance of the room.
Generally, carpets with a floral design are made with many different colours and, if you choose a modern or contemporary style carpet, with intense shades. Looking for a harmonious result between the carpet, furniture and other decorations is crucial to creating a good interior design.
In order to choose the perfect carpet for your home, you need to consider that the floral design can extend over the whole surface of the rug or just a part of it. Middle Eastern carpets are an example of this. There are traditional patterns in which the floral design is spread over the entire area of the carpet, and patterns in which only the outer frame is decorated. In modern carpets from this area, the floral decoration is even more prominent, with the design often using a few large flowers.
Along with the design, the colour of the luxury carpet should also be considered. In traditional Middle Eastern designs, the dominant colours are red, brown, golden yellow and dark blue. This colour palette goes very well with classic rooms and furnishings. The ideal complement is with wooden furniture and floors and white walls.
Floral rugs with intense colours and large flowers are more suitable for modern furniture. With their vibrancy, they break up the strict, minimalist lines of a Nordic-style room and are eye-catching when placed in a room where light colours predominate.
If you prefer a rug with a strong personality and at the same time timeless elegance, you can opt for a black and white luxury floral rug. This is particularly suitable for large, bright living rooms where you want to find a constant balance between light and shade.
Choose floral carpets to refresh the atmosphere in your home
Placing a designer carpet with a floral pattern in the rooms of the house will make the atmosphere fresh and vibrant. Soft, spring-like colours help to give the room a cosy and welcoming feel, while bright or dark colours add personality and cheer.
The bedroom is the ideal space in the home for luxury floral carpets. The choice is just as suitable for the master bedroom as it is for other bedrooms, whether it be the children's room or the guest room. To differentiate the rooms, different choices can be made regarding the size and arrangement of the carpets.
One can choose one large rug to be placed under the bed or several smaller carpets can be selected to be used as bedside rugs. If the carpet has more than one colour shade, it is advisable to choose one or two shades for the other decorative elements, such as cushions or lamps. For curtains and walls, neutral tones should be used, which will further enhance the centrality of the carpet.
A floral carpet can also be successfully placed in the centre of a living room. In this case, it can be combined with vintage furniture elements or decorations with patterns that are compatible with the floral design. For example, wallpapers with small stripes or cushions with geometric lines can be used.
Floral designs for luxury carpets also work wonders to add colour and personality to outdoor spaces in the home, such as a terrace or gazebo in the garden.
If you want to give your home an original feel, you can abandon the convention of using a rectangular carpet and choose a different shape. A round floral carpet is perfect for focusing attention on a small area of the room. On the other hand, a flower or petal-shaped carpet combines the evocative power of flowers with the exclusive design of contemporary luxury carpets.
Nodus creates prestigious carpets.
Bring luxury into your home!
>>> CONTACT US! <<<

Nodus has reinvented the luxury carpet. It was in fact the first brand to propose the concept of the rug as a work of contemporary art.
Nodus has always created exclusive products that furnish the most beautiful homes in the world. Do you want to make your home inimitable as a work of art?
Bring a hand knotted rug of the highest quality and design into the spaces of your daily life! Give your family and the people you love the beauty of a dream masterpiece! Every piece of Nodus is designed by famous Designers, making it recognisable and prestigious. In this way, each rug is unique: you will not find another one like it. Like all beautiful and unrepeatable things, one piece in the Nodus collection sets you apart and speaks to others about your taste and elegance. CONTACT US!