Silvio Betterelli interviewed by Nodus
Design —
Sep 05.2021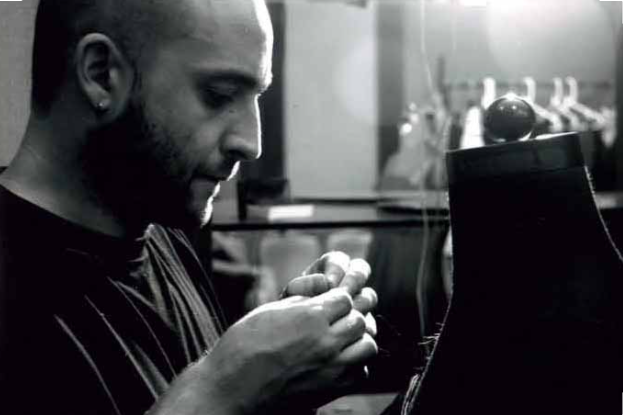 Nodus collaborates with the world's most famous designers. These creatives are famous for their style and the continuous innovation they bring with their ideas. One of these artists is Silvio Betterelli. We interviewed him. Let's get to know him better and find out what his ideas on design are and what he envisages for the future.
How would you define the essence or primary characteristics of your work? Every designer has their own style, their own distinctive characters…. What are yours?
I am constantly trying to make the multiple disciplines I come from interact, fine art, textiles design and fashion design. I have always been fascinated by the constant search for new approaches to the use of materials and the relationships they have with the spaces or bodies with which they must dialogue.
I like surfaces and shapes For Nodus, too, I created a three-dimensional carpet, a sculptural carpet, a unique piece. It rises from the floor and claims its role within the space, saying something like, "Hey, I'm not a rug, you can't walk on me. You can only walk around me".
Of course, I drew on my modeling and sartorial construction backgrounds to make and imagine it.
What are the people or stories that have most influenced you in your career path?
I've been involved in the fashion industry for many years, but I'm more likely to flip through a design or art magazine, and I'm more likely to go see an exhibit than a runway show. The reason is that I look for inspiration for my designs at the source. And the content I often find inspiration from comes from contemporary art. So I am very influenced by artists and their constant search for a kind of parallel truth, a deeper truth of things.
I have collaborated for many years with the Pistoletto Foundation, working on projects related to sustainable fashion, following the manifesto of rebirth launched by the master, with whom I have often had the privilege of confronting.
Most of my friends are artists, at any level. Milan is swarming with creative people. I like to confront myself with them and understand what they are working on. I like to understand what questions they are asking about the world and what answers they are giving. I always find that very stimulating.
How does the culture of your country and its traditions enter into your projects?
In an all too overbearing way, I would say! "St. Anthony's Fire" is precisely the design I submitted to Nodus. It was very gratifying to see Andrea Galimberti's eyes light up, almost as if to say: "Okay, I like it, I won't sell a single one, but it responds perfectly to our philosophy of products between art and design".
In fact, the collaboration began because I had been invited to the regional pavilion of Sardinia at the Venice Biennale curated by Sgarbi. The Italian pavilion had been fragmented and opened to the different regions, thus including many artists, unknown to most. So, the inspiration came from the night when the fires of Saint Anthony the Abbot are lit, in mid-January. It is the night that in Sardinia gives the beginning to the Carnival and to the first exit of the Mamuthones.
Around the fire, people dance, eat broad beans and lard, drink strong wine and walk around clockwise and counterclockwise, in a propitiatory way. In some areas, jumping arm in arm with someone across the last embers, at dawn, gives rise to a kind of kinship, acquired from the fire. All this inspired me to tell a story through a carpet-sculpture, which is the result of beliefs and rituals.
How do you see the future and what do you think will be the new trends in design?
From what I see, especially after this pandemic, the trend that I think will increase more and more is the trend towards artistic craftsmanship. That is, the know-how and the reinterpretation of traditions and natural materials, with their raw and true aspects. There will be the trend of recycling already existing materials, treated, for example, with weaving and braiding, to give new life to the flavors of rural environments, but also fulfilling the function of circularity and sustainability of products.
What do you think about sustainability today? Do you think it is a basic element of design, or is it an added value?
I think it is essential. It is absolutely an added value and, unlike other artistic disciplines, in design – therefore in fashion and product design – it is in some way required to take a stand, since they can turn an idea into a mass product. Today sustainability is also business, marketing, communication. Therefore, giant steps are being taken and there is great buzz. As if to say that, today, all the more reason to combine the useful with the sustainable.
How much does the social aspect count and how often is it present in your projects?
Very often, and it counts a lot. It draws from it and is returned to it and referred to. Stories, tales, ways of living from which I draw inspiration and which I try to put back into my projects.
Is design more emotion, more rationality/functionality, or both in equal measure?
Both, in measures that then determine the style of a designer. Some aim more at functionality, some at emotion, both of which I think are very noble functions that are needed. Consumers will determine what and to what extent they want and need to consume. Let's think at a time like this, for example, of how much the love and choices we have made for the objects around us have mattered in long months of forced domesticity, both for their "emotional" support and for the quality of their functionality. I, for example, shared my total lockdown only surrounded by my objects. I took care of them, reviewed them, recatalogued them, dusted them off, filed them away. Long months of inventory. From pins to the finest fabrics. A somewhat autistic job, I must admit.
What do you think about the role of textiles in design?
Well, I would say that it is fundamental, it lives by its own light. There are fairs only for furnishing textiles or textiles design or visual arts applied to textiles. But textiles also support and enhance certain products. Of sofas, the first thing we see is the textile wrapping. And even some of their comfort aspects are related to textiles. The world of the rug, the decorative tapestry, the pillow, the research of furnishing textiles and drapery have reached really interesting levels.
Nodus, on rugs, I think has really led the way. This explains why so many names of the highest profile and fame have agreed to collaborate.
To conclude, an aphorism or phrase that represents you.
Ah, I don't know. I've never thought of that! There is such a huge inflation of quotes and phrases "on behalf of others" that it is really complicated now to hope to have one of your own without risking appearing presumptuous. Today, I think it would be less trivial to do so by starting over by quoting some very well known "phrases"…. Such as: love your neighbor as yourself. Here, I would say that this one, for a creative and a designer, could be fitting. I'm in the business of doing that, even through my work.
Nodus creates prestigious rugs.
Bring luxury into your home!
>>> CONTACT US! <<<

Nodus has reinvented the luxury rug. It was in fact the first brand to propose the concept of the rug as a work of contemporary art.
Nodus has always created exclusive products that furnish the most beautiful homes in the world. Do you want to make your home inimitable as a work of art?
Bring a hand knotted rug of the highest quality and design into the spaces of your daily life! Give your family and the people you love the beauty of a dream masterpiece! Every piece of Nodus is designed by famous Designers, making it recognisable and prestigious. In this way, each rug is unique: you will not find another one like it. Like all beautiful and unrepeatable things, one piece in the Nodus collection sets you apart and speaks to others about your taste and elegance. CONTACT US!