Sarah Böttger e Hanna Ernsting interviewed by Nodus
Design —
Mar 14.2022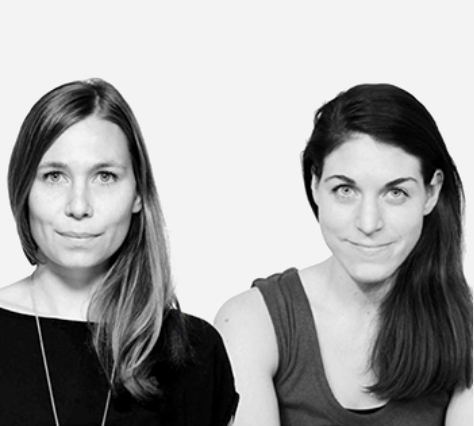 Nodus collaborates with the most famous designers in the world. These creatives are famous for their style and the continuous innovation they bring with their ideas. Two of these artists are Sarah Böttger and Hanna Ernsting. We interviewed them. So let's get to know them better, to understand what their ideas on design are and what developments they foresee for the future.
How would you define the essence or primary characteristics of your work?
Sarah: Attention to detail, precision, neat lines, carefully selected materials and the way in which they come together form the essence of my work.
Hanna: I believe there is always a dash of playfulness in my work. My best designs I have mostly developed by playing around with textiles.
Each designer has his own style, his own distinctive trait… which are yours? What are the people or stories that have influenced you the most in your career path?
Sarah: As a child I was particularly influenced by my father's artistic work and the perception of life that is related to it. Later my work as a carpenter influenced me a lot.
Hanna: My style could be described as humorous and inviting. One of many important influences was a short project during my work for the Vitra Design Museum, where I had the chance to help the Campana brothers on creating a big sculpture out of plastic bottles. Their playful, creative and humble way was very inspiring.
How much does the culture of your Country and its traditions permeate your projects?
Sarah: At first I would not say particularly, but by taking a closer look there are influences of German craftsmanship and precision.
Hanna: It is often very cosy in German homes, best described in the words "Gemütlich" or "Heimelig". Not always stylish, but very individual. Making your home the place you can relax and be yourself, is an idea I find very inspiring.
How do you imagine the future and what do you think will be the new trends in design?
Sarah: I don't believe in short term trends. I am more concerned with the question of what can still work in ten or more years, new approaches to product use, which materials can be used, how the product remains useful for a long time or can even be repairable.
Hanna: I agree with Sarah and am also no fan of short term trends. As designers we should create products that people would still appreciate in many many years, perhaps even pass on to the next generation.
What do you think of the role of sustainability at present? Do you think it is a basic element of design, or it is an added value, in your opinion?
Sarah: Sustainability plays a major role. Designers can have a huge impact on product development, for example we can suggest what materials should be used. We do not just design a shape, we also influence how it is produced and and disposed after all. Our responsibility does not end with the finished product.
Hanna: I very much agree with Sarah. It is not enough to design a shiny new object. It must be thought through in all aspects: from where the material comes, from to where the disposed product will end.
How important are the social issues in your design and how often are are they influencing your projects?
Sarah: In my studio not nearly enough yet. I deal more with social issues in my teaching at the Bauhaus University. The students relate very clearly to current issues or events such as equality, criticism of capitalism, sharing economy or climate change.
Is Design more emotion, more rationality/functionality, or is there no prevalence between one of the two aspects?
Sarah: There are many similarly well-functioning products but in the end it is often an emotional decision which one to use.
Hanna: A certain emotional connection is always there and often linked to the functionality, for instance if a product is not designed well and the person using it is constantly unhappy with it.
What do you think about the role of textiles in design?
Sarah/Hanna: Textiles play a significant role. They have a haptic quality, are color carriers and form the skin of a product.
Nodus creates prestigious rugs.
Bring luxury into your home!
>>> CONTACT US! <<<

Nodus has reinvented the luxury rug. It was in fact the first brand to propose the concept of the rug as a work of contemporary art.
Nodus has always created exclusive products that furnish the most beautiful homes in the world. Do you want to make your home inimitable as a work of art?
Bring a hand knotted rug of the highest quality and design into the spaces of your daily life! Give your family and the people you love the beauty of a dream masterpiece! Every piece of Nodus is designed by famous Designers, making it recognisable and prestigious. In this way, each rug is unique: you will not find another one like it. Like all beautiful and unrepeatable things, one piece in the Nodus collection sets you apart and speaks to others about your taste and elegance. CONTACT US!