Natural rugs for the living room: a considered guide to choice
Materials and techniques —
Aug 06.2022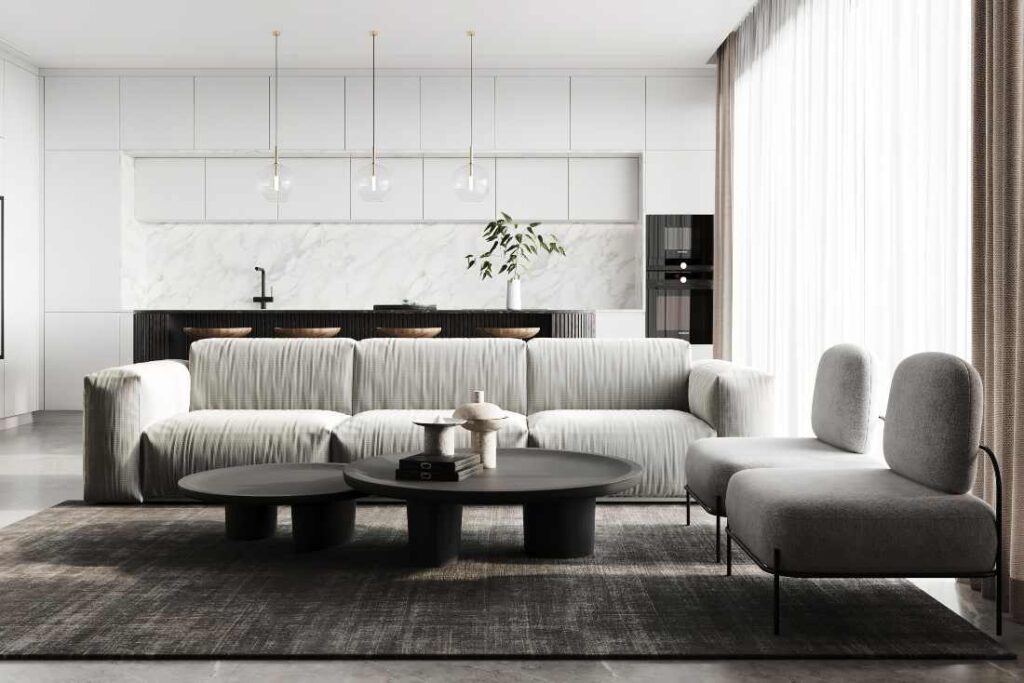 Natural rugs for the living room? They are a perfect option for furniture that wants to keep up with the latest trends in sustainability!
In fact, the many models available and the versatility of natural materials make it possible to create a décor with a fresh, modern atmosphere. After all, a solution like this is perfect for anyone who wants to have a convivial and cosy living area.
What are the advantages of Natural rugs for the living room?
Versatility is the most obvious strength of any natural carpet. When furnishing the living area of the home, there is bound to be a need for artefacts with a well-kept appearance, with excellent resilience and with a design capable of creating a harmonious result with the furniture present. Natural materials make it possible to obtain rugs that fulfil all these characteristics and, in addition, bring a joyful and lively atmosphere to the room.
To furnish the living room, many different materials can be used, each with its own peculiarities that can be exploited to give a precise nuance to the interior design. For example, there are materials that enhance the concepts of naturalness and tradition. And then there are materials that give a feeling of care and delicacy. In short: the options for Natural rugs for the living room are truly manifold.
Coconut or sisal rugs are ideal for those who want to move in an environment inspired by nature and want to breathe a somewhat tropical and exotic atmosphere into their home. On the other hand, linen and jute rugs are just as natural, but have a more rustic look and are therefore perfect for those who have designed a minimalist and straightforward interior.
Those who want to give a cosy and delicate look to their living room can choose a cotton carpet. Both woven and hand-knotted models are able to add personality to the room and, thanks to the softness of the fibres and the easy customisation of the design, are comfortable and beautiful to look at.
In particular, Natural rugs for the living room are the best choice for all those projects that have focused on furnishings inspired by the world of nature and for which a colour palette has been chosen that includes earthy tones, with accents of green and light blue.
What are the best natural materials for furnishing a cosy and sophisticated living room?
When deciding on which material to focus on for living room furniture, it is important to consider how busy the room is. Generally, this room is the space that collects the most traffic in the house, so much so that it is considered the living area of the home, that is, the space in which domestic life is most concentrated. If you frequently invite friends and family into your home, you should therefore also consider this variable in the process of choosing a carpet material.
Accurately estimating the amount of traffic that will be in the room is crucial in order to choose a material that is durable enough to prevent the carpet from wearing out or being damaged in a short time.
Linen and jute rugs are among the strongest and most durable. Cotton rugs vary in strength depending on the quality of the fibres and the processing system used, but generally have a medium to high level of solidity. For coconut fibre and sisal rugs, on the other hand, the thickness of the fibres must be considered. If the carpet is made of thin fibres, the strength increases, whereas if the carpet is made of rather thick fibres, it is more delicate and prone to wear.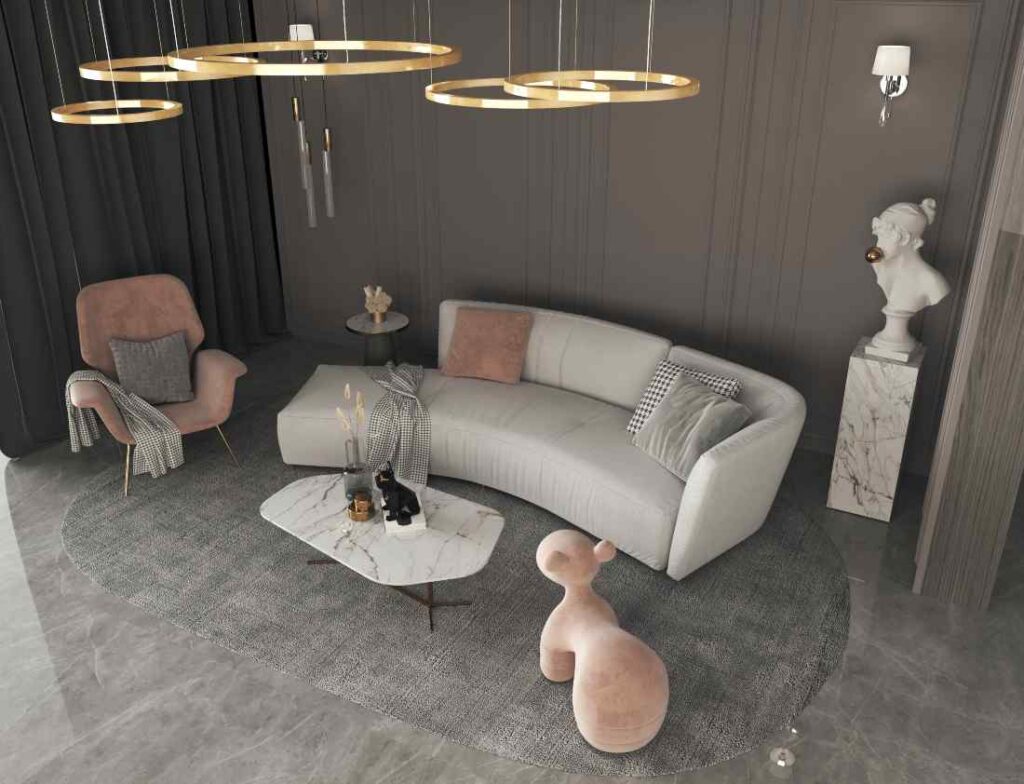 How can natural rugs be used to furnish the living room?
When you choose to furnish your living room with natural rugs, it is best to prefer models with traditional shapes, such as rectangular and round. How come? The reason is that these shapes create a harmonious result with the lines of the furniture. This applies whether you choose to place the carpet under the table, under the sofa or in front of the armchairs.
Those who wish to give the item a special touch can choose one of the fringed models, a model with a colourful framed design or a carpet made of naturally dyed fibres. Here, too, the choice is wide.
In living room furnishings, the decorative power of natural rugs can also be exploited by making compositions of overlapping pieces. A large plain-coloured rug made of sisal can serve as a base, and then a contemporary art rug with a sophisticated design can be placed on top of it. A small rug made of woven coconut fibres, on the other hand, can be made to stand out if it is placed on top of a larger, light-coloured rug with a very simple design.
The possible combinations offered by Natural rugs for the living room are many and all can meet the needs of anyone with a luxurious home. In addition, custom-made rugs can be made that are both totally customised and specifically designed to furnish the living area of one's home.
Nodus creates prestigious rugs.
Bring luxury into your home!
>>> CONTACT US! <<<