How to choose the right texture for a luxury rug
Luxury rugs —
Sep 13.2021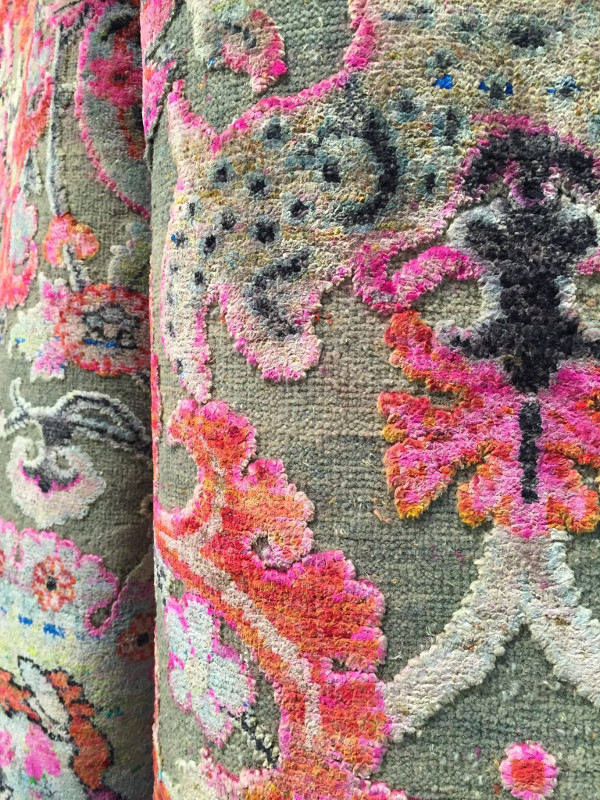 Along with colour and materials, the choice of carpet texture is a priority. This often overlooked feature of carpets can have a significant influence on the way a room looks and feels.
What textures luxury carpets can have
Luxury carpets usually have a uniform texture, resulting from the shaving of the pile at the end of the weaving process. The way the carpet looks and feels depends mainly on the thickness of the carpet and the material it is made of.
The situation is slightly different for long-pile carpets. In this case, the structure of the carpet consists of long fibres, usually wool, which is warm and soft. For this reason, a long pile carpet is an excellent solution as a bed rug.
Between these two extremes we find carpets with more unusual textures, such as luxury models with a relief pattern. This effect creates a kind of three-dimensional pattern, which is very impressive. Embossed patterns can also make carpets with a very simple design unique: a geometric pattern consisting of zigzag lines or circles acquires great personality and can furnish spaces in an excellent way.
Choosing the right texture: a small guide
Choosing between the different textures available depends first and foremost on the result you want to achieve. A simple long pile luxury carpet, for example, is the best choice if you are looking for softness of touch and want to create a cosy and relaxing atmosphere in the room. Touch is not the only sense to consider when it comes to carpet texture. Sight is also – or perhaps especially – the sense that is gratified by choosing a carpet with a sophisticated texture.
An embossed texture is a great option whenever you want to make your carpet the centre of attention. Choosing a particular texture makes even the simplest of carpets stand out, without having to resort to elaborate patterns or very intense colours. The combination of geometric patterns, braids or decorative motifs allows for endless combinations and customisation possibilities.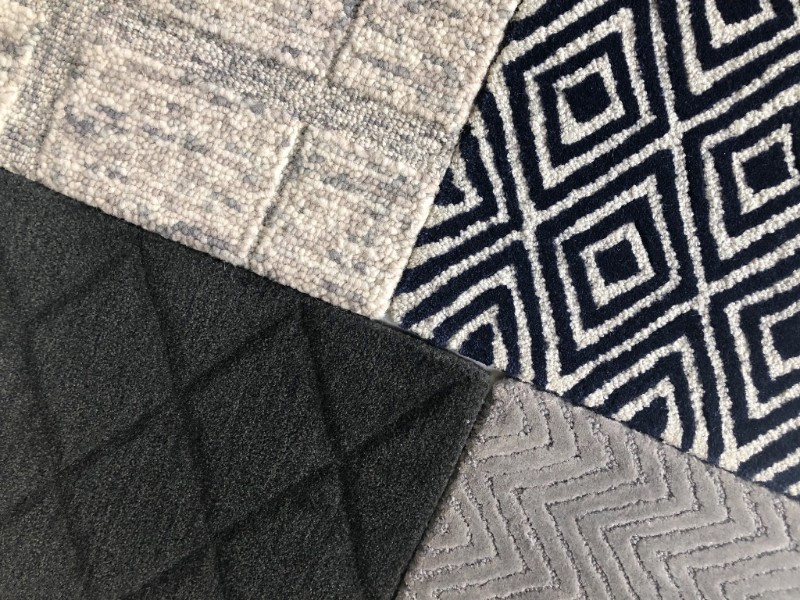 Sometimes a decorated border can be enough to make a simple carpet special. There are also beautiful carpets that use geometry and lines to convey movement or depth to the design. With the play of light and shadow, a kind of optical illusion can be created that makes cubes, spheres or abstract figures stand out.
How to match the texture of carpets to the style of furniture in your home
When choosing a carpet, you should of course make sure that the texture is consistent with the style of décor defined for the room. While classic shaved carpets can be adapted to almost any style of interior design, if you opt for a more sophisticated carpet texture you need to make sure that the result will be harmonious with the furniture and accessories.
Long pile carpets are among the most versatile solutions. They are ideal for the bedroom, but can also easily find a place in the living room, and look great in combination with both classic and more contemporary furniture. In addition to large rugs, it might be worth considering a small rug, perhaps in a circular shape, to create a small space for relaxation.
Carpets with an embossed pattern are a great way to add personality to rooms furnished in a minimalist style. In such spaces, the details and colours of this piece of furniture balance the simple lines and light tones used for the furniture. A carpet with an embossed pattern also fits well in a room decorated in a vintage style. In this case you can opt for a particular workmanship or a pattern that gives movement to the room, with alternating wavy lines or geometric figures, even in different colours.
The position of the carpet in the room is also important in choosing the best texture. Choosing an embossed texture, which brings out the geometric patterns and texture of the carpet, can be a good idea for the entrance area. In this area of the house the carpet is free from clutter and every detail of the design can be appreciated.
Nodus creates prestigious rugs.
Bring luxury into your home!
>>> CONTACT US! <<<

Nodus has reinvented the luxury rug. It was in fact the first brand to propose the concept of the rug as a work of contemporary art.
Nodus has always created exclusive products that furnish the most beautiful homes in the world. Do you want to make your home inimitable as a work of art?
Bring a hand knotted rug of the highest quality and design into the spaces of your daily life! Give your family and the people you love the beauty of a dream masterpiece! Every piece of Nodus is designed by famous Designers, making it recognisable and prestigious. In this way, each rug is unique: you will not find another one like it. Like all beautiful and unrepeatable things, one piece in the Nodus collection sets you apart and speaks to others about your taste and elegance. CONTACT US!