History of the Moroccan luxury carpet from its origins to the present day
Luxury rugs —
Jan 20.2021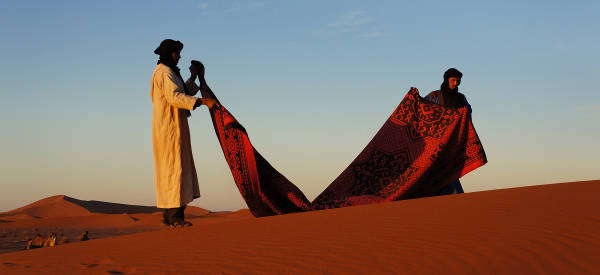 Berber tribes have been weaving and braiding carpets for more than a thousand years. The secrets of this refined art are guarded by the women, who pass on this tradition from generation to generation. With their bright colours and original designs, Moroccan carpets are the perfect luxury accessories to emphasise the uniqueness of your home.
Moroccan luxury carpets: from the Atlas mountains to the most prestigious homes on five continents
The tradition that led to the creation of Moroccan carpets, among the most beautiful in the world, is rooted in the Atlas Mountains. It was in this area of Morocco that semi-nomadic and nomadic Berber tribes, who had come into contact with Persian traders, settled. It was there that they began to exploit the wool of the local sheep to make carpets for daily use and, later, for sale. Even today, almost all Moroccan carpets are made from densely knotted wool fibres, but there are also tribes that use dromedary or goat wool if necessary.
According to historical reconstructions, the Berber populations of Morocco began making carpets as early as the 8th century and since then production has never stopped, allowing the creation of handmade carpets of remarkable workmanship.
The weft, warp and pile are made from wool, with fibres obtained from sheep shearing. Before being used in carpets, the wool, which has a characteristic ivory white colour, is coloured with dyes obtained from plants and natural pigments. The darker shades often found in Moroccan luxury carpets are obtained from undyed black or brown wool.
What characterises Moroccan luxury carpets and distinguishes them from the traditions that have spread throughout the Middle East and Asia are both the colours used and the designs created by Berber women. The colours are intense, vibrant and immediately catch the eye of the beholder. There are also pure wool carpets in white. The latter have a simple geometric pattern made from black wool. More often, Moroccan carpets are a riot of colour: red, blue and yellow are the dominant shades, with accents in orange and purple.
For centuries, Berber tribes have used plants and pigments found in nature in the Atlas region to dye their wool. Red and orange, for example, are obtained from the henna plant and blue from indigo. Fig, saffron, pomegranate and tea are also often used in the dyeing of wool.
What really makes Moroccan luxury carpets special is the design, which is made by Berber women without following a fixed pattern. As a result, each carpet is unique and inimitable. While Persian, Chinese and Turkmen traditions are characterised by patterns that have been repeated for centuries and reflect the culture and customs of the place, Moroccan carpets have this aspect, but to a much lesser extent. The symbols of Berber culture and scenes of everyday life are freely represented in the carpets. This makes each piece a small part of Moroccan culture.
Over time, each tribe has developed its own distinctive style, drawing on specific symbols, colours and designs. It is not uncommon to find geometric patterns in Moroccan carpets, especially in Beni Ourain carpets. However, more often the design is colourful, abstract and characterised by inaccuracies and irregularities. What might appear to be a defect becomes an added value and a distinctive element of the Berber tradition.
Moroccan carpets are usually grouped into different genres, depending on the style to which they belong. The best known and most popular are the Beni Ourain carpets, which are made from undyed wool and have a minimalist design. The carpet is made by knotting white wool threads with a geometric diamond pattern made from black wool threads. Equally popular are the Chichaoua carpets, which are characterised by intense colours and alternating geometric patterns: stripes, lines, lozenges and zigzags.
A luxury Moroccan carpet can, with its essentiality, emphasise the elegance of a living room or bedroom. In the Moroccan tradition, carpets of all shapes and sizes are made: you can also choose a Berber carpet to decorate the entrance area or to give character to the corridor. Whatever the final choice, you are guaranteed to choose a high-quality, soft and comfortable carpet for your home.
Nodus creates prestigious carpets.
Bring luxury into your home!
>>> CONTACT US! <<<

Nodus has reinvented the luxury carpet. It was in fact the first brand to propose the concept of the rug as a work of contemporary art.
Nodus has always created exclusive products that furnish the most beautiful homes in the world. Do you want to make your home inimitable as a work of art?
Bring a hand knotted rug of the highest quality and design into the spaces of your daily life! Give your family and the people you love the beauty of a dream masterpiece! Every piece of Nodus is designed by famous Designers, making it recognisable and prestigious. In this way, each rug is unique: you will not find another one like it. Like all beautiful and unrepeatable things, one piece in the Nodus collection sets you apart and speaks to others about your taste and elegance. CONTACT US!