Design your own rug from scratch: how can you create the rug of your dreams yourself?
custom rugs —
Sep 13.2022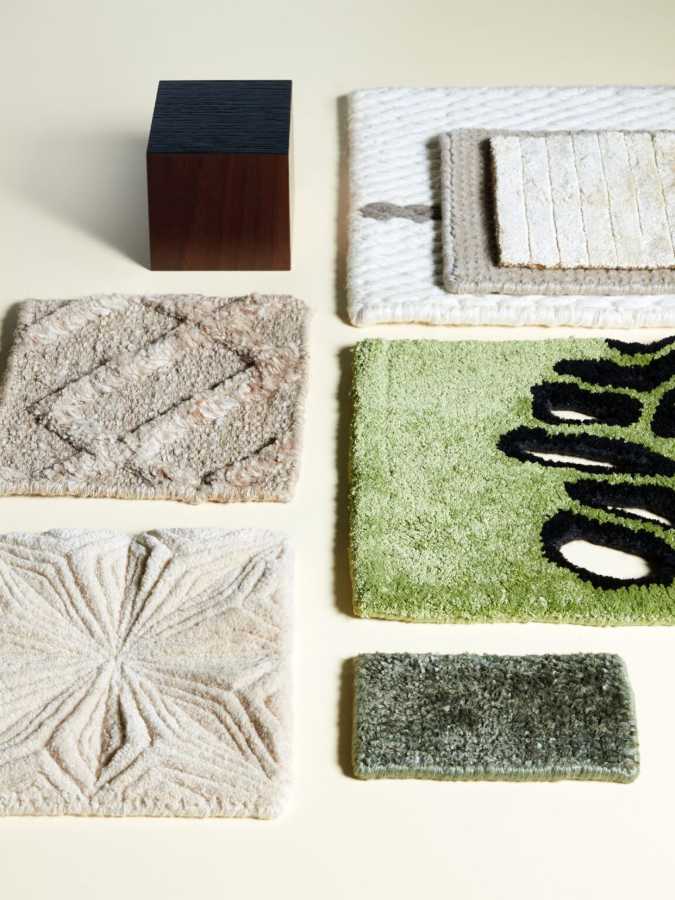 Is it possible to design your own rug? That is, is it possible to create a luxury rug directly from your own design, your own creative idea, your own intuition?
Indeed, it is the dream of many to be able to design a high quality rug themselves and then have it constructed by the expert hands of the best master knitters. That is, to go directly to those who produce the highest quality products in the world's most renowned production areas.
Is all this really feasible or is it destined to remain a beautiful dream? No, what we have described is absolutely feasible. And this guide to creating top-quality customised rugs will walk you through the steps you need to follow step by step.
Basically, we will give you all the indispensable advice you need to be able to design your own rug so that you yourself become the creator of the art that you will bring into your home and that you and your loved ones will walk on every day.
Design your own rug.
Personalise your style!
>> CONTACT US! <<<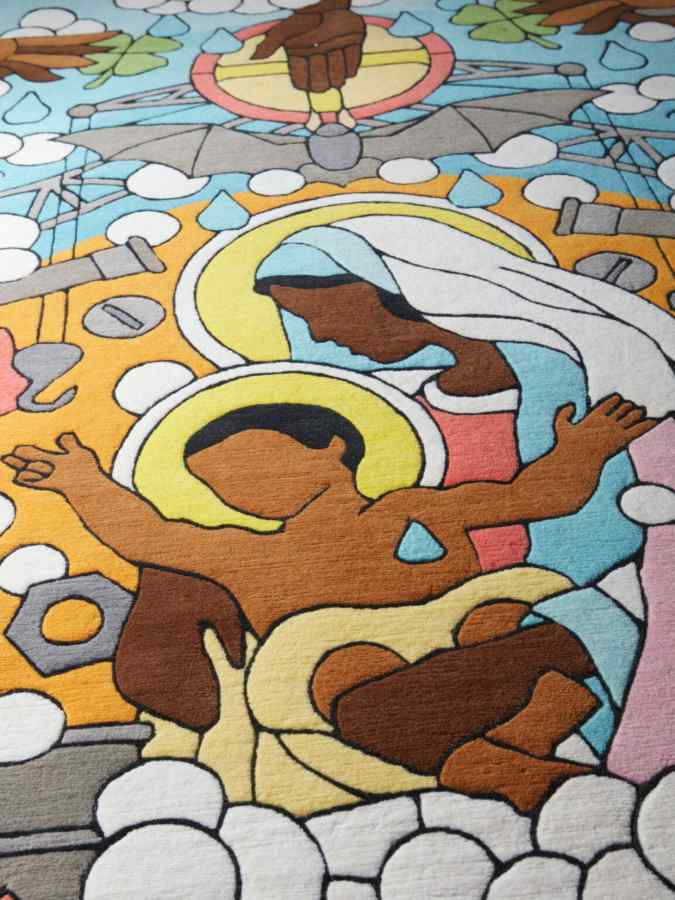 Where to start when design your own rug?
Designing and making a luxury rug always requires a long process. This process involves a series of complex actions that must be planned in every detail. In fact, nothing must be left to chance, otherwise the end result will be an artefact that, however well made and however high quality, will not reflect your initial idea, your tastes, your furnishing needs.
In order not to run the risk of making design mistakes, it is therefore essential to know what the different stages are in the creation of a luxury rug. This will help you understand what the design work of the designers and the construction work of the master knitters consists of. As a result, you will have all the elements to understand how to design your own rug, so that you can better focus on your creative idea and be sure that it will be implemented with absolute fidelity.
So let's get to the heart of the matter. The question we want to answer is therefore: how can you design your custom-made product? There are basically two ways:
1. You can design your own rug from the design of an existing rug
The artefact may belong to a collection of pieces already in a catalogue. In this case, it is a question of adapting one of those pieces to make it into a custom-made rug. To put it more precisely: the customer has specific furnishing requirements – most often related to space and respect for a certain furnishing style – and asks those who will make the rug to take these constraints into account. In such cases, as mentioned, the pattern of the rug already exists, since the piece is in the catalogue of a collection. Therefore, as far as the pattern of the pile is concerned, the customisation options are actually reduced.
Consequently, this type of solution is suitable for those who have fallen in love with the design of a specific rug and have space requirements that do not allow for the purchase of a standard-sized rug, e.g. the classic 2 by 3 metre model.
2. You can design your own rug by designing the rug pattern yourself
You can, however, decide to do the design of your rug yourself. That is, you can decide to start from scratch, creating the design of the artefact yourself. By this we mean not only the patterns of the pile, but also its colours, the material from which it is made, the height of the fibres, the shape of the piece, the type of fringes and so on.
This type of customisation gives you total creative freedom. It is therefore the solution that allows you to design your own rug in the fullest sense. Which means furnishing your home with an artefact that is completely yours in conception and that the experience of the Asian master knitters has translated into a unique object.
Which of the two ways described is the best? There is no better or worse way: it all depends on your furnishing needs and tastes. From this point of view, both choices are acceptable because they give you the freedom to design your own rug. In the latter case, the design will be freer, but even in the former, the end result will be a tailor-made product that meets your customisation needs to the millimetre.
Sometimes, Design your own rug is really a forced choice. Typically, it happens when you have a colour combination or design furniture in your home that is so unique that you could not find a standard artefact to match. In cases like this, you don't have to settle for a choice that is the least far from ideal. Indeed, it is not by choosing the lesser of two evils that you give a unique personality to a room or even an entire house. In these situations, it is a customised design that is always the preferable solution.
So far, we have talked about the starting point for the creation of your customised luxury rug. It is now necessary to describe all the stages of its realisation, to understand how you can fit into each of them and what your margins of intervention are in each, i.e. how much freedom you have in guiding the rug construction process.
Design your own rug.
Create your custom-made luxury!
>> CONTACT US! <<<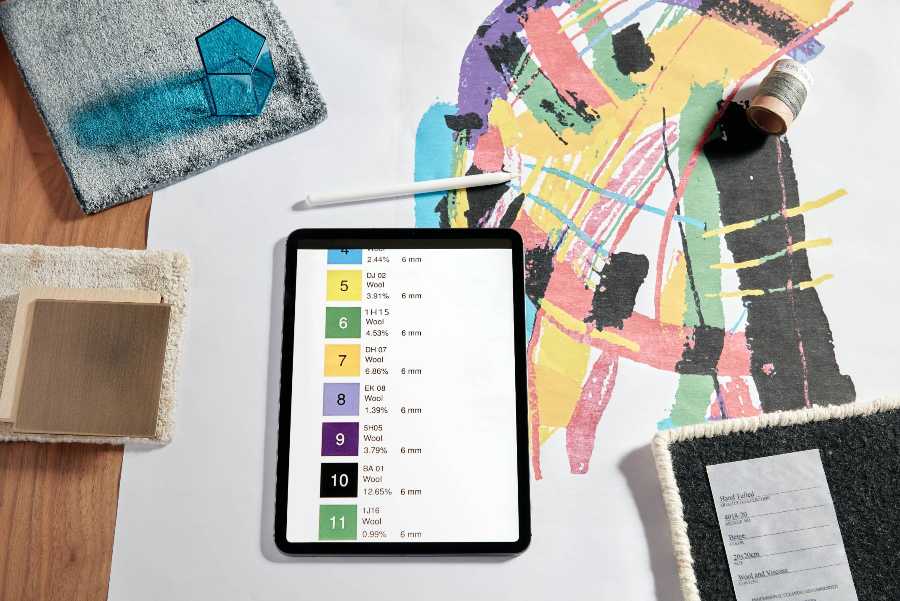 The process of making a customised rug: how to create your own luxury rug from scratch
Design your own rug is certainly a fascinating challenge. If you have a flair for creativity and have an original design in mind that goes well with the décor style of one of your rooms, designing your own artefact is the most exciting way to change the look of your home and be a protagonist in this aesthetic transformation. As we have said before, creating your own design will allow you to savour the joy of walking on your art every day.
Just to give examples, you can translate both photographs and abstract designs into a pattern. Your bespoke design can start from either one or the other. In principle, the same can be said for the choice of materials the rug will be made of – wool, viscose, silk, banana silk, sisal, etc. -, for the colours, for the pattern and for the design. -, for the colours, for the height of the pile, for the shape, for the presence or absence of fringes etc. The possibilities for customising your design are certainly manifold.
At this point, let's list the different steps for the creation of a custom-made luxury item. Knowing the various stages of production will help you understand how to design your own rug so that your idea can be fully realised.
1. Choosing which customised rug to create
The first step in designing your own rug is… choosing it! What do we mean by that? You have to decide whether to customise an existing rug, i.e. a piece that belongs to a certain collection, or to create a design – either created by you or by a designer or architect you trust. The second option undoubtedly requires more effort, but the steps to realise the artefact are the same as in our list.
2. Choose a company to realise your project
You cannot do everything yourself, that goes without saying. Because you do not have the experience nor the technical skills. You therefore have to select a company that has solid expertise in creating custom-made luxury rugs. (We will give you advice on how to choose one in the next paragraph).
3. Commission a feasibility study
Once you have selected who will help you design your own rug and physically construct it, it is a good idea to have the company you have chosen as your project partner carry out a feasibility study. Indeed, not all customer ideas can be realised in a custom-made rug. Or rather, there are technical constraints that have to be taken into account. Sometimes it is a question of the choice of the most suitable materials, sometimes it is a question of the most appropriate processing techniques. An experienced and reliable supplier will be able to advise you for the best. So that the design and realisation of the artefact is as faithful as possible to the result you have in mind.
4. Deciding on the most suitable shape and materials
This is an easy step in the process to understand, so we won't go into too much detail. Design your own rug means first of all choosing materials and giving it a shape. This is done at the same time as choosing the patterns and colours of the pile. If you put your trust in a serious partner, you will receive suggestions that will prove decisive, because they will contribute to a luxury artefact that is completely customised to your taste and furnishing needs.
5. Choosing the most appropriate colours
We mentioned it in the previous point: design your own rug also implies a careful choice of colours that will bring the pattern of the artefact to life. In fact, one colour is not the same as another. Or rather: there are shades of colour that look their best on one material and shades of colour that stand out in all their beauty on other materials. It is also a question of brightness, vividness, saturation and so on. Sometimes, it is also a question of specific tints: it is not necessarily the case that one tint is best suited to emphasise a particular area of the pattern. Perhaps another hue would achieve a better result? The question must be answered precisely. Choosing a company that really knows luxury rugs – and is therefore able to give sound advice – is decisive in design your own rug and building it to perfection.
Design your rug.
In your favourite style.
>> CONTACT US! <<<
6. Making the rug pattern
Design your own rug does not mean giving summary instructions to the person who will produce it and then turning over a photo of the model to him. A project is much more demanding than that. From this point of view, it is serious on the part of the manufacturer to create a so-called workmanship sheet for the artefact. What is this? It is a real official document, which describes the project down to the last detail. There you find all the information about the measurements, the shape, the pattern, the materials, the colours, the manufacturing techniques, the master knitters who will make your rug and so on. The work sheet is really essential, because it puts the entire project in black and white, summarising every detail of your custom-made rug. There is no point in design your own rug without the accompanying document.
7. Creating a rug sample
It is often the case that there is a need to construct a rug sample. This need may arise for several different reasons. For example, there may be uncertainty as to which colour shade is preferable. Or there may be a need to check whether a certain pile height is really the most suitable for your furnishing needs. There may also be a need to verify that the production technique is indeed the appropriate one to guarantee the desired customisation result. Whatever the need that leads to the eventual realisation of the sample, we can however state one thing. The following: Design your own rug means that the more complex the artefact, the more likely it is that there will be a need to produce a sample.
8. Start actual production
Having reached this point, you can then proceed with the production of your custom-made luxury rug. This means that the master knotters, having received the drawings and all the technical and product specifications, start producing the artefact. Its creation will take weeks or even months. This is normal. Generally speaking, the timing varies depending on the techniques used and how elaborate the pattern of the artefact is.
9. Delivering the rug
Design your own rugis only the beginning of the process, as we have seen. This list of ours ends, however, with two points that are equally fundamental and that, unfortunately, are sometimes overlooked. The first of these is the delivery of the artefact. Wherever in the world the home that will house the artefact you have designed is located, transport must be organised with extreme care. It is not uncommon to see cases of luxury rugs being ruined during a carelessly organised transport. Obviously, in your case, this eventuality should not occur.
10. Being able to count on efficient after-sales service
Whoever makes the rug you have designed is – and must remain – your point of reference. This does not only apply to the phases of realisation of the artefact, but also after its delivery. For example, do you need advice on cleaning the piece? Customer service must help you for the best. Do you need tips on how to roll and move the rug because you need to do some work in the room? Customer service has to give you all the tips you need. Put another way: the effort you put into Design your own rugwill be completely useless if you do not adopt the best techniques for its proper preservation. The longevity and beauty of your custom-made artefact also depends on having this important information.
Design your own rug?
Trust the real experts.
>> CONTACT US! <<<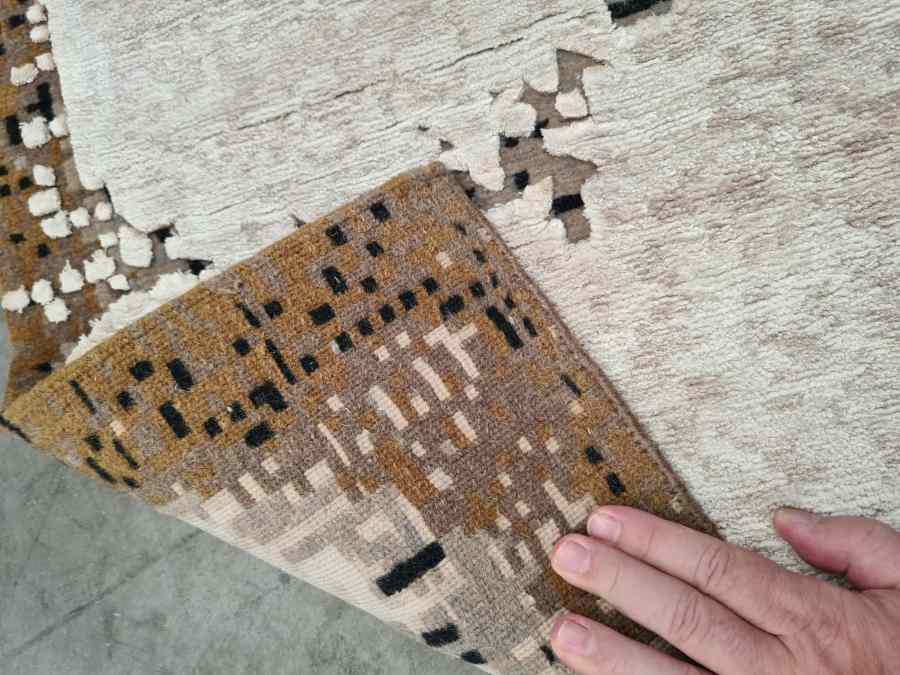 How to choose who will create your custom-made rug?
Want to design your own rug? We have just provided you with the decalogue for creating the artefact of your dreams. It is a real step-by-step guide. If you follow it, you will be sure to make no mistakes and get the ideal piece for your furnishing needs.
One thing remains to be understood, however. Who should you commission to make your custom-made rug? The solution must be found whether the rug consists of customising an existing model or whether the rug is inspired by your own design or a design made by a designer you trust. In both cases, you have to select who will physically bring your product to life.
Yes, but how to make this choice? Design your own rug may be relatively simple, but you may not have all the information you need to select a manufacturer that specialises in custom-made luxury rugs. Our guide will support you in this too, as we will now point out the main requirements of a reliable supplier. We have selected three in particular, which objectively represent the key ones.
– The company has decades of experience in creating custom-made luxury rugs
Experience is the first and indispensable requirement. There are many companies on the market that create customised rugs. Not all of them, however, are experts in the luxury sector. On the contrary, most operate in the lower-middle range, although they also claim to operate in the higher end. However, the highest quality rug is a world of its own, requiring specific knowledge and expertise. These aspects cannot be improvised: dealing with a high-level project requires superior preparation. Consequently, Design your own rug can be wasted effort if you then rely on someone who does not have the expertise and technical competence to advise you and to guide every aspect of the realisation of the artefact.
– The company knows the best knotters in Asian countries
It is fine to design your own rug, but then it needs to be made by the skilled hands of a local craftsman. And not all craftsmen are equal: there are the most skilled ones, who hand down from father to son the ancient spinning techniques of the most prestigious rugs, and the less skilled ones. A serious supplier works with the best knotters, having experienced their technical qualities over time. You can therefore be sure that your creative idea will be realised in an impeccable manner, respecting the traditions of the best local craftsmanship.
– The company guarantees you timely after-sales service
Will the shipping and delivery of your rug be done professionally? If you need advice on how to clean your piece and, if necessary, how to move it, can you count on efficient customer care? Or will the supplier cut off all contact with you once delivery has been made? Design your own rugis only the beginning of a relationship that a luxury manufacturer must be able to manage over time. And this is also one of the details you are required to pay attention to when making your decision.
Design your own rug.
Create luxury yourself.
>> CONTACT US! <<<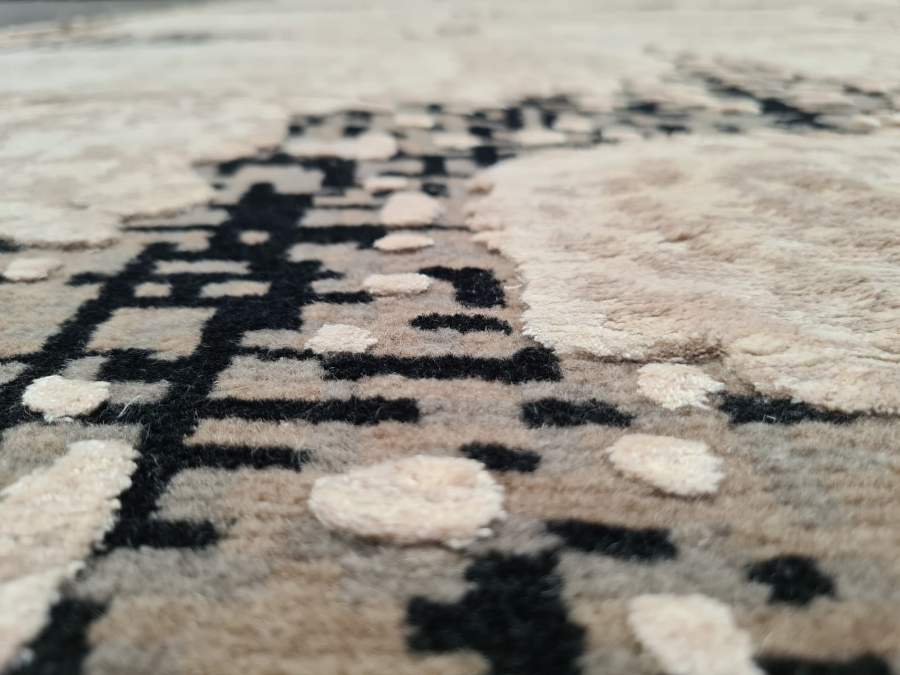 Let's sum up: how should you go about design your own rug?
We are at the conclusion of the guide. We have seen that Design your own rugis a complex job that requires method. Furthermore, we have seen that some steps in the process are more delicate than others. For example, after a feasibility study, the manufacturer must define in detail the design of the artefact, its cost and production time. Materials must always be of the highest quality. And there is more than one choice: wool, silk, hemp, linen, banana silk and many other materials.
It is also possible to choose from many colours. Typically, more than a thousand for wool and several hundred for silk, viscose and other materials in general. In addition to this, when designing your rug, it is often useful to produce a sample, in order to check the exact conformity with the requirements. Furthermore, the progress of the work should be documented by photographs, so that you are constantly updated on the artefact.
It goes without saying that the choice of the right manufacturer is equally decisive. In fact, only those with a long and proven track record when it comes to custom-made luxury rugs can guarantee that the work will be done to perfection and on time.
The guide you have just read will accompany you through the most delicate steps in the creation of your custom-made luxury rugs. With our timely guidance, you will be able to avoid the most common and annoying inconveniences. You can then devote yourself to Design your own rug with complete peace of mind.
Design your own rug.
In your favourite style.
>> CONTACT US! <<<
How to design your own rug? Thanks to Nodus, you can design the rug of your dreams – or have it designed by your designer or architect of choice – and then have it made by the world's best knotters. This is possible because Nodus has all the experience needed to translate your wishes into a beautiful piece. It is no coincidence that Nodus was the first brand to propose the concept of the luxury rug as a work of contemporary art. Indeed, Nodus has always created exclusive artefacts that decorate the most beautiful homes in the world.
Want to make your home as inimitable as a work of art? Create your own customised rug and bring a hand-knotted artefact of the highest quality and design into your everyday life! Give your family and loved ones the beauty of an inimitable masterpiece!
Each Nodus piece is designed by famous designers, making it recognisable and prestigious, or it can be designed by you. Each of our rugs is unique: you will not find another one like it. Like all things beautiful and unrepeatable, a Nodus piece sets you apart and speaks to others of your taste, your sophistication, your passion for beauty.
HOW TO DESIGN YOUR RUG?
CONTACT US!