Custom woven rugs: how to choose the right carpet for the individual room?
Materials and techniques —
May 16.2023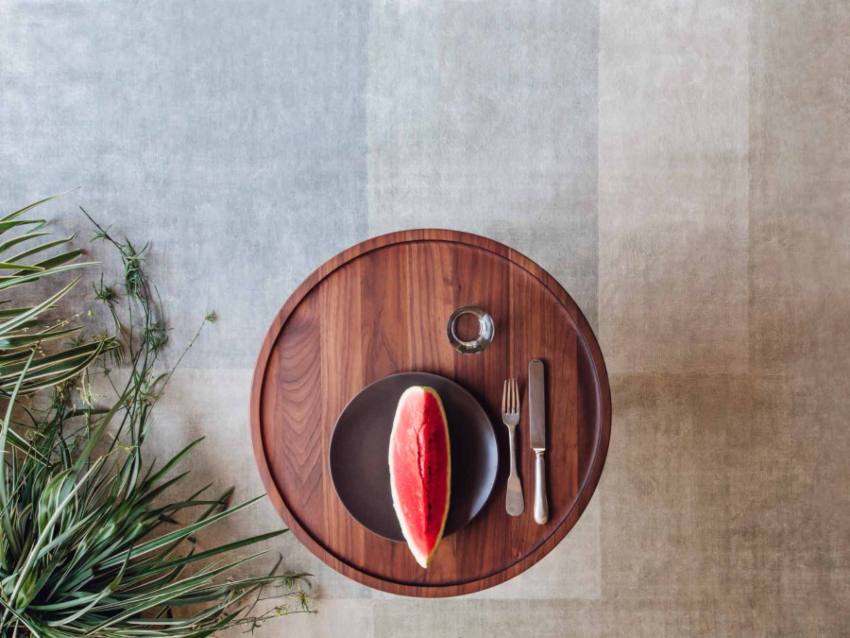 Custom woven rugs allow for a completely customised and unique result. When designing your carpet , you can choose your favourite solution by considering a variety of colours, textures and patterns.
Choosing the features that best suit the room to be furnished and being able to benefit from the advantages of woven rugs makes this a very attractive option for anyone furnishing their home or wanting to breathe new life into their home decor.
What are the features and benefits of custom woven rugs?
Including custom woven rugs in your home allows you to personalise your interior design and, at the same time, benefit from the many practical advantages offered by this type of carpet. As they are thinner, these products are perfect for narrow spaces and especially in rooms with hinged or sliding doors. In addition, since many of the customised rugs are reversible, the beauty and comfort of these fine textile furnishings can be enjoyed from both sides.
Other features that make custom woven rugs true gems of furniture are the lightness and versatility of these products. In fact, in most cases, custom-made woven rugs are made using strong and lightweight materials, which make it easier to move the patterns around and allow the arrangement of the carpet within the room to be changed without any problems.
The advantages of custom-made woven rugs manifest themselves in terms of both practicality and style. As they are thin, often reversible, lightweight and versatile rugs, they can find a place in any room of the house. If we add the fact that they are rugs that do not require special maintenance and offer the possibility of creating a customised and unique design, we can say that custom-fabric rugs are an option to consider carefully if you want to balance comfort, beauty and versatility.
How can custom woven rugs be used in home furnishing?
Custom woven rugs are an elegant and versatile solution to complete the interior design of a home. Thanks to the fact that every feature of the rugs can be customised, these models are able to perfectly meet the needs of the customer.
To achieve an optimal result, it is necessary to consider the characteristics of the space to be furnished and identify the best location for the carpet. In a spacious living room, a large and colourful carpet can be considered to make the room more cosy and comfortable. If the living room is furnished with modern furniture, a carpet woven in grey or beige cotton can be considered. In the bedroom, on the other hand, the choice can fall on a softer and softer carpet, such as wool rugs, which give a feeling of comfort in contact with the skin.
The corridor is a transitional space, but with the use of a custom-made woven carpet, this place can be made more welcoming and functional, for example by placing a striped carpet in neutral colours in the centre.
Those who wish to give a unique and original touch to the décor or need to furnish an irregular space can opt for a woven rug with a special shape. In addition to classic geometric shapes, abstract shapes or designer carpet patterns can be considered.
Which styles and colours to choose for custom woven rugs?
When it comes to woven rugs, the reference model is the kilim. This type of carpet, originally produced in Persia and Anatolia, has spread all over the world and is particularly appreciated for its lightness and versatility.
The typical design of kilim rugs is colourful and involves the use of fibres dyed in various shades, often arranged in horizontal stripes. A made-to-measure carpet inspired by a traditional kilim pattern is perfect both for those who have chosen an ethnic-style décor for their home and for those who want to add a touch of colour to a contemporary décor.
If your home has a Nordic or classic décor, then one or more custom woven rugs in neutral colours are ideal.
One more piece of advice for your furniture choices. Specifically with regard to the materials to be used, both wool and cotton rugs provide excellent performance. In terms of colours, on the other hand, you can opt for neutral tones (white, light grey, beige) if you want to complete the decor of a room with classic or rustic-style furniture. Pastel shades or brighter colours such as blue, red and green, on the other hand, are excellent options for those who have chosen contemporary and designer furniture.
Nodus creates prestigious rugs.
Bring luxury into your home!
>>> CONTACT US! <<<

Nodus has reinvented the luxury rug. It was in fact the first brand to propose the concept of the rug as a work of contemporary art.
Nodus has always created exclusive products that furnish the most beautiful homes in the world. Do you want to make your home inimitable as a work of art?
Bring a hand knotted rug of the highest quality and design into the spaces of your daily life! Give your family and the people you love the beauty of a dream masterpiece! Every piece of Nodus is designed by famous Designers, making it recognisable and prestigious. In this way, each rug is unique: you will not find another one like it. Like all beautiful and unrepeatable things, one piece in the Nodus collection sets you apart and speaks to others about your taste and elegance. CONTACT US!