With what materials can a luxury carpet be made?
Luxury rugs —
Nov 19.2020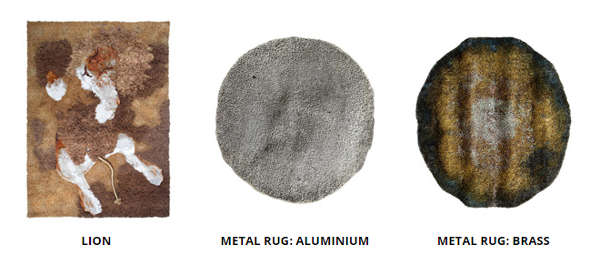 When you think of a rug, the first material that comes to mind is wool. In fact, in all probability, the very first rugs in history were made from fibres obtained from weaving wool from sheep and goats. It happened in some remote region of Asia. In any case, over the centuries, the techniques of production have been refined. So, slowly, in the production of luxury carpets other materials, of natural or synthetic origin, have been experimented.
Materials of natural origin: a world of possibilities
Wool is still today the material most often chosen for the production of high quality carpets. The merit of this preference is due to the exceptional characteristics of the material. Whether it is obtained from sheep, goats or other animals, wool offers an extraordinary degree of resistance. The weaving of the product can then count on a long tradition, which has allowed the development of various processing techniques. Thanks to these, a raw fleece can be quickly transformed into yarns of regular thickness and easy to knot.
Specifically, the working techniques are based on the knowledge and experience of expert craftsmen. This means that, as we were saying, the wool obtained from animals is transformed, step by step, into a yarn that is knotted manually. The final result gives life to elegant and, in some cases, priceless carpets.
Wool has been appreciated for centuries not only for the ease with which it can be obtained, but also for the warmth it can give. Heat understood both in a real and metaphorical sense. A luxury wool rug, in fact, manages to warm up the atmosphere of the home, making it immediately welcoming.
And what can we say about the colours of the rugs? Wool fibres can be coloured with an infinite number of techniques, to obtain every imaginable shade. But we must remember that nature also offers naturally coloured wools. Nodus has created an entire collection of luxury carpets made with undyed fibres from Nepal. Thanks to the inventiveness of famous Designers, this collection allows you to appreciate wool in all its splendour. And to enjoy a surprising variety of colours, with unique and unrepeatable shades.
You can better understand the extraordinary qualities of wool just by looking at the variety of luxury carpets that can be obtained. There are for example short-haired carpets, practical and suitable in every room of the house. But there are also long-haired carpets, extremely soft and fluffy, perfect for the bedroom or to embellish a corner of the living room or lounge dedicated to relaxation.
But there is not only wool. From nature comes also silk, precious and refined. Silk fibres are often used in combination with wool fibres to make carpets of absolute value. Silk is resistant and at the same time delicate and, worked together with wool, it allows to give the luxury carpet a shiny finish that leaves you amazed.
The shine of silk also offers the possibility to create iridescent finishes, which can be appreciated in carpets laid on the floor, but even more so in the pieces hanging on the walls.
It should also be remembered that, in the world of luxury carpets, there is also a long tradition based on the use of animal skins.
Some fibers of vegetable origin can also be used to make luxurious carpets. One of the most precious fibres is bamboo silk, appreciated for its strength and softness. It can be used to make very elegant luxury carpets, also suitable for those who prefer to furnish their homes without using animal materials.
Alternatives to bamboo silk, although less precious, are sisal, jute or fibres obtained from the processing of certain types of seaweed.
The king of vegetable fibres, however, is cotton. It is among the most versatile fibres in absolute terms, both in terms of colouring and processing possibilities. For example, you can find luxury carpets made of cotton with an almost raw finish or with a processing that enhances its softness and softness.
As for synthetic fibres, nylon and polypropylene are often used in the carpet industry. These are materials that offer flexibility and resistance but cannot compete with the elegance and quality of a luxury hand-woven rug.
Potentially, any material can be used to create a unique rug that will embellish and make a home magical. The flair of some Designers, for example, has also made it possible to create daring inlaid wooden carpets, original coconut fibre artefacts or conceptual metal pieces.
Nodus creates prestigious carpets.
Bring luxury into your home!
>>> CONTACT US! <<<

Nodus has reinvented the luxury carpet. It was in fact the first brand to propose the concept of the rug as a work of contemporary art.
Nodus has always created exclusive products that furnish the most beautiful homes in the world. Do you want to make your home inimitable as a work of art?
Bring a hand knotted rug of the highest quality and design into the spaces of your daily life! Give your family and the people you love the beauty of a dream masterpiece! Every piece of Nodus is designed by famous Designers, making it recognisable and prestigious. In this way, each rug is unique: you will not find another one like it. Like all beautiful and unrepeatable things, one piece in the Nodus collection sets you apart and speaks to others about your taste and elegance. CONTACT US!