Weaving Rug: a comprehensive guide to techniques and materials
Materials and techniques —
Sep 26.2022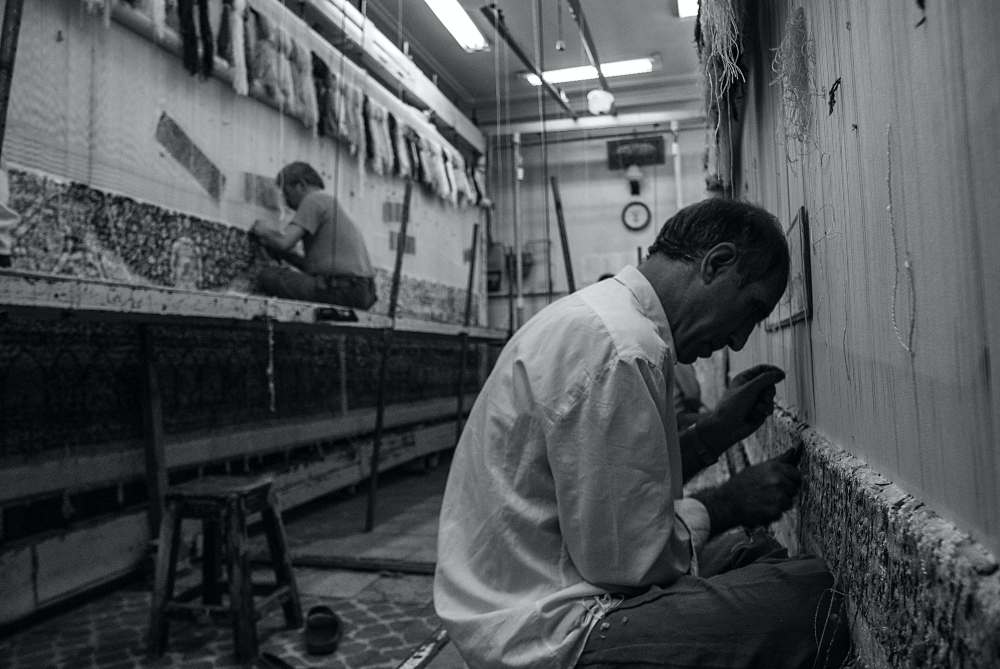 Your sole acceptable piece of art for eating, sleeping, and walking is a rug. A rug covers most of your floor and has an air of mystery. How, for instance, was that rug woven? Where do you draw the line between a knotted, loomed, and tufted rug? In this piece, we'll take the veil off carpets and examine the various styles and methods of weaving rug that go into creating them. For starters, let's go through some rug lingo. We call "warp" the thread that runs vertically between the top and bottom beams. What holds the rug together is the warp. The weft was the rug's horizontal yarn. These elements form the basis of the rug's construction. Pile refers to the height of the rug above its foundation.
Types of Rugs and Weaving Techniques
Every rug has its unique characteristics. Rugs can be crafted in various styles and using various materials. How and where you plan to use the rug, the aesthetic you're going for, and, of course, your budget will all play a role in determining the finest construction methods and materials. To help you find the perfect rug for your home, we've compiled this buyer's guide that covers the various rug kinds, rug weaves, rug materials, and what to look for when shopping for a rug.
Braided Rugs
The traditional oval shape of a braided rug made from natural fibres is a regular sight in homes across the United States. Many believe that the origins of this style of rug can be traced back to the early days of European settlement in the Americas when pioneers without access to looms and wool improvised by weaving rug together pieces of straw and old clothing.
Though their rustic aesthetic has kept them popular in "country" homes, they've also found a place in "bohemian" settings. Many people use chindi rugs that have been braided these days. Chindi rugs, commonly woven from discarded cotton fabric, are softer and more colourful than those created from natural fibres. Either way, the materials will be braided into a continuous length. Once the required form has been determined, that strand will be spirally twisted to achieve it.
Rug Knots
You can find rugs ranging from one million to six million knots per square foot (or 100 to 800 knots per square inch) in sizes 8′ x 10′. The typical time required to manufacture a hand-knotted rug of 8′ by 10′ size is over 3000 hours. That's the same as 384 typical workdays.
Hand Loomed And Flat Weave
These are woven using a loom; anywhere from one to four workers are needed to complete the procedure. The yarn or weft is inserted between the loom's bottom and upper warp. After that, the rug is compacted with the beater, and the weft and warp are woven together. It by itself is enough to classify it as a flatweave. The characteristic of a pile distinguishes a flatweave from a loomed rug. The pile is created by the same process described above, except the yarn is replaced by a rod or pipe inserted into the centre of the warp. It fluffs up the yarn into a neat little stack. In making this rug, the weaver will switch back and forth between using yarn and a pipe. The pipe's resulting loops are either left unaltered or trimmed to produce a broader appearance.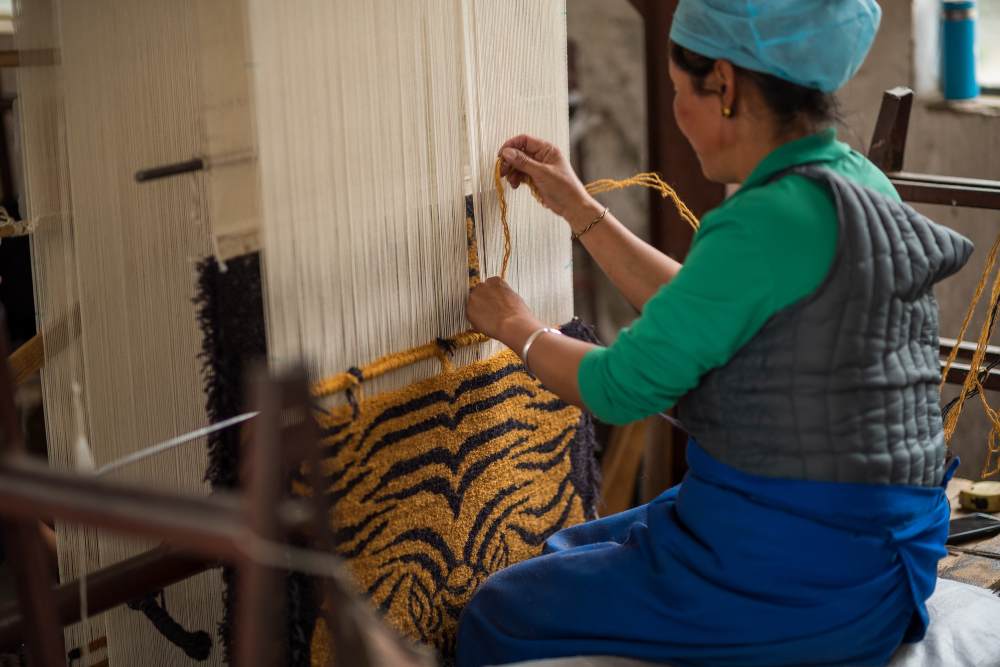 Hand-Knotted Rugs
Doing so results in a single knot, which They may easily sever. Looking at the picture below, you'll understand why this is challenging. You can find rugs ranging from one million to six million knots per square foot (or 100 to 800 knots per square inch) in sizes 8′ x 10′. The typical time required to manufacture a hand-knotted rug of 8′ by 10′ size is over 3000 hours. That's the same as 384 typical workdays.
Hand-knotted rugs come to mind when imagining an heirloom-quality Persian or Oriental rug. Painstakingly, artisans employing methods dating back centuries create these rugs. A rug's pile is created by knotting yarn onto the rug's underlying warp. Carpets that are Knotted by Hand
Hand-knotted rugs are what most people picture when they think of an antique Persian or Oriental rug. Craftspeople take their time making these rugs by employing methods that date back thousands of years. The warp serves as the foundation for the rug, and the pile is created by knotting yarn onto it.
Common Persian carpets how to Tie a Knot.
To the left, there is a vertical warp that you should thread the yarn through.
Please return it to the foreground, right side of the warp.
Drop it through the left-most warp on the right.
Finally, bring the left side to the front.
Hand Tufted Rugs
Compared to loomed carpets, tufted rugs are similar in appearance, but their construction is different. In contrast to a woven one, a tufted rug does not begin with a warp and is instead constructed by hand from the weft. Squares of pre-woven fabric serve as the basis for the foundation cloth. After that, you hang the base cloth and pull it taut.
The next step is to use a tufting gun to finish the pattern. The tufting gun fires yarn through the rug's backing and into the front. Yarn is slashed or shaved to make the pile. Using a foundation fabric allows you to deviate from the standard rug-making method of constructing rows. They may make the pattern on the fly, allowing the weaver greater control over the final product. Mosaics don't have to be built from the ground up; you can create the individual tiles separately and then arrange them.
In contrast to hand-knotted rugs, in which the foundation is constructed along the way, hand-tufted carpets start with ready-made backing material, typically canvas or jute. This backing cloth is usually printed with the rug's design. Finally, another fabric and glue are used to keep the yarns in place. These strands are more likely to come loose than those in a hand-knotted rug because they are not as securely fastened to the rug's foundation. Producing a hand-tufted rug requires much less time and skill than making a hand-knotted one. These carpets are less long-lasting than hand-knotted ones but cost a lot less.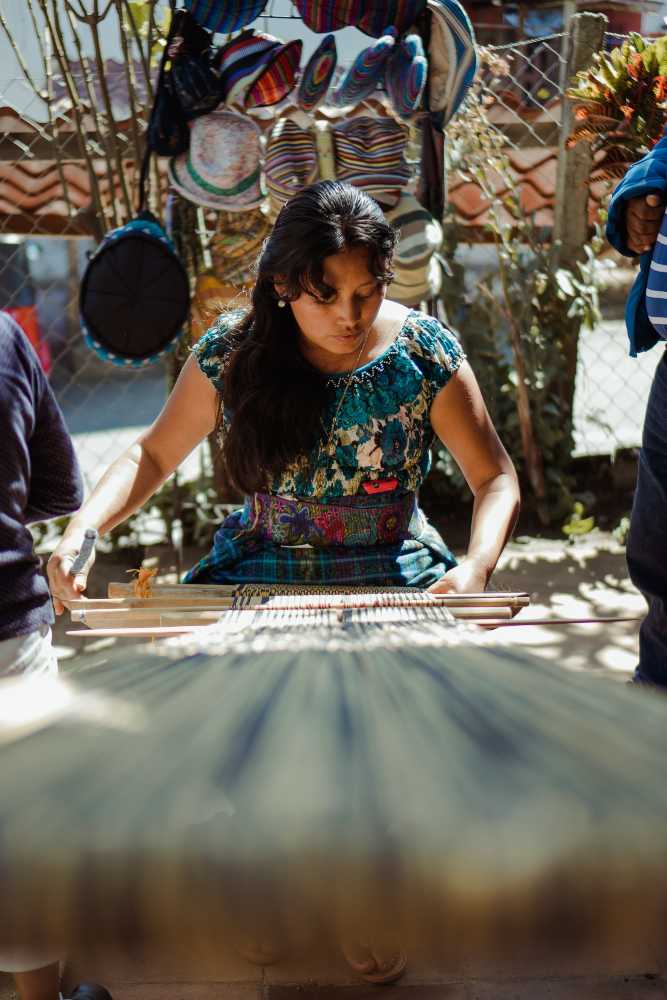 Hand-Hooked Rug
Rug hooking tools are used to create rugs that are hooked by hand on a base cloth. The front of the rug is pierced with the tool, which then snags the yarn from the rear and brings it around to the front. This method of creating loops invokes memories of my seventh-grade painting class. It would help if you only used a lightweight handheld vacuum with an upholstery attachment or the floor attachment with a piece of cheesecloth draped over it to lessen the force of the suction. When cleaning a hooked rug, you should never, ever submerge the rug in water.
Flatweave Rugs
In addition to a hand-loomed flatweave, which was covered in the preceding section. Even tying a knot can result in a flatweave. The construction of hand-knotted flatweaves is extremely close to that of hand-knotted Persian rugs, weaving rug with the Persian knot but without severing the thread after the second loop. When making a rug, this method is generally always employed in conjunction with a standard Persian knot.
Flatweave carpets are not only long-lasting but also simple to clean; you can vacuum them without damaging the rug's weave. However, you should exercise caution when vacuuming such a thin rug, as they tend to slide around if not properly fastened.
Pile rugs are ones in which loops of yarn are raised from the backing to create a plush surface. However, flatweave carpets are also an option. The "pile" often found on rugs is absent in flatweave carpets. Instead, a pile rug's construction consists entirely of the warp and weft that serve as the rug's usual backing.
These carpets are ideal for heavy foot traffic areas because they are long-lasting, simple to maintain, and have minimal wear. Natural flatweaves may not hold up as well in the elements as their synthetic counterparts. The tribal patterns on handmade flatweaves like Kilims are another popular choice for a globally inspired look.
Weaving rug Techniques
weaving rug is an art and a craft that calls for meticulous precision. The techniques of slitweave, dovetailing, and soumak, all of which are utilized frequently while creating flatweave carpets, will be covered in this course.
Background
The Turkish are among the many nations that have refined the weaving rug technique. A kilim, or flatweave rug, is a type of woven rug. The art of weaving flat-woven rugs has been practised since the fourth century B.C.E. Wefts and warps are woven together to form a continuous design in a flatweave rug. The warp is the thread that is loaded into the loom vertically, and the weft is the thread that is weaved over and under the warp on the loom horizontally. Various weaving rug methods are available to assist artisans in creating one-of-a-kind carpets that are works of beauty in their own right. Slitweaving, dovetailing and soaking are just a few weaving rug methods you will cover in this class.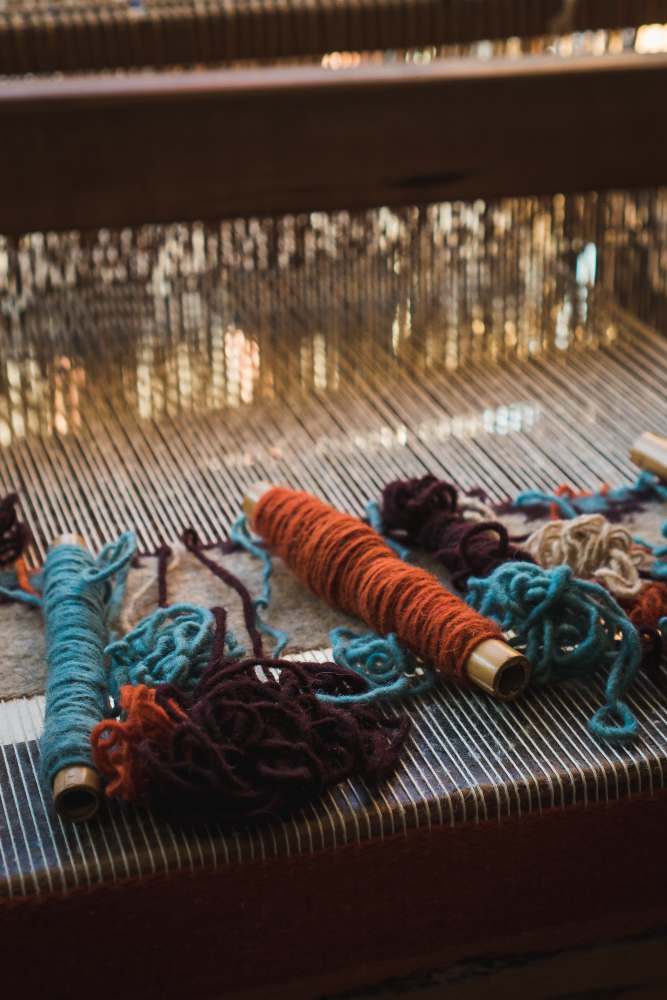 Slitweave
Weavers of split weave rugs frequently employ diagonal or geometric designs. The slitweave effect is achieved by deliberately separating the weft threads of two adjacent colours in a very narrow space. The slitweave method produces a rug with striking colour contrasts.
The final step in finishing a slitweave pattern is to bring the weft of each colour to the last warp thread before it meets another colour. Next, the weft is passed around the warp and weaving rug proceeds in the opposite direction. To achieve the desired diagonal design, the weaver must pack the weft very tightly to cover the warp and guarantee the overall flatweave's structural integrity. To create a slitweave pattern on a flatweave rug, the weaver must complete a whole section of one colour before moving on to the next.
How Nodusrugs Made WEAVING RUG
Rugs that have been crafted by hand automatically have more value than those that have been mass-produced. Making something by hand is more expensive because of the higher quality standard that comes with it. Even the greatest machine-made carpet lacks the individuality and presence of a handmade rug because of the seemingly infinite number of decisions and tweaks that go into making each one.
Materials Used When Weaving Rug and Carpets
Weaving rug requires a lot of preparation, and the quality of the materials used is just as crucial as the skill of the weavers. Their impact on the rug's appearance, whether in terms of colour, texture, tactile feel, or longevity, is substantial. weaving rug made of wool, cotton, silk, dyes, camel hair, bamboo silk, banana silk, and viscose rugs
How Rugs are Made – Materials Used to Weave Rugs
Very little has changed in the methods and supplies used to make a high-quality rug in recent centuries. Although many different peoples, from the Turks to the Chinese, have evolved rich rug-making traditions, rugs are quite similar in construction.
Similarly, there is not much variation in the materials you can use to make a carpet or rug. Note that the quality of the materials used in a rug is just as crucial as the skill of the designers and weavers who put together the piece. Inadequate supplies make it difficult for even the most skilled weavers to produce a high-quality end product.
The materials used to weave a rug are largely responsible for its final appearance, including its colour, texture, tactile feel, and, most importantly, endurance. Wool, cotton, silk, and various dyes are among the most used materials in rug construction.
Silk rugs are visually distinct from cotton or wool because of their attractive sheen and intricate patterns. Weavers can make intricate patterns and motifs because silk is so much finer than materials like wool and cotton.
It's possible to employ either chemical or vegetable dyes to colour a rug, making this process both natural and synthetic. Natural dyes have been the only option for many years, and they age in their unique way. Only one concrete example demonstrates how the materials used to create rugs may drastically alter the final product.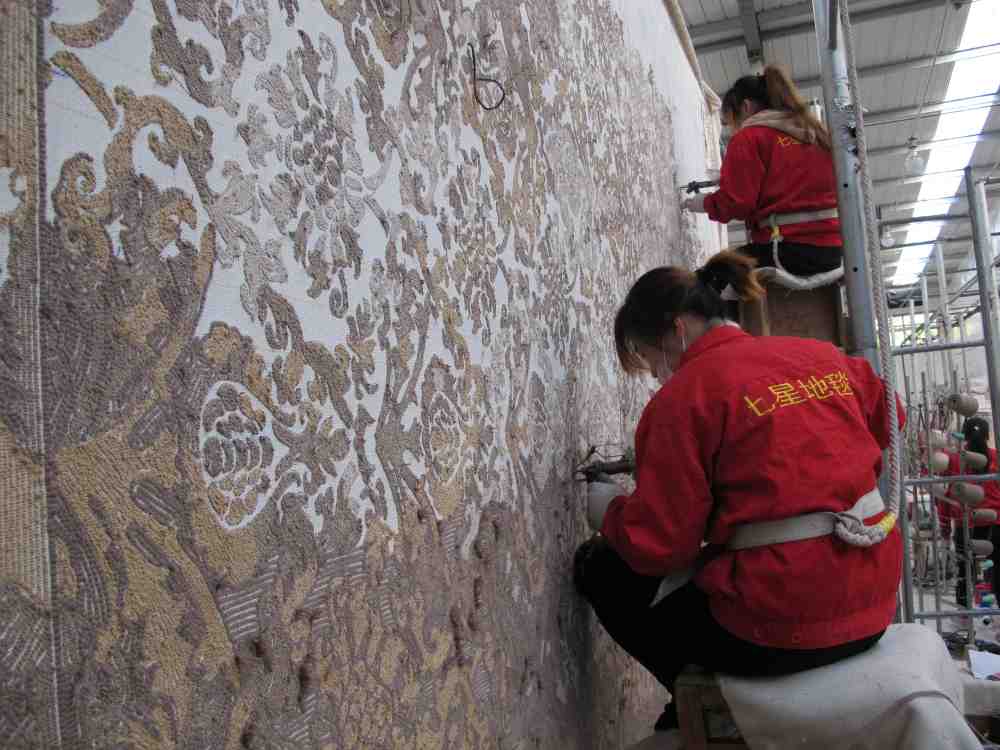 Techniques & Construction of Rug Weaving and Woven Carpets
The materials and weaving techniques used to create a rug often indicate its quality more than the rug's pattern. Changes in even one of these factors during the rug-making process can significantly affect the rug's longevity and value. Trained eyes can tell much more than the rug's quality from this analysis, including the rug's origin and age.
Knots Used in Pile Woven Rugs
A pile rug's "knots" are more accurately described as "fibres." These knots resemble loops more than they do regular knots. Each knot encircles a set of neighbouring warps. The knots in a pile rug form what is known as a "knot collar," which is wrapped around the rug's warps and ends (hence the name "pile"). Because You can weave these knots in various patterns, pile rugs come in many styles.
Designs of Rugs & Carpets
It is not the construction method or the quality of the materials that are initially striking about a rug, but rather its design. Rug design encompasses such a broad spectrum that a comprehensive overview is impossible. The rug's design is only limited by the weaver's imagination, ranging from highly detailed and complicated motifs to more stylized and modern styles.
How to Weave a Rug
Instructions for rug weaving, free rug patterns and advice for making stunning handwoven rugs are available in this downloadable eBook. Many people who become weavers have always known that they want to be rug weavers. With the help of Beautiful Hand Woven Rugs, you can learn how to weave rugs like a master by following along as specialists guide you through a fascinating trip with a wide variety of rug patterns and weaving techniques. This free eBook will help you create warm and inviting handwoven wool and woven cotton rugs full of colour and texture, whether you're just starting or have been weaving rugs for years.
A Homey Boundweave Pattern
It's a slow and rewarding process, but the result is worth it when working with a round weave. Those who enjoy weaving more than counting heddles, drafting, planning, ordering yarn, and warping will enjoy creating a brokerage-bound weave rug in the spirit of Scandinavian design. Except for the weaving, every process step has been relatively short. Take a month off instead of a weekend, and you'll have more time to relax and enjoy yourself rather than worry about returning to work on Monday. Since many rug weavers' calendars are already quite full, quick-weave projects are highly desirable. Weft-face rugs require very little time to be spent on warping the loom before weaving, so this undertaking requires a new perspective on the passage of time. However, the gratification comes from the actual rug weaving itself.
Why NodusRugs
Nodusrugs is one of the top Luxury and Custom handmade and expensive rugs makers. You can visit their official website to find your favourite rugs. You can place the custom design that you want. Nodusrugs deliver their quality rugs all over Italy. The finest hand-knotted Persian and Oriental rugs, as well as many hand-tufted rugs they offer. Place your order with your custom design. They will make every rug with love and responsibility. The Nodus brand first popularised carpets as modern works of art.
High COLLECTIONS
NODUS has designed a range of high-end carpeting that outlines a new horizon of shapes, hues, and uses. In other words, this is the meat and potatoes of Nodus. Its design and originality reflect the pinnacle of the art of hand-knotted, high-end carpeting throughout the world. You can alter any piece in the collection to suit your needs.
Limited Editions
The most luxurious and rare of Nodus's creations are all gathered here. The conceptual and scientific significance of this set of rugs is exceptional. Invaluable relics that have been transformed into genuine examples of contemporary art.
Himalayan Undyed
Nodusrug's carpets by various designers are all hand-knotted from natural Tibetan wool. Yarns in a wide spectrum of natural colours, from snowy white to nearly black, are derived from sheep in the Himalayan foothills. The wool used in these items is exceptionally soft and high in lanolin content. They can adjust the designs' hues by using only vegetable dyes, a method that relies on age-old formulas for vibrant hues.
Enjoy Collection
The Nodus line has a great cost-to-value ratio, so you may explore our rugs without breaking the bank. Enjoy is a collection of carpets available in a limited number of colours and sizes, and it features several appealing models that are appropriate for any solution.
Nodus creates prestigious rugs.
Bring luxury into your home!
>>> CONTACT US! <<<

Nodus has reinvented the luxury rug. It was in fact the first brand to propose the concept of the rug as a work of contemporary art.
Nodus has always created exclusive products that furnish the most beautiful homes in the world. Do you want to make your home inimitable as a work of art?
Bring a hand knotted rug of the highest quality and design into the spaces of your daily life! Give your family and the people you love the beauty of a dream masterpiece! Every piece of Nodus is designed by famous Designers, making it recognisable and prestigious. In this way, each rug is unique: you will not find another one like it. Like all beautiful and unrepeatable things, one piece in the Nodus collection sets you apart and speaks to others about your taste and elegance. CONTACT US!