Dhurrie carpets: what are they? Why choose them?
Materials and techniques —
Sep 13.2021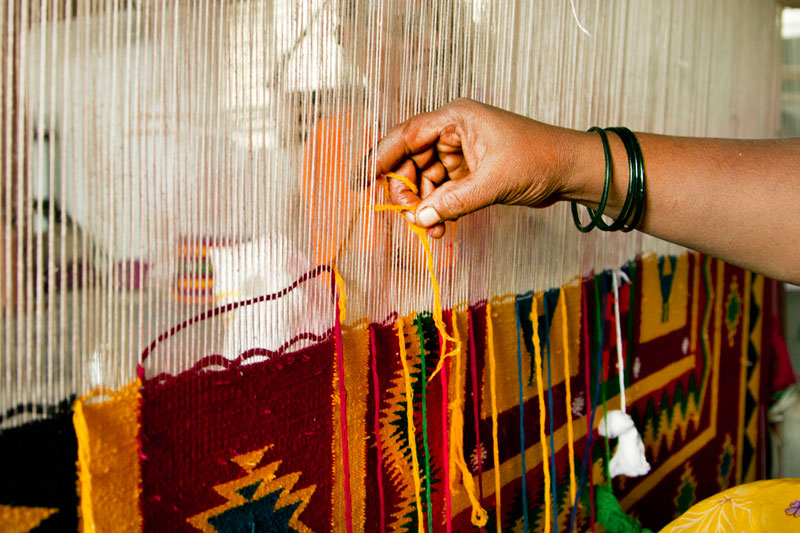 Dhurrie carpets are beautiful creations of Indian origin. The differences between dhurrie carpets and traditional Oriental carpets are numerous, and make them something special. Choosing a dhurrie carpet to decorate your home means furnishing it in an original way and with handmade furniture of great value.
What a dhurrie carpet looks like
The structure of a dhurrie carpet and the way it is made are the aspects that most differentiate these creations of Indian origin from carpets of Persian origin and those inspired by Persian carpets. While Oriental carpets are made by knotting the weft fibres around the warp and using a loom, dhurrie carpets are made without a warp. This results in a very thin carpet with a compact structure. The result is an extremely light and strong carpet that is easy to fold and transport.
Dhurrie carpets are mainly produced in India, in and around the city of Panipat, but the technique is also used in Pakistan, Afghanistan and parts of Burma. The traditional format is square, but it is not uncommon to find rectangular carpets, including large ones.
A cotton yarn is usually used to make a dhurrie carpet. The versatility of cotton makes it possible to create carpets that are both aesthetically pleasing and comfortable to use. The qualities of the natural fibres used guarantee good thermal insulation and allow you to be welcomed into a warm environment during the winter months and a cool space in the summer.
Why furnish your home with a dhurrie carpet
The special processing technique used to make dhurrie carpets makes it possible to keep the thickness to a minimum and to easily create carpets of various sizes. In addition, each carpet is reversible and can therefore be used on both sides.
In the Indian tradition, dhurrie carpets have been used as an all-round decorative element. In addition to being placed on floors, smaller carpets have been used as decorations placed on tables or furniture, as blankets or as textiles used to wrap delicate or precious objects. Due to their manageability, dhurrie carpets are also commonly used for meditative practice and yoga.
The compactness of the fibres ensures very high resistance and greatly reduces the risk of attack by moths and parasites. Maintenance is also easier than with hand-knotted wool carpets. The carpet is easy to clean with a hoover, and can be machine washed if the material permits.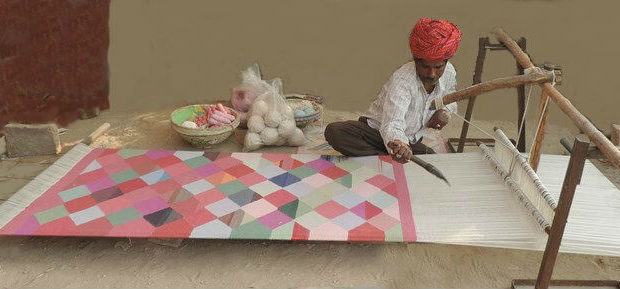 Which dhurrie carpet models should you choose for your home?
Older dhurrie carpets have a rather simple design, with few colours and decorative elements. The most common colours used in traditional designs are white and blue, made from fibres dyed with pigments from the indigo plant.
During the nineteenth century, however, the weaves of Dhurrie carpets began to incorporate colours and elaborate designs. This radical change was due to the spread of machine-made dhurrie carpets. In order to distinguish their productions, craftsmen used all their experience and creativity to create unique and beautiful pieces.
Today, in addition to cotton models, it is possible to find dhurrie carpets made of wool, silk or jute. Each of these materials has specific qualities that can be exploited in interior design projects. A wool dhurrie, for example, is suitable for those looking for a warm and durable carpet, while a silk model is ideal for adding a touch of exclusivity to the room. Jute rugs, on the other hand, are perfect for those who have decided to give an ecological touch to their furnishings, thanks to the sustainability and remarkable resistance of this material.
With multicoloured stripes, geometric lines, patterns repeated in a more or less regular manner along the surface of the carpet and abstract designs, it is easy to find a dhurrie carpet that will fit into your home environment. Such a pattern is naturally ideal for homes furnished in an ethnic style. Contemporary or Nordic interiors can also be enhanced with a dhurrie carpet in neutral or light colours.
Nodus creates prestigious rugs.
Bring luxury into your home!
>>> CONTACT US! <<<

Nodus has reinvented the luxury rug. It was in fact the first brand to propose the concept of the rug as a work of contemporary art.
Nodus has always created exclusive products that furnish the most beautiful homes in the world. Do you want to make your home inimitable as a work of art?
Bring a hand knotted rug of the highest quality and design into the spaces of your daily life! Give your family and the people you love the beauty of a dream masterpiece! Every piece of Nodus is designed by famous Designers, making it recognisable and prestigious. In this way, each rug is unique: you will not find another one like it. Like all beautiful and unrepeatable things, one piece in the Nodus collection sets you apart and speaks to others about your taste and elegance. CONTACT US!