Custom cut rugs: how to make the right choice according to style and room type?
custom rugs — Design —
Jan 07.2023
Custom cut rugs are the ideal choice when furnishing rooms in the home that have particular dimensions and, in general, whenever a rug is needed that fits perfectly into the available space.
Thanks to the use of a custom-designed carpet and with a millimetre cut, it is possible to give a room a new face and, depending on the desired result, make it more elegant, more comfortable or more cosy.
What are the advantages of custom cut rugs?
A custom-cut carpet is an interior design solution that is both flexible and versatile. On the other hand, custom cut rugs can be made to fit a wide variety of environments. In addition to considering different domestic spaces, these rugs can also be taken into offices, shops, hotels, restaurants and so on.
Often, those who request a made-to-measure carpet with a customised cut have special needs, which are linked to the presence of rooms with a shape or size that are far from standard. Or the furnishing requirements are linked to a desire to follow a specific style.
Frequently, those who resort to the design of a custom-cut carpet do so because they are dealing with the furnishing of a large room, such as a loft, a large city flat or a shop. Customising the size and shape of the carpet proves to be very advantageous in cases such as these, because it allows one to have a finished product that is able to meet expectations in terms of style and design.
When one chooses a custom-made carpet, one is able to enhance both the particularities of the space in the home and the uniqueness of each carpet. Through made-to-measure design, in fact, it is possible to obtain a textile artefact that has distinctive characteristics and is designed to fit best into the environment.
One of the most appreciated advantages of custom cut rugsis their ability to furnish even spaces that present challenges to interior designers. The typical example is the staircase: for those who wish to place a carpet in this part of the house, custom cut rugs are an almost obligatory choice. Being able to customise the length, width and design of the artefact, it is indeed possible to achieve a result that is both elegant and refined.
How can a custom-sized carpet be used in interior design?
When deciding to furnish a room with a custom-made carpet, it is important to carefully select the room of the house in which it will be placed. As these are often rugs with original shapes or dimensions, spaces in the home where the product is clearly visible are preferable. In this way, the product will stand out and can easily be admired in all its beauty.
From this point of view, the best places in the home in which to place one or more custom cut rugs are the entrance hall, living room and bedroom, especially if they are large and have a minimalist décor, which emphasises the design of the artefact.
Similar considerations also apply in the case of a contract environment. In shops and offices, custom cut rugsplay a purely functional role, because they serve to furnish large spaces frequented by dozens or hundreds of people every day. However, this should not lead us to underestimate the importance of the decorative aspect of cut-to-size rugs, which bring style and colour to any kind of environment in which they are placed.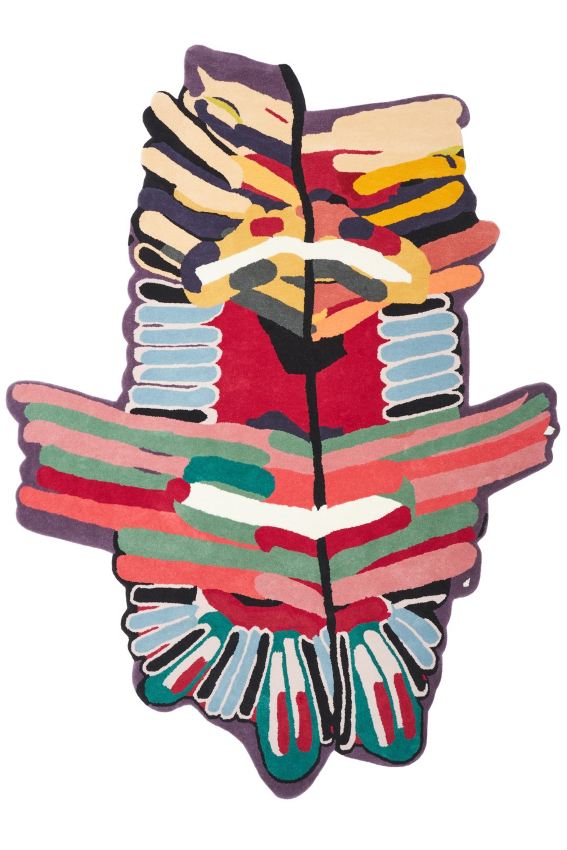 A short guide to choosing a custom-made cut-to-size carpet
Choosing a custom-made cut-to-size carpet allows you to have a product that has the ideal shape and size in relation not only to the space to be furnished, but also to the texture and design of the item.
To choose the right size of the carpet, it is also important to take into account the type of workmanship adopted, the type of material selected and the height of the pile. For a hand-woven carpet , it is generally preferable to keep a square or rectangular shape, while for knotted rugs, a cut-to-size model with an original design and abstract shape can also be chosen.
Those who wish to have one or more custom cut rugs can also order a customised long pile model. This kind of piece proves to be an excellent solution for warming up the atmosphere in bedrooms and it is possible to commission models in various shapes, more or less abstract.
For an even more personalised and original result, it is also possible to consider the presence of certain details, such as fringes, a design with a relief weave or a pattern that creates optical illusions.
Nodus creates prestigious rugs.
Bring luxury into your home!
>>> CONTACT US! <<<

Nodus has reinvented the luxury rug. It was in fact the first brand to propose the concept of the rug as a work of contemporary art.
Nodus has always created exclusive products that furnish the most beautiful homes in the world. Do you want to make your home inimitable as a work of art?
Bring a hand knotted rug of the highest quality and design into the spaces of your daily life! Give your family and the people you love the beauty of a dream masterpiece! Every piece of Nodus is designed by famous Designers, making it recognisable and prestigious. In this way, each rug is unique: you will not find another one like it. Like all beautiful and unrepeatable things, one piece in the Nodus collection sets you apart and speaks to others about your taste and elegance. CONTACT US!